How To Incorporate The Ethereal Aesthetic Into Your Home Decor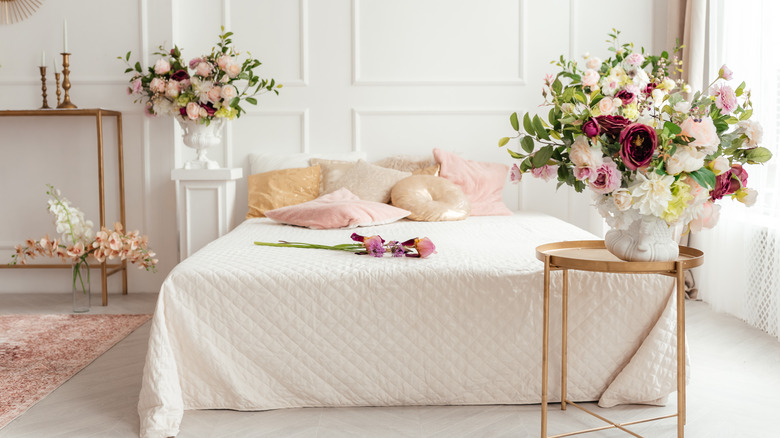 Catherine Southhouse/Shutterstock
The ethereal aesthetic can often be seen in fashion pieces that feel romantic, free-flowing, and bright, like blouson sleeves, long skirts, and lacey details. As we know, fashion and interior design trends often play hand-in-hand, so it's no wonder that the wonderful aesthetic is making its way into our spaces. What does an ethereal home look like? Picture a dreamy royal wedding, a summer tea party, or an open-air suite in the French countryside. Some key tenets of the ethereal aesthetic include bright whites and creams, floral motifs, delicate metallics, lace and sheer fabrics, and open windows.
The ethereal aesthetic is a captivating style of home décor — when it's pulled off correctly. Veer too far in one direction or the other, and your home could feel less like a dreamy castle and more like a dusted doily collection. Here's what you need to know about how to brighten your home and where to shop to achieve the perfect ethereal home décor style.
The magic is in the details
The aesthetic is certainly whimsical and lighthearted, but it's important to distinguish between ethereal and childlike décor. For a mature and ethereal vibe, you'll want to steer clear of oversaturated hues and sickly sweet pieces. It may help instead to picture a grown-up prince or princess room, outfitted with timeless luxury, understated glamour, and romantic details. White is a go-to color in the ethereal aesthetic because it bounces light around the room, but you don't have to go monochrome to look bright and ethereal. In fact, this interior design style looks best when it's balanced with accents of pastel lavender, pink, blue, sage, or gold. 
Another must-have of the ethereal aesthetic is semi-sheer or lace curtains, perfect for filtering the sunlight gently into your space and giving everything a faded, dreamy feel. In bedrooms, a canopy bed can look stunning, as can white or pale velvet furniture and throw pillows. Furniture should be made of lightly stained or painted wood or metal. Glass, gold, and silver details are the way to go. The ethereal aesthetic must remain open and airy, so avoid over-cluttering at all costs. In terms of décor, keep things simple and happy with a few ceramic trinkets and fresh bouquets, and add a touch of magic with fantastical or romantic artwork.
Being resourceful is ethereal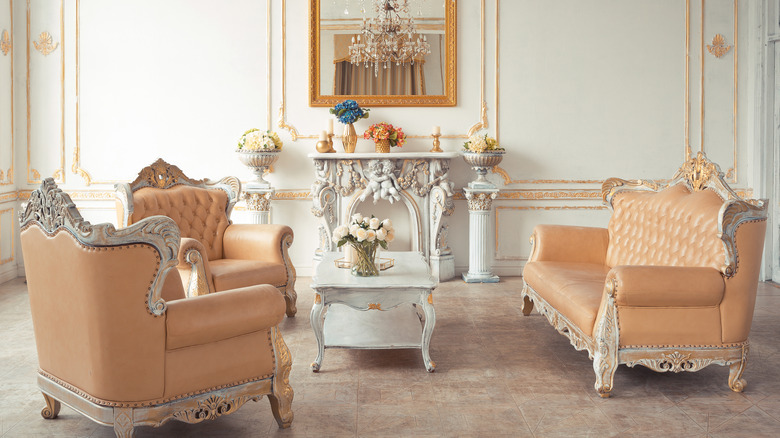 Pinkystock/Shutterstock
The ethereal aesthetic may look expensive, but with a little creativity, you can easily use this style to decorate your home on a budget. Because many of the key elements of the aesthetic are timeless, you can find them at almost any local home décor or furniture store. The best advice is to stick strongly to your color palette (i.e. white, sage, and gold) to ensure that everything feels cohesive and serene. Keep an open mind when shopping for pieces, and browse secondhand as much as possible. This is where you'll find authentic vintage gems that make your space feel collected, unique, and magical. 
Look for old, unwanted pieces from friends and family, and "shop" your own space as much as possible. Instead of buying things brand new, consider revamping some old furniture and décor. You'll be amazed at what a little white paint and gold filigree can do! Look through your wardrobe, too; displaying an old wedding dress, prom outfit, or Renaissance fair costume is a great way to enhance the whimsical vibe. For more design inspiration, borrow elements from similar aesthetics including fairycore, royalcore, and balletcore.