The Two Home Appliances Carrie Underwood Cleverly Keeps Hidden In A Closet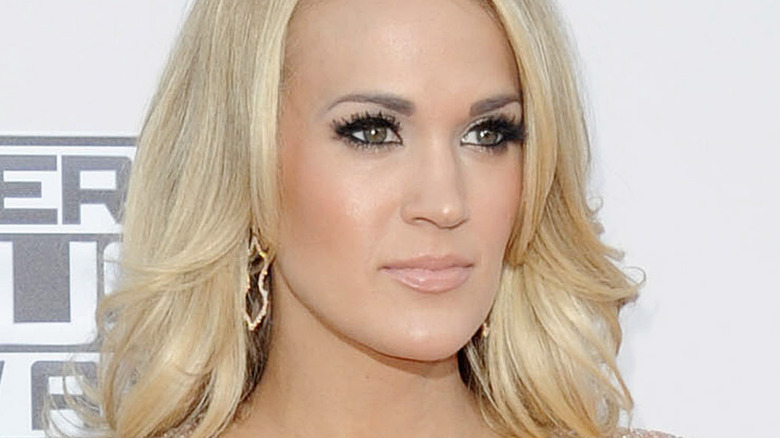 Tinseltown/Shutterstock
There's no question that celebrities' homes often give people inspiration for their own abodes. While some features of a famous residence are simply there to awe or dazzle, other additions actually make life easier and can be adopted by anyone. Carrie Underwood's stylish and functional closet might be the best thing ever, thanks to the fact that it holds not only her clothes but her washer and dryer too.
Inside the singer's chic and spacious built-in wardrobe, you can spot one of the most clever hiding spots for these appliances. The added ease of having these machines where clothes already reside is ingenious, and as long as there's space, it could be worth a try. While her fashion boudoir is certainly big home goals thanks to its expansive layout (and impressive wearable pieces), it's completely possible for anyone to incorporate this trending trick if they have a little floor room and dimensions to work within their closet.
Why this trend is so clever
The most obvious benefit of placing your washer and dryer in the closet is accessibility. Your hamper or dirty clothes receptacle might already be located in your wardrobe area, but even if not — all your clean clothing goes back into your closet or built-in wardrobe after they are dry. Rather than commuting freshly laundered items from one room to another repeatedly, Carrie Underwood's setup leaves it so everything can be put away quickly and efficiently, without the back and forth. 
Another perk of placing your washer/dryer in the closet is that it frees up space in another part of the home. If your closet is big enough to host these appliances, you now have more floor space near the kitchen, dining room, or any area they might have otherwise resided in. In order to copy this creative design, you do have to consider more than just space, including what kind of machines will work best, as well as the surrounding walls, floors, and levels. For a setup like this, ventless machines that run on electricity might be the best option, mainly because they will be the least complicated to add in.
Points to consider before trying it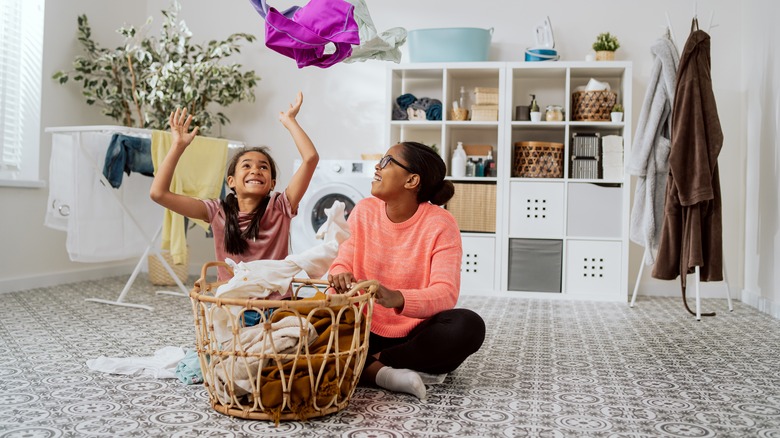 Trzykropy/Shutterstock
Carrie Underwood's closet appears to have wood or vinyl flooring, and choosing the best material to lay beneath your machines is important. Most laundry rooms feature tile or laminate, and these are good at withstanding moisture, which can be a concern when it comes to a water-running appliance. Homes are usually designed to boast wet and dry zones — the wet zones are created to hold bathroom, kitchen, and laundry room items. You might need to ensure your closet can facilitate a washing machine and sits vertically to an existing wet zone or can handle the task with proper drainage and plumbing. Adding a drain inside the closet can also be beneficial to the setup. 
Drawbacks to trying this trick mainly revolve around other people needing or wanting to use the machines. If they are located in your master closet and other family members are responsible for their washing, it could potentially see more foot traffic in your personal space. This trend is certainly full of pros, and as long as your home can accommodate it, or you don't mind occasionally sharing the closet, it might be your favorite home upgrade once it's finished!