The Simple Way David Bromstad Updates A Dated Dresser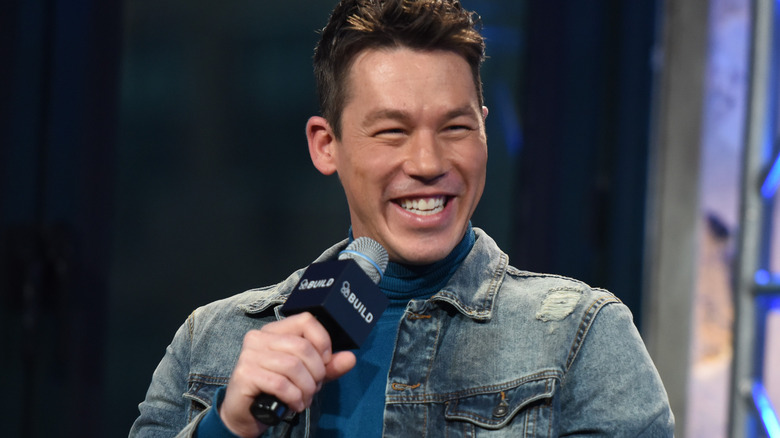 Dave Kotinsky/Getty Images
If you know anything about HGTV's David Bromstad, you know he doesn't shy away from color when designing spaces. On his show, "Color Splash," he helps homeowners include vibrant tones in their designs. To do this, he often utilizes bright furniture. So if you've got an outdated dresser you're unsure what to do with, Bromstad suggests revitalizing it by covering it in a fresh coat of paint. 
According to Bromstad, the key to upcycling a dresser is ensuring the paint will adhere to the wood. "Just prepare it properly so the paint sticks well to the surface and lasts over time," he says. Specifically, "sand it, fill holes with putty, and prime it before painting," Bromstad advises (via HGTV). Another step you should always complete is cleaning the piece thoroughly, as you don't want dust or other debris getting stuck in the paint. Additionally, sometimes a bit of glamor is required. "You can also change the pulls to give it the bling it deserves," Bromstad says. While hardware may not seem significant, this final step can make a massive difference in the appearance of a dresser.
Choosing the right paint color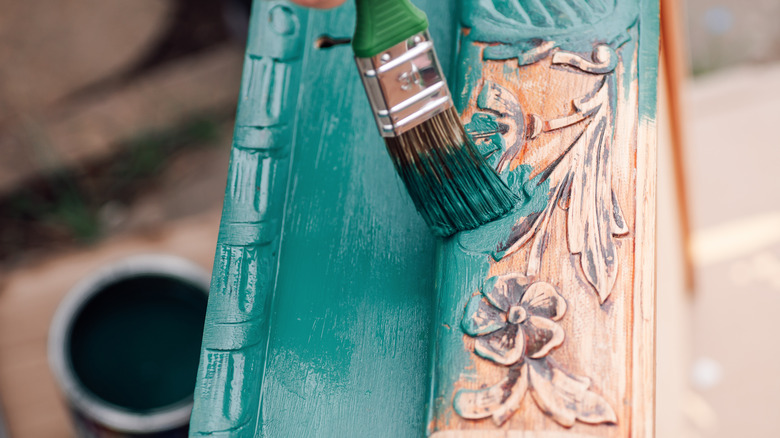 Lia_Russy/Shutterstock
Before you start painting an outdated dresser, you'll need to choose the right color. This will depend upon what you decide to do in the rest of the room. For instance, if the walls feature a bright tone, choosing a neutral option, like white or beige, may make the most sense. In a Q&A for HGTV, one person asks David Bromstad if painting every room in your home a vibrant blue shade is okay. He replies, "...if you love a bright color on all your walls and don't think you'll get sick of it anytime soon, go for it. Just keep your furniture neutral — think natural woods with crisp white or rich cream upholstery. That will help the blue feel like a backdrop rather than competition for your eye."
However, the designer also recognizes that not everyone enjoys neutral furniture, and that's okay. "I always recommend keeping the biggest and most expensive elements of the room neutral and using pops of color as an accent. But if you want to be bold and cover a piece of furniture with a color, don't let me stop you," Bromstad explains (per AmericasMart Atlanta). That being said, if you paint your dresser boldly, it may be best to keep the walls neutral so the space doesn't feel overwhelming.
How an upcycled dresser can benefit a design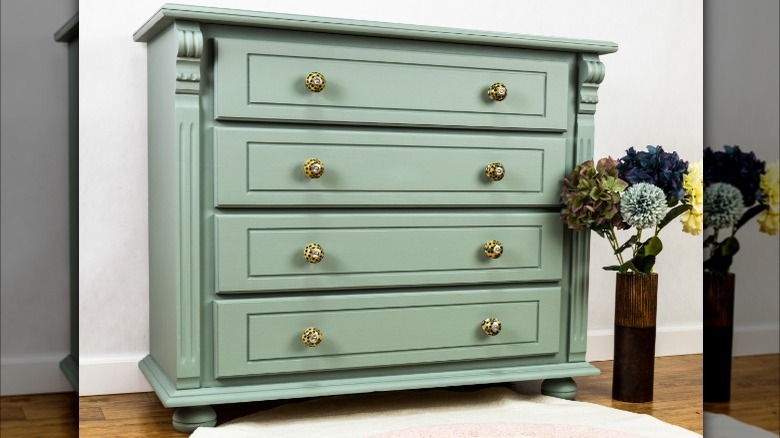 Foxtories/Shutterstock
While it may seem like an upcycled dresser wouldn't make a profound impact on a room, this is far from the truth. In fact, according to David Bromstad, painting furniture is one of his favorite ways to add vibrancy to a space. "There are so many ways to add color, but I have a few favorite techniques. I love customizing furniture with color, accent pillows, and accessories," Bromstad says (via Cleveland.com).
Further, while you may think of furniture as a purely practical element, a great deal of artistry and craft is required to create specific pieces. Thus, a dresser can even be an artistic element in your room, especially if it's personalized to your tastes. "Another element that raises home décor to another level is the addition of 'art.' That can be a lot of different things. Most people think of art as a painting, but art is everything: lighting, sculpture, and even furniture," Bromstad writes (via AmericasMart Atlanta).