This Dining Room Staple May Be The Key To Styling Your Outdated Dresser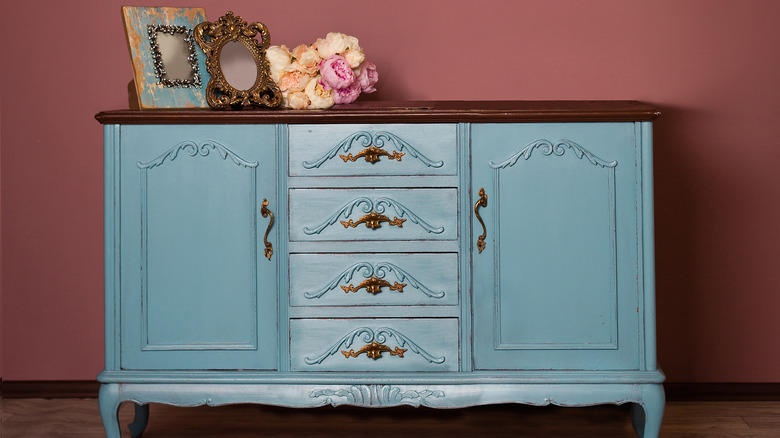 JasminkaM/Shutterstock
Have a tired dresser that needs a refinish? Need to add a pop of color to your bedroom décor? Want to protect your furniture? A staple used in dining rooms for centuries may be the answer. Enter the table runner. According to Premier Table Linens, table runners have been used in dining areas since the Middle Ages. They were designed to lay over tablecloths to make cleaning after meals easier. Modern versions of these textiles vary in length and width and serve to add texture and color to a table and keep the areas where serving bowls sit tidier. 
Table runners come in a wide selection of fabrics ranging from lace to linen and can be found everywhere, from thrift shops to luxury retailers. With so many options available, it's pretty easy to take table runners from breakfast nooks and dining rooms to other areas of the home. This includes the bedroom, where they can be helpful in several different ways, including replacing what used to be called dresser scarves.
How to use a table runner on a dresser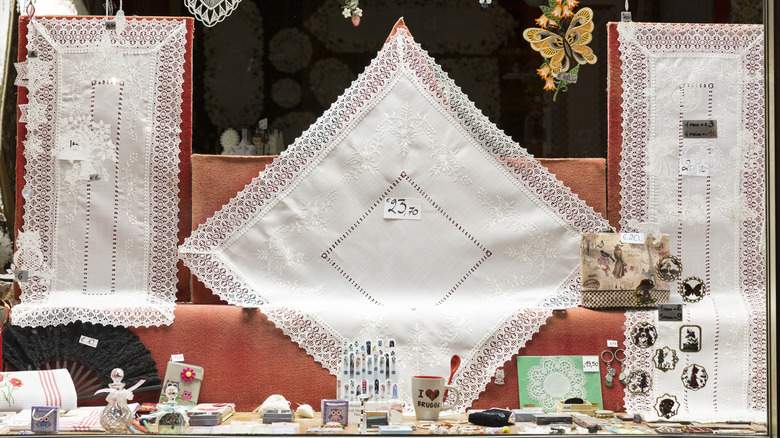 Tim Graham/Getty Images
Decades ago, dresser scarves and doilies were common décor items in bedrooms, as noted on I Should Be Mopping The Floor. Do a search to buy a new dresser scarf now, and, you guessed it, table runners designed for dining often top the results. Whatever the name, these textiles have many uses. You can also use them to add color accents, patterns, or texture to an often-neglected area of your room. A beautiful runner can transform a plain piece of furniture into a statement-making focal point in your boudoir.
One of the most apparent reasons to lay a table runner over a dresser top is to hide imperfections that come with daily use. Whether you have a vintage piece of furniture you never quite get around to refurbishing or a newer option that just hasn't held up as well as you'd hoped, table runners can cover those flaws stylishly. Runners also protect the tops of wooden and painted furniture pieces to ensure they won't need a do-over. These lengthy linens work well in children's rooms, bedrooms where live plants are displayed, or where cosmetics or perfumes might drip and damage varnishes and veneers, which are not as durable as solid wood, according to WoodWorkly. 
Choosing the right runner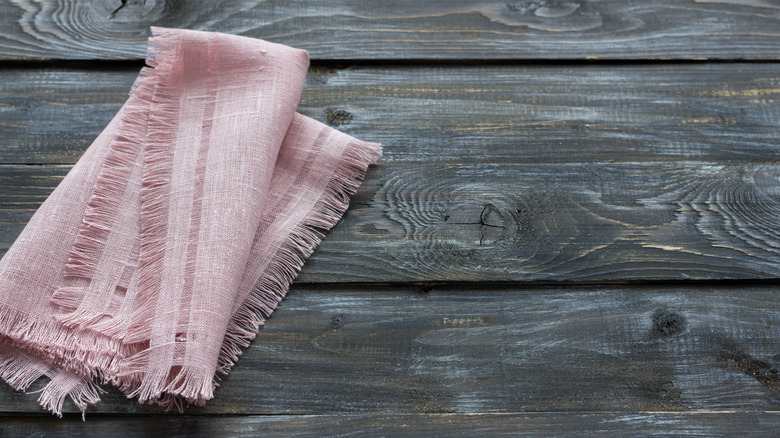 olepeshkina/Shutterstock
It's simple to match your decorating style when choosing a runner. For instance, quilted patterns can round out a modern farmhouse bedroom, as noted on Handling Home Life, and fabrics with noticeable textures like raw silk and burlap or fringe elements can also work with rustic wood or Bohemian-style bedrooms. And, since they come in so many different color options, using runners to tie together a scheme or pull out a favorite tone from a bedspread, comforter, or throw pillow is easy. Draping them across the end of a bed also adds an interesting pattern or swath of color.
Runners can be scrunched before placing decorative accessories on top of them. This works well in elegant settings with fabrics like chiffon, which is sheer and light, according to Sewport. Just be sure when you're measuring the length to buy to add another foot or two so you have some extra fabric to bunch. The one thing not to do when decorating with table runners is limit yourself. Explore using them in other areas of your home for even more versatility.