TikTok's Patio Paver Alternative Comes With Major Savings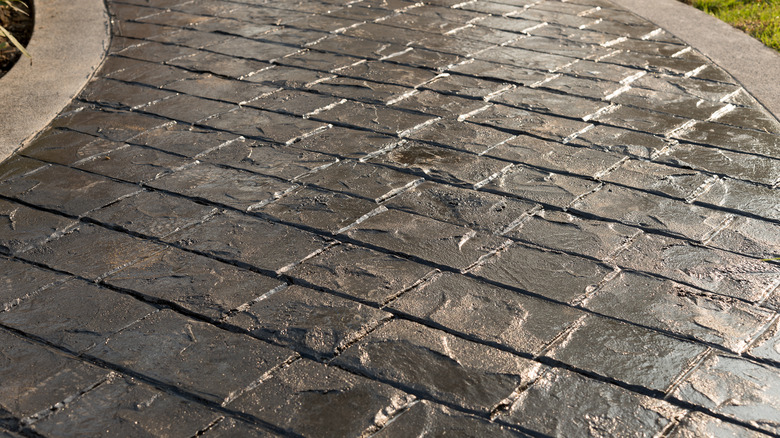 Thanate Rooprasert/Shutterstock
While paver stones in an array of rich colors and textures are a timeless and beautiful option for yards, driveways, and walkways, they are not always the most budget-friendly material. Depending on the style, stone, and amount of labor, they can easily run to $22 per square foot. Meanwhile, stamped concrete, which uses textured and patterned stamps to create the look of tiles or bricks is fast becoming a favorite alternative, thanks to popular platforms like Tik Tok and YouTube. Moreover, the look can be achieved for less than half the price!
If you are looking to add curb appeal to the front of your home or high-use areas like backyards, pool surrounds, and retaining walls, stamped concrete may be the solution for a low-expense, high-impact change to add to your home's beauty and resale value. Stamped concrete comes in an almost endless array of patterns, dimensions, stone finishes, and colors, which makes finding a design to suit your home's needs very easy.
The benefits of stamped concrete
Creating a stamped concrete surface — like the one in the TikTok post above — happens shortly after the pouring of fresh concrete when it is still moldable, at which point contractors will use textured stamps to create the pattern of popular stones like slate, brick, flagstone, and rounded cobblestone. Dyes are added to achieve variations in color at the mixing point to mimic the colors of other materials and can be applied as finishes that allow subtle variations.
Stamps include many different shapes and sizes of natural stone, as well as patterns like wood and floral designs. While they can create the look of space between the faux pavers, they do not have the complications of grout or things growing up between stones. Concrete is also not subject to the settling and shifting of loose pavers. While preparation for both laying paver stones and stamped concrete are similar, the process of stamping concrete is faster overall, particularly with larger spaces. The least expensive concrete stamping jobs will average between $8 and $12, with additional costs for certain finishes, labor-intensive designs, and more expensive sealant materials.
The drawbacks of stamped concrete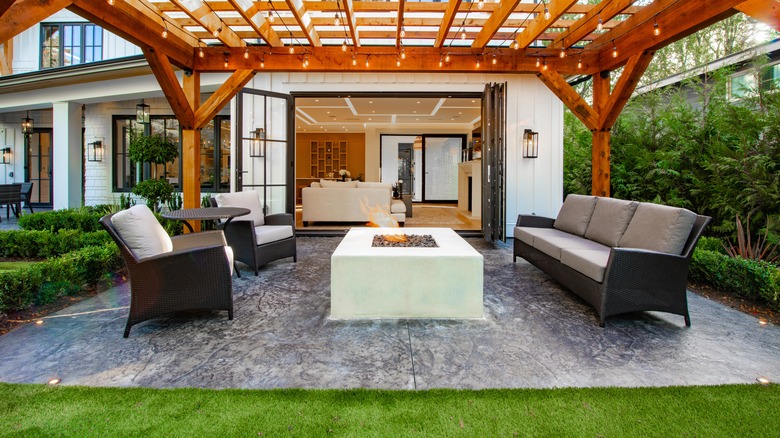 Sheila Say/Shutterstock
While stamped concrete is a far less expensive option for getting the look of pavers in your yard without high costs for materials and labor, it may not be right for everyone. For one, it is not as simple to DIY as other kinds of installation, particularly for larger areas, which require a professional contractor and team of concrete specialists to do the pouring. The dry time on concrete can take 24 hours to completely cure while actual paving stones can be ready for more immediate use and traffic after installation.
If you live in a climate with wild temperature variations, spans of concrete are much more likely to crack due to weather and moisture. Damage, from cracking, crumbling, or oil stains, is more difficult to fix on concrete without major repair costs. While paving stones can simply be dug up and replaced in damaged spots, replacing any part of the stamped concrete may necessitate re-doing the whole slab or having mismatched segments poured at different times.