An Expert Floral Designer Explains How To Upcycle Your Damaged Photo Frames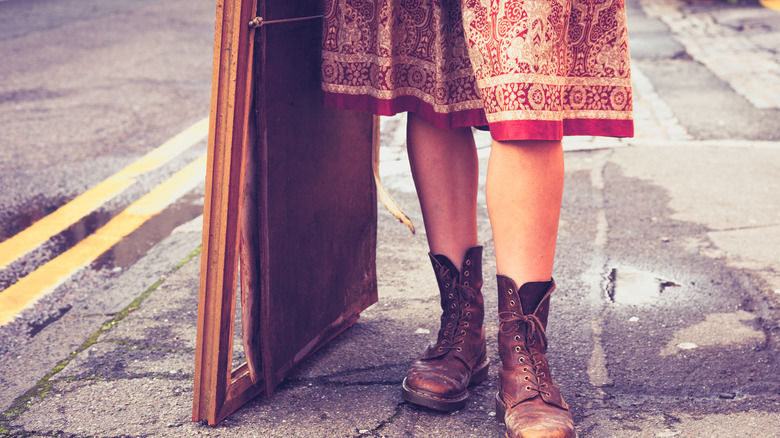 Lolostock/Shutterstock
Looking for an impactful way to add art to your walls that's easy to DIY? Look no further than this idea from floral designer, herbalist, and creative producer Emily Swarts. In a home tour with Apartment Therapy, the designer described the style of her West Village, Manhattan apartment as "boho, minimalist, plant-filled, Scandinavian, [and] cozy." If that resonates with your tastes, you may want to replicate the focal point of her airy living space: some homemade wall art above her sofa that she fashioned out of a pair of empty picture frames and dried floral arrangements. Not only is the project easy to DIY, but it doubles as an eco-friendly way to reuse old or damaged picture frames.
"Our home reflects our love for nature," Swarts told Apartment Therapy. "It's like a living oasis within the city." To emphasize that idea, she turned to handmade crafts such as this one. The result not only brings the outdoors in, but makes her "home reflect [her] identity, and vice versa," she said. Feeling inspired? Read on to learn all about replicating the budget-friendly idea in your own space.
Gathering materials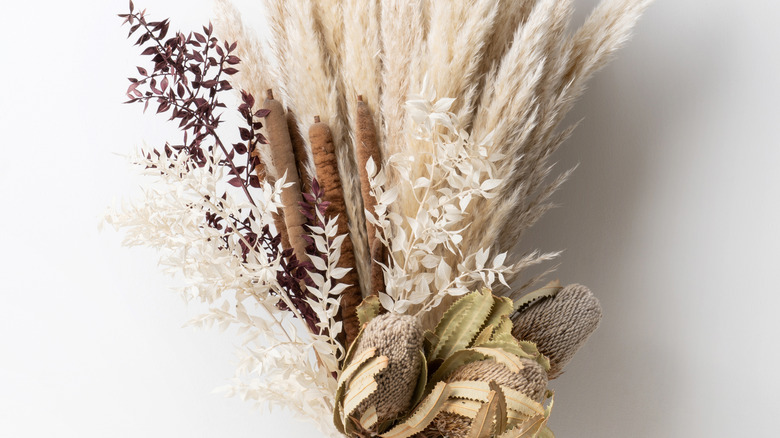 Tegan T/Shutterstock
For her project, Swarts used two slightly offset side-by-side rectangular gold picture frames and affixed two pastel-hued dried floral arrangements to diagonally opposite corners, one on each frame. However, the possible customizations for this DIY project are only limited to your imagination. You could stick with Swart's choice of using two frames, opt for one big statement-making one, or even several small ones to create a floral gallery wall.
If you don't have any damaged or old frames lying around, check out your local thrift stores, flea markets, or online marketplaces for pretty frames that tickle your fancy. Give them a good dusting and remove any panes of glass or backing, and the base for your new wall art is good to go. As for the florals, you can opt to buy dried arrangements, pick out some believable faux blooms, or arrange and dry your own curated bouquet. If you go that last route, you'll need to string up your flowers upside down until they are totally dry in order to hold their shape.
Assembly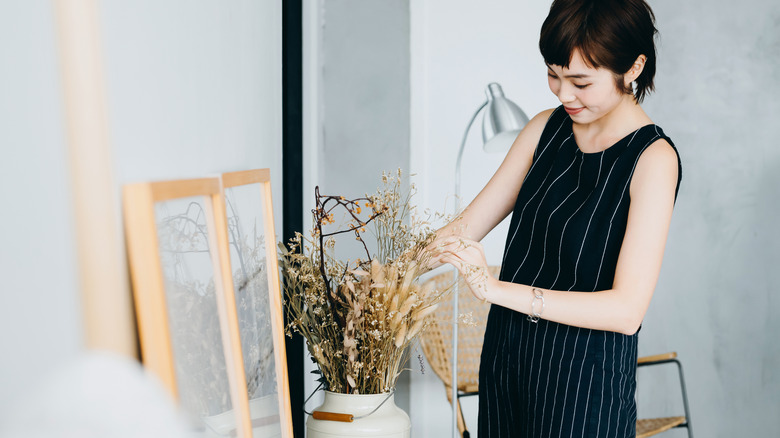 Asiavision/Getty Images
Once you've found some frames and flowers that fit the aesthetic of your space, it's time to make the magic happen. First, apply a few sprays of hairspray to the dried florals in order to help preserve them and prevent them from falling apart. If desired, you can also give your frames a fresh coat of paint to complement your home's color scheme.
When it comes to putting it all together, you can use twine, hot glue, or a combination of the two to attach the flowers to the frames. When using twine, you'll want to tightly tie the stems to the frame in a criss-cross pattern, ensuring the blooms shield the string from view. If that doesn't work for your florals of choice, hot glue may be a better option. Glue the flowers to the back of the frame in layers to make sure that the entire arrangement is secure. As for hanging your creation, the use of empty frames makes it easy. Simply rest the top inner corners of the frame on two nails and admire your handiwork.