Royalcore: What Is It And How To Get The Trendy Decor Look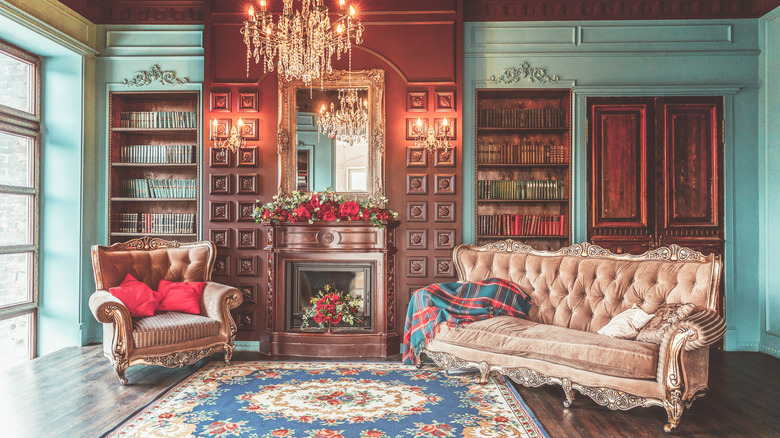 Iuliia Zavalishina/Getty Images
With increasing media coverage of the United Kingdom's royal family and numerous television adaptions of royal stories hitting our streaming services, it's no wonder that the aesthetic of Royalcore is taking over the design industry. This popular trend embodies regal and lavish looks, especially those pertaining to the 19th century. While we can certainly attribute royalcore's rise in fame to Netflix hits like "Bridgerton" and "The Crown" or the 2021 bio-pic of Princess Diana "Spencer," it's undeniable that aristocratic narratives have been in Hollywood for quite some time with shows/movies like "The Queen," "Downtown Abby," and "The Princess Diaries."
The design trend has amassed a huge following online, And So To Bed found that in 2022 it was viewed on Tiktok 278 million times, increased in Google searches by more than 2,000%, and had approximately 52,000 hashtags on Instagram. You can feel like a monarch in no time by creating your own Royalcore-inspired space with various components of floral patterns, gold and brass accents, ornate detailing, and the right amount of time dedicated to vintage shopping.
What is Royalcore?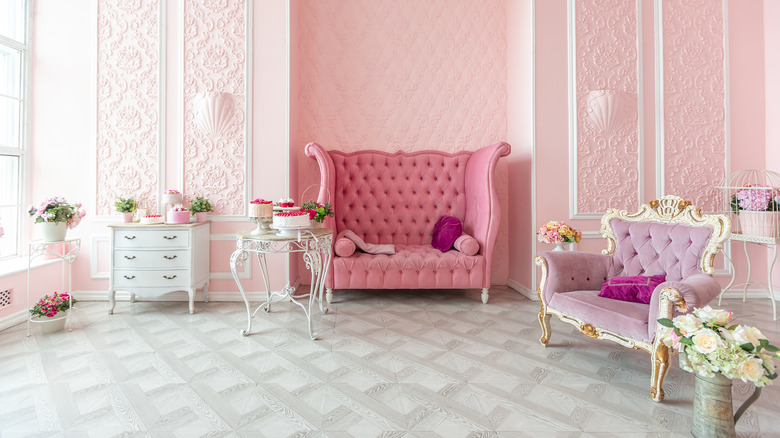 Pinkystock/Shutterstock
Royalcore, also often referred to as Princesscore, glamorizes royal Western European design. While the era of the 18th and 19th centuries are popularly depicted in media, Royalcore goes back as far as the 5th century. This iconic style may be booming on the trend charts recently, but we live in a culture that has always had a love for noble and magnificent motifs. Even great literature of the 1800s, like "Pride and Prejudice" and "Wuthering Heights," painted a romanticized portrait of opulent living.
A significant step away from trendy minimalism, Royalcore may feel busy with trinkets, books, and patterns scattered about, but it is curated in a way that feels personal and not overwhelming. As you imagine what type of items, colors, and details epitomize Royalcore design, consider grand castles and palaces such as Windsor, St. James, and Edinburgh. Although this décor trend is niche, it still presents many different design possibilities. Whether you are looking for something light and whimsical with pastels or a gothic and saturated space with dark reds and golds, there are countless ways to construct a royalty-themed space that is uniquely yours.
How to get the Royalcore style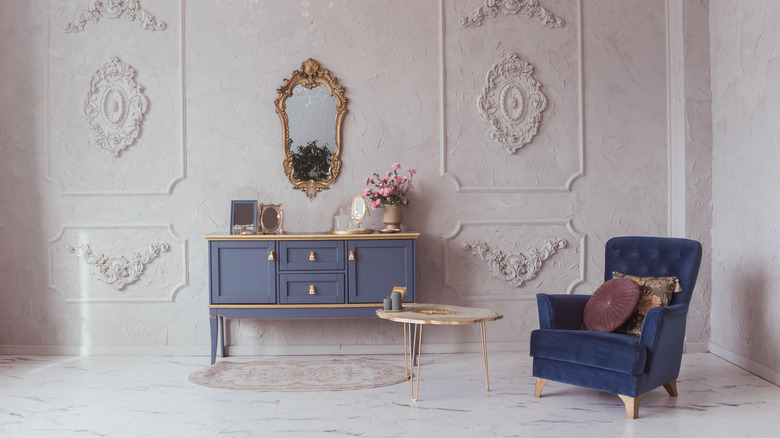 Vladeep/Shutterstock
While interior design inspired by Royalcore can take on several different looks, there are principal themes you'll see across the board. Luxurious upholstery with highbacks and ornate armrests immediately brings our minds to the sophistication and elegance of regal style. The seating will feature lush velvet fabrics and often carry demask prints. Other patterns to seek out would be floral and nature-driven schemes, whether on drapes and curtains or bedspreads and pillows. Lace, fringe, satin, and silk are all materials you can't go wrong with. For bedrooms, it's essential to center the room around a four-paneled or sleigh bed. Frequently having intricate designs carved into the bedposts and headboard, these beds anchor the room and bring home that regency-era feeling.
Chandeliers and candle holders add a classy and dramatic touch, along with raw metals like silver, gold, and brass. Wall paneling, renaissance art of cherubs and angles, and Persian and ornamental rugs help pull all the pieces of a room together. These accents are also an excellent opportunity to enhance your color palette. Light shades of pinks, yellows, blues, greens, and purples will be key for a fanciful and playful approach. If you desire a darker look, explore jewel tones like maroon, navy blue, forest green, and plum purple. Don't forget to browse all your local antique stores and estate sales for one-of-a-kind finds and that timeless vintage touch.