A Chic Patio Set Will Transport Your Next Family Dinner To The French Countryside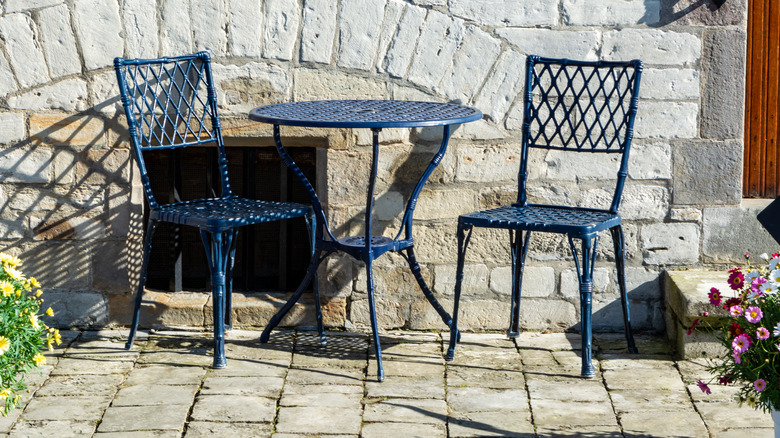 barmalini/Shutterstock
If you've ever dreamed of going to France, but life always seems to get in the way, you can always bring a bit of France to you. Whether you want to live as though you're in Paris or simply feel like you're having a family dinner in the French countryside, hints of French décor in your home can make you feel like you're there. In fact, a chic patio set in your backyard may give you the French countryside ambiance you desire. Even if you have a standard backyard with a wooden fence, grass, and concrete slab, you can easily give it an elegant transformation. However, to do so, be sure to choose a vintage, metal patio set. 
The French country style consists of tasteful and rustic pieces that can be seen in the furniture, décor, and color palette. A few key characteristics include wood features, neutral tones, subtle patterns, and distressed vintage furnishings. You want it to feel as though the house has been lived in for decades but was well taken care of. The French country style is geared toward folks who enjoy comfort and elegance, and you can design your home to either entirely invoke this style or highlight small tokens implemented throughout; our main focus is the patio.
French country details that make a difference
Previously, we mentioned how purchasing a French-inspired patio set can help change your patio's ambiance, but adding small details can help elevate the overall style. Most French countryside sceneries include string lights, green vines growing on brick walls, and vintage mirrors that add a sense of coziness to the sophisticated atmosphere. In addition, some choose to add a cement bench along a wall with a pastel watering can sitting on top to introduce more color and texture to the space.
Depending on the size of your family, you might need more chairs or a long table to fit everyone, or you can buy multiple round patio tables that fit between three to four people. For example, the Antiqued Iron 3-Piece Folding Bistro Set from Vandue includes two folding wide-stance chairs with a detailed weave pattern and a folding table. It seats two people, but you could purchase an extra set to seat more people. Also, you can decorate the café-style table with flowers and complementary tableware.
Create your own French country patio set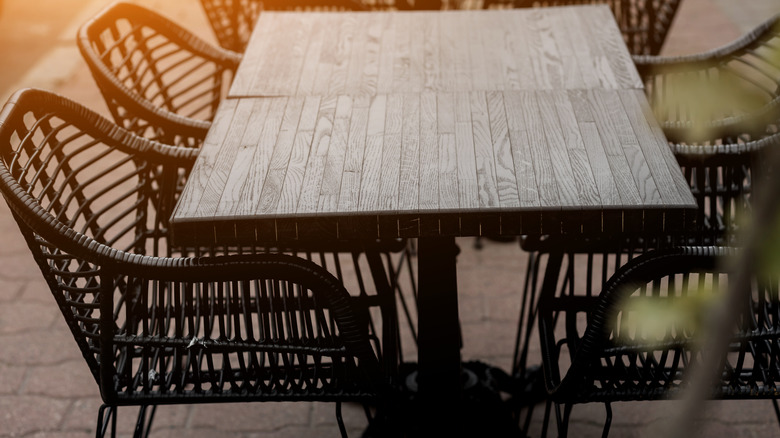 Jozzeppe/Getty Images
Most French-inspired patio sets include two vintage metal chairs and a round table, but a larger table may be desired by those with a bigger family. You can always create your own patio set by selecting different tables and chairs and combining contrasting finishes to make it unique for your home. The French countryside style centers around wood furniture and refined pieces. You could add a long wooden table with woven-styled chairs. The entire look is French bistro-inspired but would be perfect for dining in the backyard while giving a French countryside mood.
Putting wood furniture in the backyard can have pros and cons, depending on where you live. If you have humid or rainy weather, natural wood furniture won't survive outside, but choosing a sturdy table with a faux wood grain finish is an ideal replacement. Also, rattan chairs are coming back in style, and they're suitable for your French countryside dinners. Rattan-style chairs are weather-resistant, durable, and comfortable, and you can keep them outside all year long. Additionally, they're available in many colors, so you're sure to find something to fit your French country backyard aesthetic.