HGTV's Leanne Ford Chooses An Unexpected Item To Replace A Kitchen Island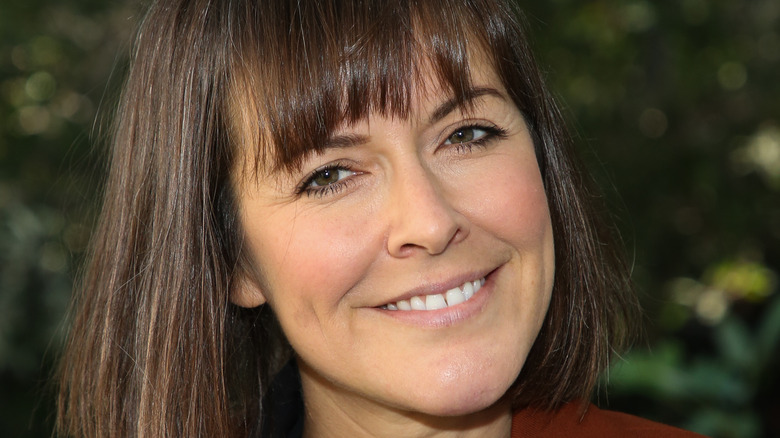 Paul Archuleta/Getty Images
As an interior designer and HGTV personality, Leanne Ford has never shied away from using an eclectic blend of fixtures, furnishings, and materials in the homes she renovates and decorates. One option she's been offering clients — and they're taking her up on it — is leaving the ubiquitous island out of kitchen renovations. When it comes to alternatives for kitchen islands, Ford's easy and functional suggestion is to replace a standard island with an even more versatile vintage dining table.
"The separation of the kitchen and dining room's becoming obsolete," Ford mentioned in an interview with Delish. "It only seems right that the kitchen's becoming a very livable space where people hang out, beyond just cooking." Think about it; you're not only keeping the workspace needed for baking and food prep but have the potential to add more seating for casual dining, games, crafts, and homework when subbing a table for an island. In a space where people tend to naturally gather anyway, it's a win-win. Selecting a table just right for your kitchen also offers lots of different options.
Selecting the right table for your kitchen
If you need a bit more cajoling to consider giving up the idea of a kitchen island, more musings from Leanne Ford might do the trick. A vintage table can add a "down-to-earth" feel to an elegant kitchen, as Ford mentioned on Instagram. A long table is featured in the post, but petite tables with fewer chairs can work in smaller spaces, too.
While Ford found her design client agreeing on a rustic table choice, antique and vintage might not be your personal preference. If your taste leans to the contemporary side of decorating, something newer can work for this purpose as well. The key to making a dining table work in the kitchen, however, is keeping it casual and livable. Focusing on surfaces that are easy to clean is also a point to consider for a table that's likely to get heavy use for both making meals and eating them.
Don't forget the chairs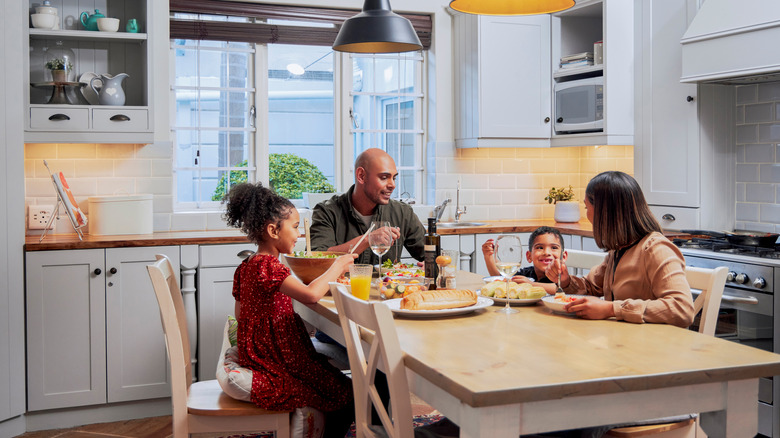 Moyo Studio/Getty Images
When subbing a table for a kitchen island, you can buy a matched dining set and call it a day. That works perfectly well. However, another perk to going this route is the chance to incorporate an eclectic blend of your favorite chair styles to bring the look together rather than picking just one. Whether you put modern chairs with an old table or prefer a totally vintage vibe, you can create a seating ensemble with plenty of eye appeal that fits the lifestyle of your particular family.
Like the table you select, make sure the chairs are both durable and functional. Take comfort into consideration as well. Chairs might look amazing from a design standpoint, but if you can't stand sitting in them for an extended period, they don't belong in a kitchen configuration like this. The goal is to create a space that looks inviting, but you also want it to be a comfortable place to hang out, as Leanne Ford envisions for her clients.