HGTV's Emily Henderson's Alternative Flush Mount Ideas That Stay Within Budget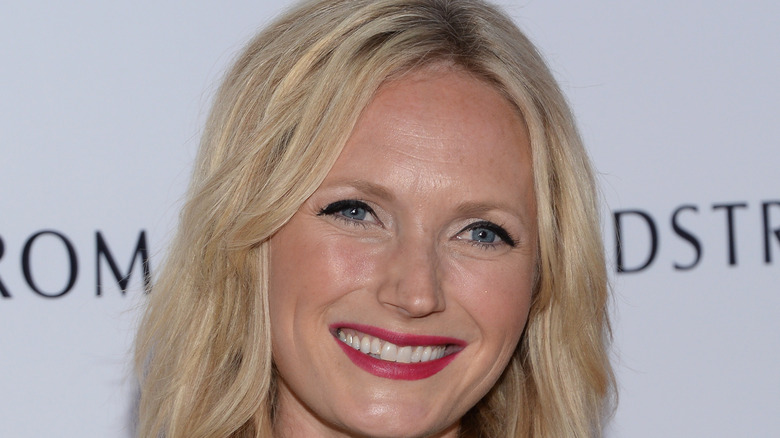 Jason Kempin/Getty Images
If you want to replace an old flush mount light, HGTV's Emily Henderson has an array of alternative ideas that may help you stay within budget. The professional stylist has featured a lineup of her favorite ones to consider as replacements for the notorious boob light, per Style By Emily Henderson. With a rounded glass bowl and upright finial, flush mount fixtures were a common style made for homes with low ceilings in the early 20th century. However, they may appear a bit basic these days. 
A low-level dome fixture, flush mount lights are generally attached directly to the ceiling for a soft, ambient glow. While many vintage styles may have a similar dome shape with a mounted base, replacing them may add more character to your home. Henderson explains, "It not only instantly modernizes a space but also makes it feel more personalized."
Depending on its size and style, the price of one flush mount can be expensive. Average models may range from the hundreds and reach into the thousands for more decorative kinds. So, how can you stay within budget with an alternate flush mount? Henderson says, "Affordable lighting is your friend." Whether you rent or own your place, determine how much you want to invest in new lighting. Whatever your budget, the former "Design Star" winner has it lit with her selection of modern, yet reasonable options to ponder.
Versatile styles you can find under $125
From traditional to ornate, there are many budget-friendly flush mount light options to choose from that evade the original boob light. While some are more elaborate than others, Emily Henderson knows that you don't have to overspend to find the perfect one. For a classic look, you might opt for a round, dome shape. "I love the organic modern feel of this one!", says Henderson (via Style By Emily Henderson). Another minimal style might be a tapered (or flared) ceiling light that could provide the right touch of light to a space. You might also consider similar kinds in a semi-flush version, which slightly suspends from the ceiling for added ambiance. 
To get away from the mundane, look for flush mount lighting with distinctive lines or other visual textures and materials. This might include an elegant scalloped design to accentuate a bedroom or a three-tiered beauty like the pair pictured above. While a more mid-century modern design, drum flush mounts can mingle with various styles, including those made of jute or other fabrics. Henderson particularly likes those in beige linen, "I love the tone of this drum shade because it feels a little more unique than the standard white." For a comfy, bohemian vibe, install a natural rattan flush mount, which can enlighten both indoor and outdoor living spaces.
Stylish options for slightly higher budgets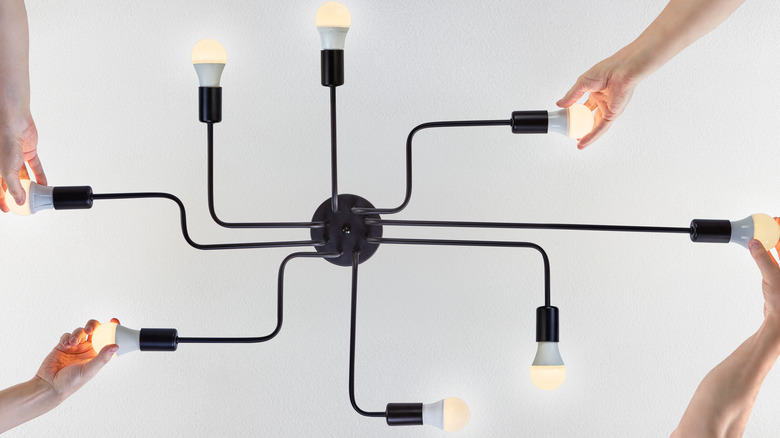 Grigvovan/Shutterstock
Let go of your outdated flush mount light and welcome efficient, alternative options. If you possess a more high-end taste, Henderson also touches on some for those who are willing to spend more. "As most things in life go, if you have a bit of a bigger budget you have some more options stylistically," she explains (via Style By Emily Henderson). Flush mount lighting with a $125 to $200 price tag may offer somewhat larger models with innovative designs, whereas those that reach into the $1000 range or more may consist of various kinds of high-quality materials like wood, polished brass, and leather. 
With many contemporary designs to explore compared to the commercial boob light, a chic choice might be the Small Jake flush mount. Named after designer Jake Arnold, the ceiling light features a white wood canopy (with other variations available) contrasting a lovely white porcelain shade. This petite style would complement a simple Scandinavian kitchen or room. With a striking appearance, the Nodes flush mount is aerodynamic with an art deco flare.
If you prefer a grander piece, you might try one with multiple globes. As Henderson advises, "This is perfect if you want the vibe of a chandelier but don't have a lot of ceiling height." However you illuminate your ceilings, make sure your flush mounts fit accurately by adding the width and length of your space together, then converting them into inches.