How To Determine If Drainboard Sinks Are Right For Your Kitchen Space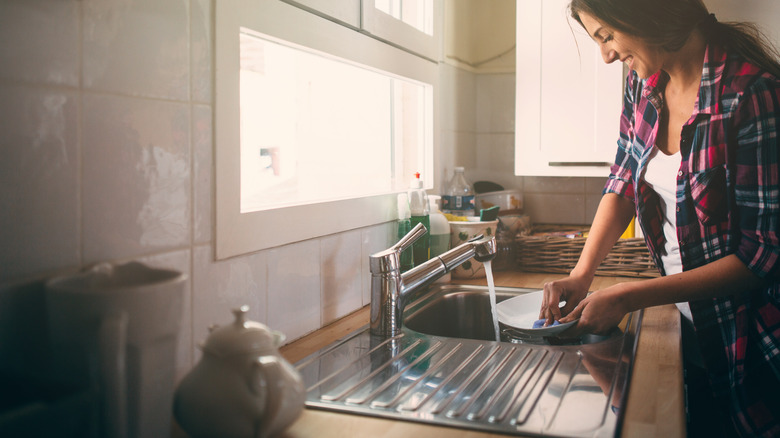 Filadendron/Getty Images
Whether you're looking to make space or make a statement, drainboard sinks can be an eye-catching, practical addition to any kitchen. In the simplest of terms, drainboard sinks come equipped with a permanent drying space attached beside the washbasin. Instead of pooling on a standalone tray or being absorbed into a mat, water from freshly rinsed dishes drains off the board and right into the sink. The benefits of such a design don't end at holding clean dishes, though.
In a small kitchen, any extra sliver of countertop can be valuable when preparing a meal. The addition of a drainboard will clear up some of the space typically occupied by a standalone drying rack. Perhaps more importantly, you can incorporate the drainboard into your meal prep.
Serious home cooks may have considered installing a prep sink to aid in the creation of masterful recipes, but that's not always a viable option. That's where the drainboard shows its practical side. A clean and sanitized drainboard can hold fruits and vegetables after a good rinse. You can place your favorite cutting board on top of it, too, and simply slide unwanted bits into the sink for later clean-up or for the garbage disposal. Heat-resistant drainboards can also hold hot dishes or even act as a rest and leverage point when purging boiling water from pots and pans.
The best sinks featuring a drainboard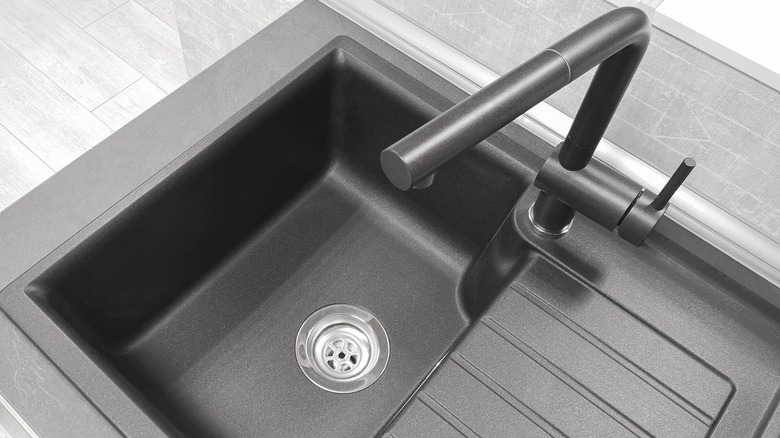 Nina Unruh/Shutterstock
Drainboards are most commonly featured with drop-in sinks. The rim of this sink sits on top of your counter, as does the drainboard. The end of the board will either slope down into the basin or go right over the rim. A less common but still available option is the undermount sink. In this design, the board can be incorporated into the basin itself resembling a shelf of sorts, or it will slope downward. If you have the space for it, you can even have a drainboard on both sides of the sink.
As for basin type, these boards work well with single or double basins. The material will likely match that of the sink. When shopping, you'll see a fair share of stainless steel drainboard sinks. If that practical, more industrial look doesn't exactly fit your style, other available materials include cast iron or cast acrylic, granite composite, and ceramic.
Drainboard drawbacks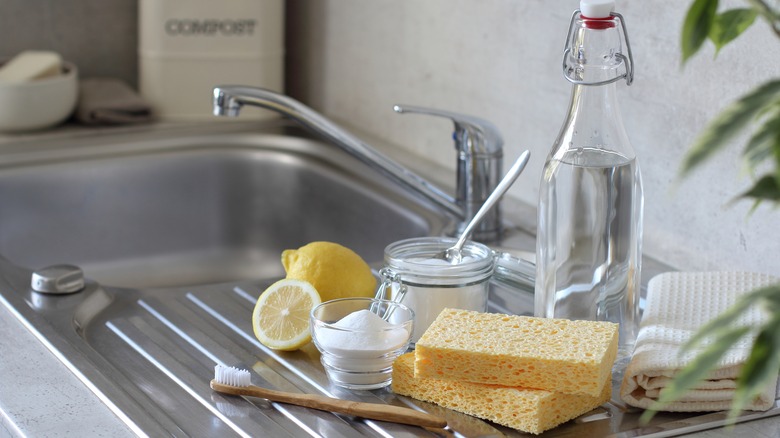 Aygul Bulte/Shutterstock
For all the advantages of a drainboard sink, there are still some downsides to incorporating one into your kitchen scheme. Yes, it will free up a bit of space used by separate, bulky dish racks. However, unlike those dish racks, a drainboard cannot be removed. There's no sticking it underneath the sink when you need every inch of space. A drainboard doesn't have tall vertical slots like a drain rack, either. All the dishes will lie flat on top of each other unless you buy a separate rack. That could be a concern if you've dirtied fine china or other delicate items.
Large families or spirited cooks who use a lot of dishes and utensils may find the drying space insufficient on a drainboard. A dishwasher will solve the problem, but if you're lacking that appliance, you'll want to consider your typical wash load. There are also aesthetics and design to consider. Those who prefer a subtle sink may find the addition of a drainboard to be too bothersome to the eye.