We Tried The Dollar Tree Hack For Making A Dustpan Scraper With Sweeping Results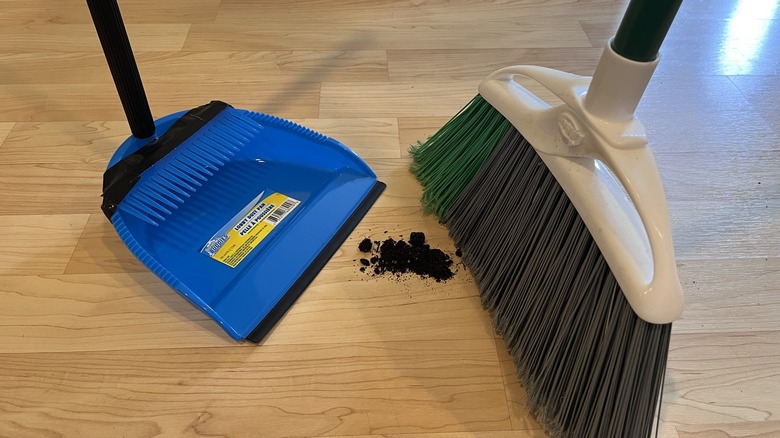 Kailen Skewis/House Digest
We may receive a commission on purchases made from links.
We're always ready to try new hacks that can save us from bending over backward to get something clean. Yet, many of the products that offer time-saving and innovative features cost an arm and a leg. One of them is the extremely popular upright dustpan and broom set that has a broom comb attached. Listed as the Treelan Broom and Dustpan Set on Amazon, the inspiration for this project costs nearly $40 normally, and it is on sale at the time of writing for 40% off at approximately $24.
Thankfully, @doitonadimeofficial on TikTok has cracked the code and allowed us to create the same product for a fraction of the price. If you have some spare change and a Dollar Tree store in your area, you're already halfway to creating your own upright broom-combing dustpan. Like the original Amazon set, this DIY dustpan with a scraper aims to collect all of the dirt, debris, and even pet hair from your floors. With its upright handle, you shouldn't have to get on your knees to sweep your pile into the dustpan, and the added comb helps remove stuck-on hairs and dirt particles for a cleaner broom that won't unintentionally spread the mess around.
What you'll need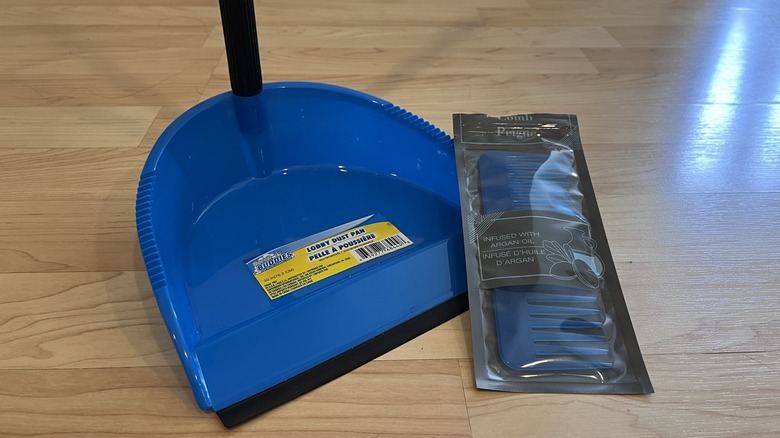 Kailen Skewis/House Digest
You need just three things to make an upright dustpan with a scraper that competes with the $20 to $40 Amazon finds. First, a basic wide-tooth comb. We chose the Coconut and Argan Oil Infused Hair Combs from Dollar Tree. Several other combs just like this one are available in the hair care aisle. This one caught our eye as it matched the blue of the dustpan. The dustpan we chose was the Scrub Buddies Lobby Dust Pan 30-Inch. While this is the only one we could find in-store, there seem to be other options at different Dollar Tree stores, such as the gray one we saw in the @doitonadimeofficial TikTok. Finally, we also had to buy some Duct Tape, which is available in several colors depending on your preference. The three items were $1.25 each for a total of less than $5 at check out. What a steal!
To set up our experiment, we started by taping our comb to the dustpan. At first, we tried taping only the corners of the comb, like in the TikTok. However, using a large strip across the top of the pan and the comb seemed to stabilize it better. Then, we poured a bit of potting soil on our laminate flooring for a good visual. Trust us, there was already plenty of cat hair down there, but it was difficult to catch on camera.
Trying it out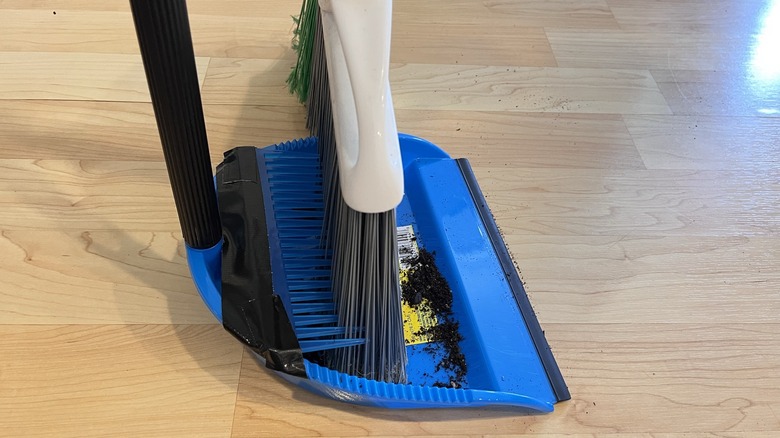 Kailen Skewis/House Digest
Once we got the comb secured on the back of the dustpan with our duct tape, it was super simple to put to the test. Using the aforementioned potting soil as our test material, we swept it into a pile and into the dustpan. One thing we wish we could've changed is the size of the broom or the size of the dustpan. To save money, we decided not to buy a new broom as we had a perfectly good 11-Inch Libman Angle Broom at home. But, the problem is that it was much too big for the dustpan, so some of the dirt and debris was swept on the sides of the pan instead of inside of it. Still, with a few extra swipes, we got it all in easily.
The star of the show, the comb, worked better than we had expected initially. The wide teeth gripped the bristles of the broom and pulled out the excess dirt and hair with ease. One concern of ours was that it wouldn't be strong enough to brush through without ripping off entirely. Thankfully, we were wrong! It didn't budge one bit. At first, we were gentle to see how it would stand up, but even with more force, it held up the same way we would expect of the Amazon options.
Is it worth the added effort?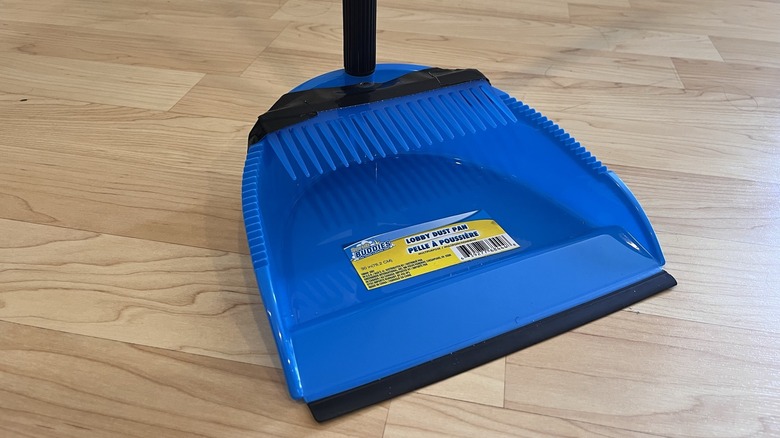 Kailen Skewis/House Digest
For the price, we love this Dollar Tree hack. Of course, you lose a few things when you decide to take this route, including a decrease in size, a limited number of color options, and it is likely a bit more fragile than some of the popular upright broom-combing dustpans on the market. In all, you get what you pay for with this one. If you're looking to save $15 to $35 on a product like this, we encourage you to try this out. However, we understand if the real thing entices you with its matching broom, wide mouth, and ease of purchase. It's hard to compete when Amazon will send the finished dustpan right to your door with little to no DIY required.
When we started this project, we were admittedly skeptical and wrongfully assumed that it wouldn't be up to the challenge. After the experiment, we found ourselves pleasantly surprised. The Dollar Tree dustpan hack is now an appreciated member of our cleaning arsenal that we hope will continue to surprise us. We've officially removed the best-selling dustpan and broom set from our Amazon cart and saved quite a bit of cash along the way!