Is Vinyl Plank Flooring Right For Your Space?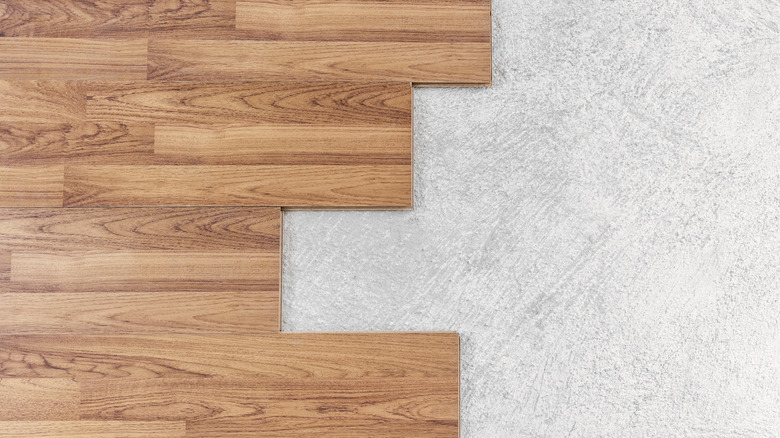 Sasin Paraksa/Shutterstock
If you want your floors to closely resemble wood without paying the steep price of the real stuff, vinyl plank flooring is an excellent option, particularly if you choose luxury vinyl plank. This type of flooring makes for a relatively straightforward DIY project, too, if you're looking to save on the installation. Better yet, vinyl planks work well in most rooms, performing best when put to the heat and water test. That said, it's not immune to damage, so areas with high foot or pet traffic may need alternative flooring options.
Before you jump into a vinyl flooring project, it's important to distinguish between traditional vinyl flooring that resembles planks, also called standard vinyl, and luxury vinyl plank (LVP). The two names can sometimes be used interchangeably, but the differences are substantial. Both styles hold the advantage of being heat and moisture-resistant, but that's about where the similarities end. Structurally, the two are made up of several layers, with LVP including a rigid layer that makes it less flexible than standard vinyl yet thicker and stronger. LVP is also installed differently. Traditional vinyl typically comes in sheets, while most luxury vinyl uses an interlocking system where the planks click into place. LVP's superior strength and ease of installation have made it the preferred choice as of late. But is it right for your space? Here's how to decide.
Pros of vinyl plank flooring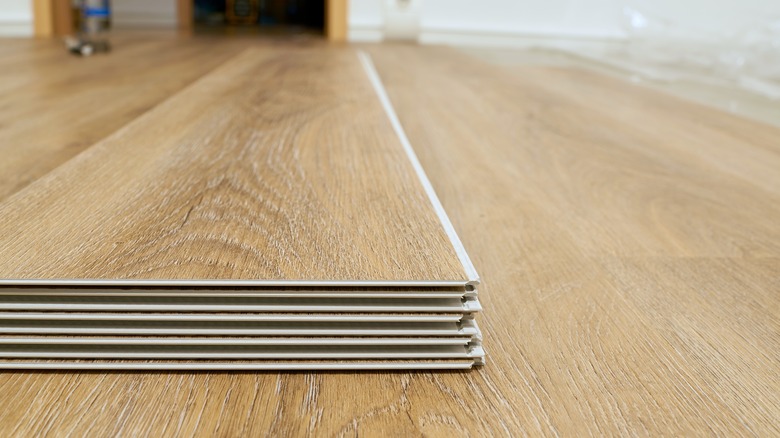 Heiko Kueverling/Shutterstock
The advantages of luxury vinyl planks are numerous. The biggest point in its favor is the material's ability to expel moisture and withstand heat. This makes LVP flooring perfect for kitchens, bathrooms, laundry rooms, basements, or outdoor patios. It's also incredibly easy to clean and maintain, making messy spills much more bearable. 
LVP is highly customizable, offering a plethora of options that can fit into any preferred design and, really, any room. This thick flooring provides more cushion than traditional vinyl, making it kinder on bare feet and less noise-prone. The individual plank design of LVP allows it to pass better as wood, too. When these single planks are laid next to each other, it will create a seam much like a floor built from single cuts of wood. 
It's those individual planks that make the install amateur and error friendly. While some brands of LVP do still use glue as a backing, many are free-floating. If you miss a placement, it's much easier to unclick two planks than it is to peel up standard vinyl. 
Cons of a vinyl plank floor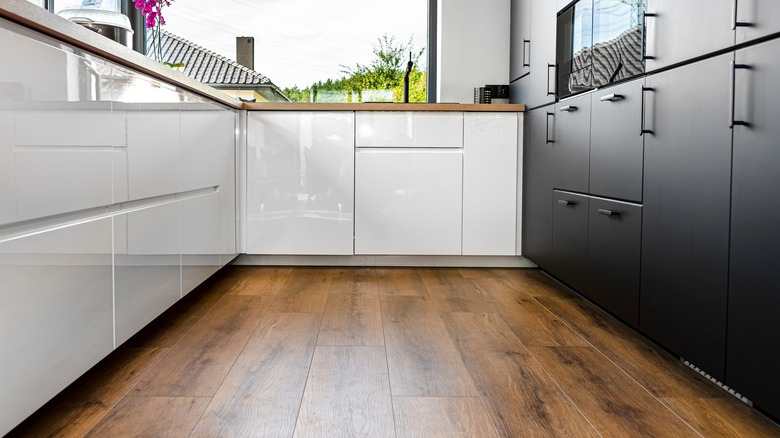 Kinek00/Shutterstock
Like most things, vinyl plank flooring can't be entirely perfect. While it is true the extra thickness created by LVP's layers makes the product more durable and longer lasting than standard vinyl, it's not the most durable option out there. Hardwood and tile, for example, will win any such battle against LVP.
When using luxury vinyl plank indoors, it's best to avoid rooms with heavy furniture, such as a living room or home gym, and areas with a lot of foot traffic. Furniture naturally moves as it's sat or laid upon, and this movement will inevitably cause plank flooring to scratch and scuff. Well-trodden paths through hallways and entryways can suffer the same fate, or the floor's finish will simply wear down quicker under all those steps. If you're continuously dropping weights and medicine balls on the flooring of your home gym or just really love rearranging furniture, you also risk denting or fully cracking the plank. A little elbow grease can help with scuff marks, but a cracked or dented plank must be replaced to avoid further damage. If a vinyl plank floor really becomes tattered and worn, you're likely looking at a full replacement. Though it may look like hardwood, a truly damaged vinyl plank floor cannot be rescued with sanding and refinishing.