Here's How To Add A Pop Of Green To Your Outdoor Patio Steps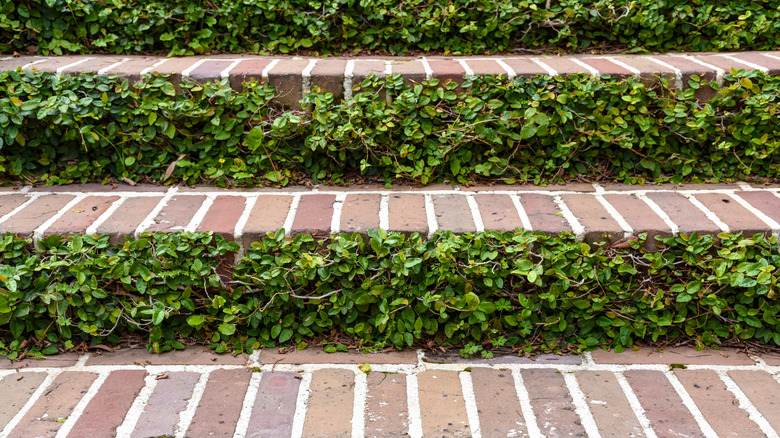 Joanne Dale/Shutterstock
A patio can add many opportunities to create a unique space, expanding your living areas and spilling your style outdoors. But don't forget your patio steps in that design; your green thumb doesn't need to end where your steps do. There are ways to welcome plants into this pathway and extend your love of green at every step. For one, let the vines rain over doorways, gates, porch steps, and windows to add a beautiful cottage-garden look. Just be sure to select plants that can handle an actual step or two from foot traffic. You'll also need to consider moisture levels and how to keep the plants well-fed and watered. 
Plus, make choices that won't create a slippery slope — a serious safety factor when choosing plants for your patio or steps. Sun levels are another consideration with any plant, but it's a little more critical in this circumstance and will impact how much watering you'll need to ensure healthy growth.
Perfect plants to consider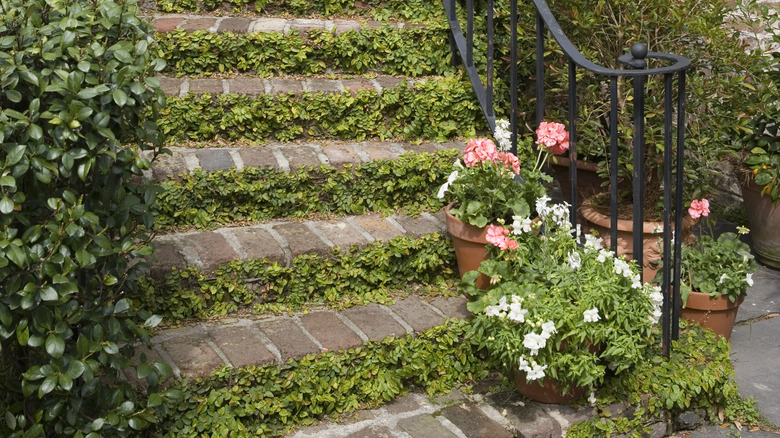 Brian Nolan/Shutterstock
Your stairway to green should start with compact plants. These plants can help fill in the spaces between steps or pavers, soften the look of your patio, and prevent weeds. When choosing the type of vining plants, like clematis, moonflower, or nasturtium, to grow on your stairs, ensure the vine works in your USDA growing zone and enjoys consistent sun exposure.
Landscape architect Stefano Marinaz explains how he approaches this juxtaposition between concrete and plant life in an interview with Homes & Gardens. For one project, his team constructed garden steps using concrete clad with stone. "To accommodate Sarcococca humilis we made a 100mm gap between the steps to allow for soil and drainage. This specific evergreen Sarcococca was chosen for the gap between the steps because it stays compact."
Other plant choices include creeping fig; it works well in areas with part shade. Often seen growing up walls, the small leaf plant is also perfect for your patio stair risers. Creeping figs can grow quickly, so be prepared to trim as needed, especially if it advances further to your steps than you'd like. Consider other crawling plants, such as English and Himalayan perennial ivies. Both are fast-growing, can climb without the support of a trellis, and cover large areas with mat-like growth. 
The next best thing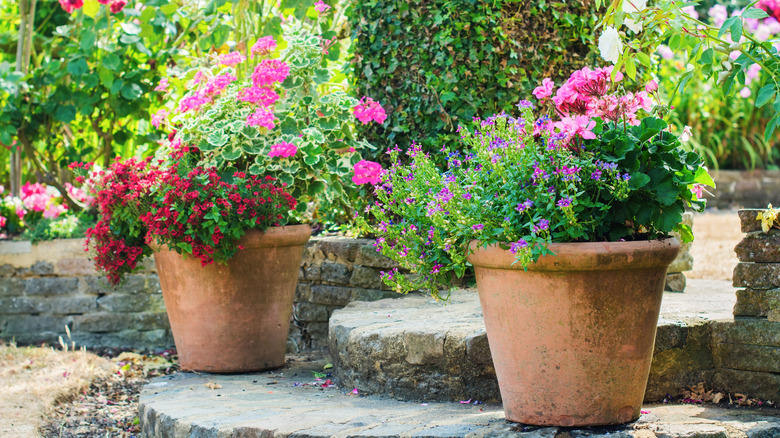 Lilly Trott/Shutterstock
If you're not quite ready to commit to climbers or if this approach doesn't work in your space, there are countless other ways to soften your steps. Tuck plants in the soil around your steps, creating small pockets of flowers. Train plants like clematis or honeysuckle to climb up handrails gracefully. Or frame your steps with flowering pots. If you're set on climbing choices but need more portability or want to control the spread, consider some of the best container vines, such as Bougainvillea and Wisteria.
If you have a concrete patio, let nature in. Add a bigger space between each paver, so grass, compact ground cover or other plants can grow through. Moss is a sweet partner for your patio pavers and comes in a variety of green hues. Sedums are another patio favorite and can often take a footstep or two. Groundcovers you can step on include Creeping Golden Buttons, Thyme Leaf Speedwell, and Snow-in-Summer. Step ability is an important consideration — especially if you have pets who enjoy the patio.