Here's Why You Should Wrap Your Above-Ground Pool In Concrete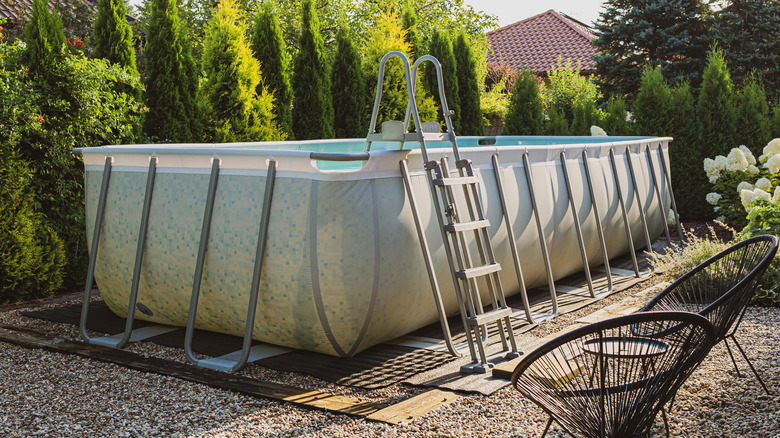 Cleardesign1/Getty Images
If your above-ground pool the talk of the neighborhood for all the wrong reasons, it may be time to give it a facelift. Having a large plastic basin framed by weeds and discolored grass in the center of your backyard can spur unwanted pool shaming, especially when your neighbors are lounging next to aesthetically pleasing inground versions. Fortunately, by tastefully using concrete around your above-ground pool you can mimic the stylish luxury associated with resort-like decks that encircle inground pools.
Rather than being tied to a conventional pool deck material like wood, concrete is a solid choice that lends itself to a world of possibilities. When drafting plans for a concrete wraparound don't be intimidated by the sturdy material — its versatility accommodates an array of pool shapes and sizes. What's more, like its wooden counterpart, concrete enclosures for above-ground pools are fully customizable. That means you can hide your pool's unsightly plastic edges with a sleek and sustainable surface without compromising creative design elements.
Concrete options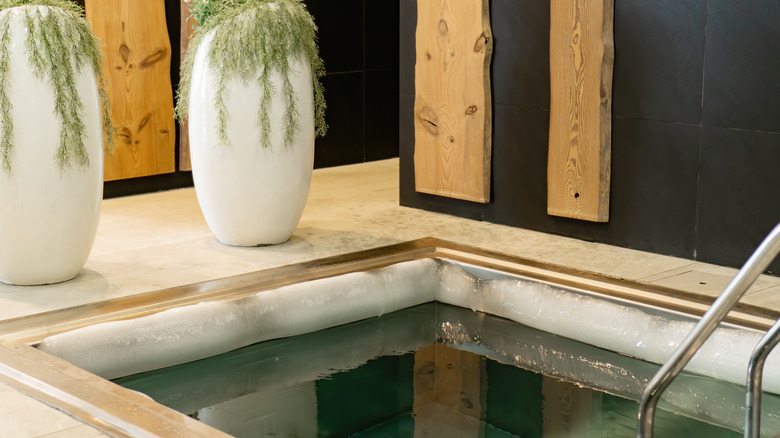 nieriss/Shutterstock
Wood, PVC, and composite decking aren't the only options when trying to elevate the look of your above-ground pool, nor are they the most cost effective. Surrounding your raised swimming pool with concrete can take your landscape to another level without draining your wallet. On average, you'll need to budget about $6 to $10 per square foot for a simple deck design, while more elaborate projects can exceed $15 per square foot.
Wrapping an above-ground pool in concrete gives the illusion of having a high-end inground model by creating a seamless visual effect rather than it appearing as a random afterthought. Plus, the cement structure provides plenty of space to play and lounge and eliminates the need to use a flimsy ladder to climb in and out of your pool.
If space is an issue, stick with a smaller concrete enclosure. For an above-ground plunge pool, consider crafting a custom cement frame that fully envelops the perimeter of the pool. With such a small footprint to fill, you can spend a little extra by adding a contemporized ledge that doubles as a step, perfect for days when you just want a place to sit and dangle your feet in the water.
Beautiful yet practical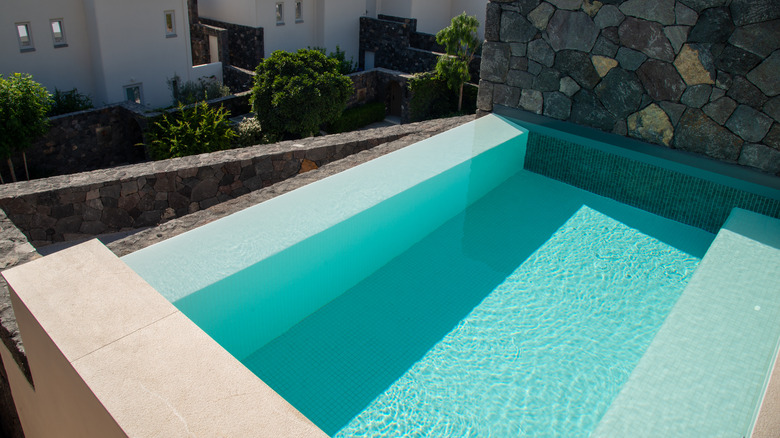 Creative Outfit/Shutterstock
Regardless of the size of your pool wrap, remember that concrete can become dangerously slippery when wet. Add in residue from sunscreen sprays and tanning oil, and you could be dealing with a major hazard. To protect against slips and falls build some texture into the concrete. By incorporating sand, pebbles, or beads, you can create a rough surface that will greatly reduce unwanted slipping and sliding. Another option is to select brushed concrete which features a rugged texture.
Another way to tailor your concrete oasis is to add a pop of color to the mix. Powder dyes come in an array of shades and can easily be added to concrete. However, keep in mind that direct exposure to the sun's harsh ultraviolet rays may cause the color to fade over time. Otherwise, consider a more permanent option — stamped concrete. The decorative cement allows you to simulate the look of brick, stone, or pavers by imprinting it on the surface. You can also mix and match stamped concrete with ornamental tiles to construct a stunning border combining a variety of colors and patterns. Compared to individual brick or stone pavers, which can shift and expose weeds, wrapping your pool with poured concrete is much more practical. And perhaps more importantly, with such a an array of design options, you can let your worries of having the ugliest pool in the neighborhood float away.