The Best Spot In The Garden To Place Your Solar Lights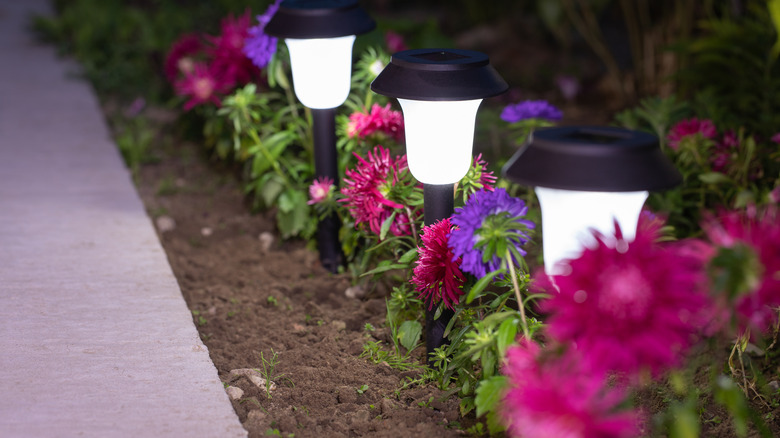 Elena Masiutkina/Shutterstock
Something as small as a few light strings or spotlight canisters can significantly impact the overall welcoming appearance of your home's exterior. From grand Tudors to modest bungalows, outdoor solar lighting these days is so inventive and flexible that everyone can find a budget-friendly way to light up the night and enhance the appearance of the house and garden. Placing lighting around the yard begins and ends with your imagination.
First, the basics. The upside to solar lights is that they glow without wiring, just a touch of sunshine, and they gleam throughout the night. The downside is that in areas with shorter daylight hours and low temperatures, solar lights usually need a boost from wired lights, especially in winter. Also, know that solar lights only last from two to five years before they need to be replaced. Finally, think about how you will install solar lights in your yard. We have suggestions regarding how this project can be both simple and effective with dramatic results without a lot of effort on your part
Natural highlights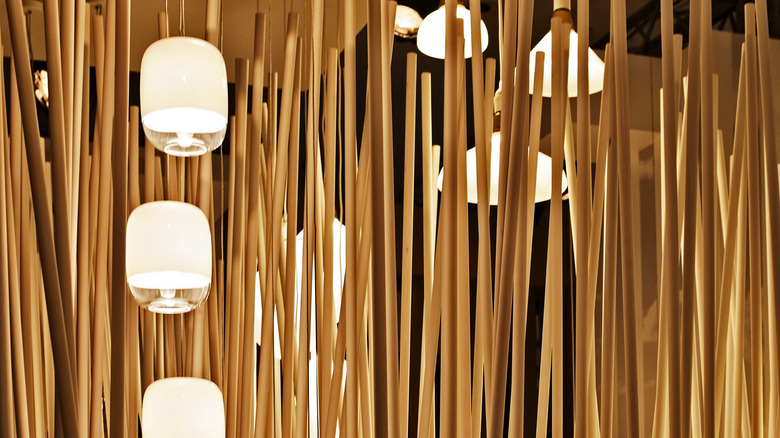 Horacio Villalobos/Getty Images
Take a look around your garden and landscaping. What have you already highlighted? These are the areas you want to emphasize not only during the day but also during the twilight and evening. Garden paths are a natural place to focus, not only for the line they draw through the garden but also for safety. Pools and water features naturally draw the eye, as do prominent beds and plant groupings. Anything you feature in your backyard can be turned into a centerpiece at night by lighting -– from a prominent tree to an outdoor sculpture.
Other areas inviting illumination are outdoor sitting areas, from patios to fire pits. Some homes have a terrace, gazebo, or lanai off the back adjacent to the house but also overlooks the backyard or garden. These are excellent areas for dramatic solar lighting, from Edison bulbs to fairy lights. Fences make great delineating features at the far end of most yards. A way to bring them closer and make the yard more intimate is by adding a row of lights along the top of the fence or by adding individual solar-powered lamps spaced evenly along its length.
Mix it up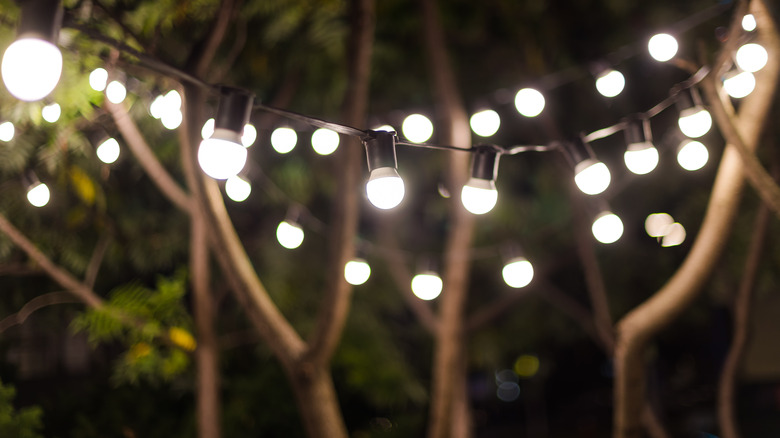 IMG Stock Studio/Shutterstock
The low-energy efficiency of solar lighting and its ambient glow are appealing, yet there's no reason to depend exclusively on solar power. Don't be afraid to toss in other lighting sources side-by-side. Just understand that other sources can complement the bright or less bright light the solar lighting gives. A firepit's warm allure in the center of the backyard can be enhanced with cooler blue or white solar lamps along the outlying fence. The white glow of a solar light on a table can be improved by golden candlelight, from votives to pillar candles. The opportunities are unlimited.
Your yard should be an oasis for you and your family – a place to relax and rejuvenate. Adding illumination, especially relatively carefree solar lights, to the patio or landscaping will make your house feel like a spa. From tiki torches to votive candles to solar devices that look like spotlights, snowflakes, and even flowers or spheres. From ground cover to trees, solar-powered lighting will make your backyard feel special.