Why You Should Think Twice Before Installing Concrete Flooring In Your Basement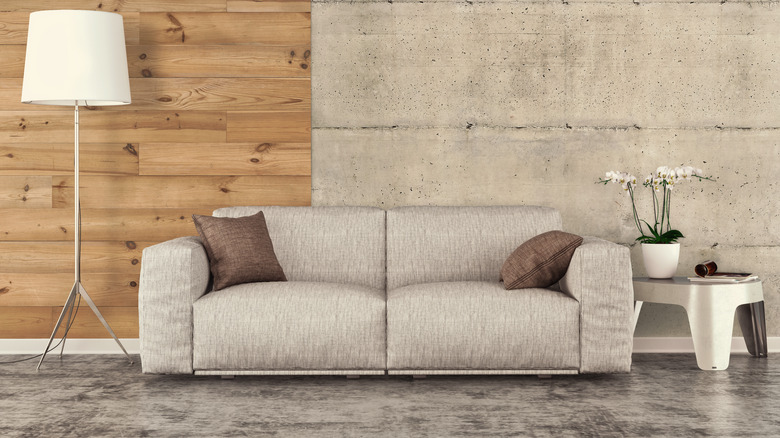 Gladiathor/Getty Images
Concrete floors are becoming a common choice in modern homes. They offer many benefits, including stain protection and versatile styling that can be ultra-contemporary or quite traditional based on how you dress it up. While it works well for just about any area of the home — skip putting it in your basement. Because of concrete's porous consistency, it's likely to absorb moisture and increase the risk of mold and mildew growth. There's also the risk that the moisture will create significant cracks that are hard to repair.
Another core concern with concrete flooring is that it maintains a cool temperature. That might be great for the hot kitchen or the living room, but it doesn't work well for the basement of many homes, which are already cooler spaces. If you want to enjoy the look of these floors, opt to have them professionally installed above ground level and choose something more appropriate for your basement.
But your home's foundation is concrete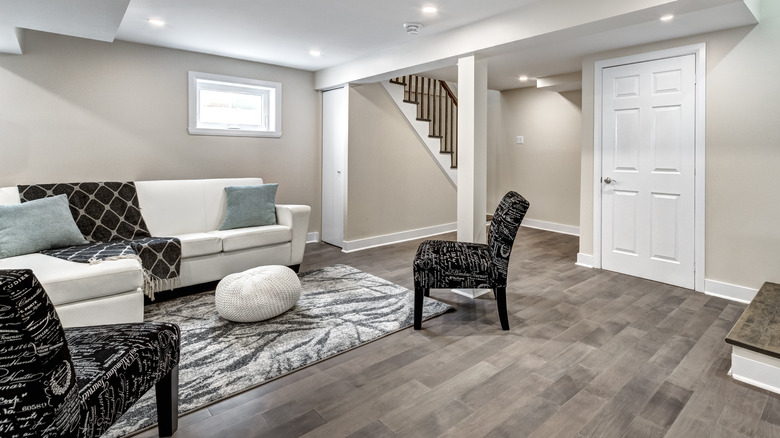 Piixel Thing/Shutterstock
In many homes, the basement foundation is concrete. It's one of the most common materials used in pouring the substructure of the home because it's so versatile and affordable. Its durability, which lasts decades without a lot of maintenance, also makes it an attractive choice for foundations and basement walls. If that's the case, then why shouldn't you use a concrete flooring product in the basement?
To be clear, you could use concrete flooring in the basement, but doing so still maintains the risk of moisture seepage from the ground. With concrete flooring materials, there's often a decorative finish, like paint or wax, that helps to create the defined look of this surface. This helps to create the aesthetic that many people are looking for with this material, however, any moisture that penetrates from the ground could significantly damage and alter that appearance. Even adding sealants to the concrete may not provide enough protection in some climates — if you're going to invest in high-end finishes to help the floors stand out, you don't want them ruined by consistent dampness. 
Alternatives to concrete flooring for the basement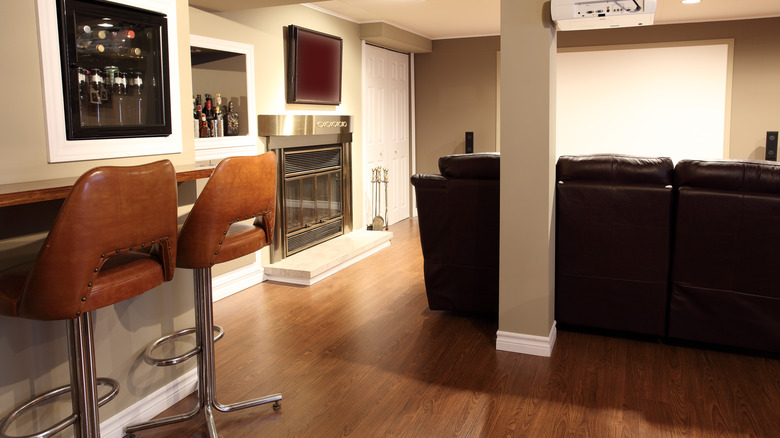 Onfokus/Getty Images
There are other types of flooring for the basement that can work well and offer similar aesthetics. One option is vinyl flooring. Some options are waterproof, highly durable, and come in numerous designs — they can look like wood, concrete slabs, granite, or tile. You can place it right over the subfloor in the basement for a fast installation process as well.
Some people want to warm up the basement, and for that, carpet can work well. It's not waterproof and certainly can suffer mold risk if there's any level of moisture in the basement. Yet, it does create a quieter, more comfortable feel for this space. Another option is the use of ceramic tile, which can be glazed to provide moisture resistance. You'll find dozens of style choices in tile, too, though it is more expensive and requires a skilled hand for installation.