Meaningful Flowers To Give To Your Loved Ones On Mother's Day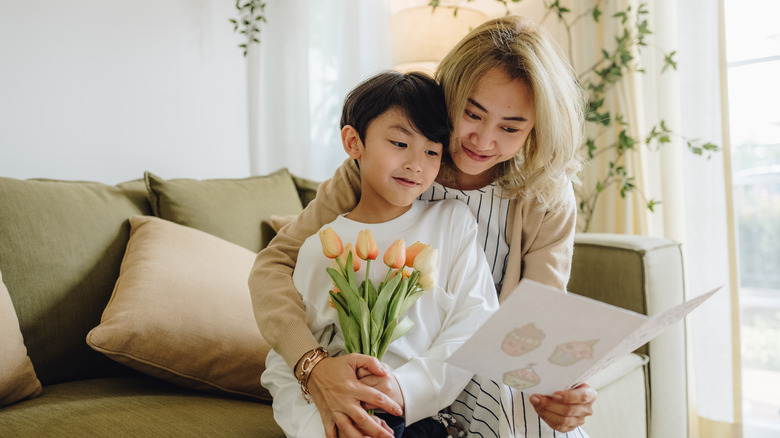 Staticnak1983/Getty Images
Each year as Mother's Day approaches, we rack our brains for the perfect gift to share with our loved ones. The gift of flowers never gets old, and each type and color can hold different significance and be tailored to individual people. Today, our families are blended in beautiful ways, and we have the luxury of shopping around for not only our maternal mothers but also in-laws, step-parents, and other family and friends that hold the title.
As you curate the perfect bouquet for those who have impacted your life, ponder on the noteworthy meanings of the most cherished and prized flowers, such as roses, tulips, daffodils, and carnations. With a mix of florals and a series of colors, you can present thoughtful tributes that express gratitude, grace, unconditional love, jubilation, and new beginnings. From religious standpoints and legends to simple color theory, the meaning behind a gift of florals is endless and abundant. 
Carnations and roses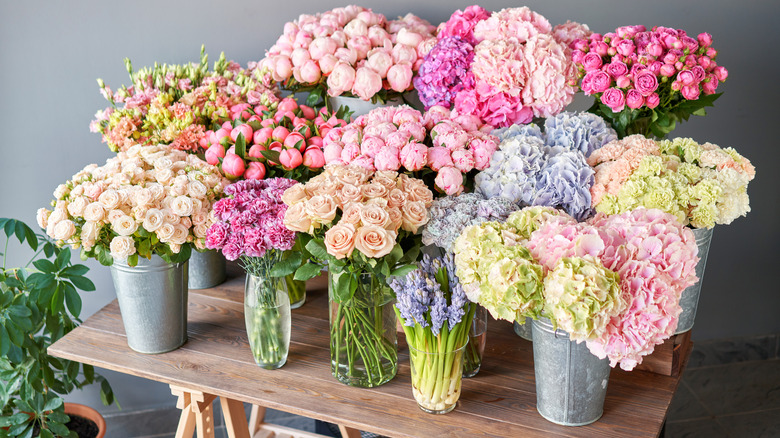 Fusionstudio/Shutterstock
Carnations have long been a traditional Mother's Day flower, each color holding its symbolic message. White is often used as a tribute to those no longer with us, standing for purity and honor. Pink has been attributed to the feeling of thankfulness, genuine love, and appreciation. Pink also represents a remembrance of how someone has left a positive mark on your life. Carnations are present throughout many different countries' traditions — and in Christianity, they are said to have grown where Virgin Mary's tears shed for her son on Good Friday.
The red rose is a traditional symbol of romantic and passionate love, commonly gifted on anniversaries and Valentine's Day. However, roses can also express happiness, gratefulness, and friendship. Pink and yellow roses are ones of generosity, admiration, and platonic love. White presents fresh beginnings and is reminiscent, while orange is upbeat and jubilant. Even the number of roses we send to someone can impact the meaning, with eight roses being known as the perfect number to show love for friends and family.
Daffodils and tulips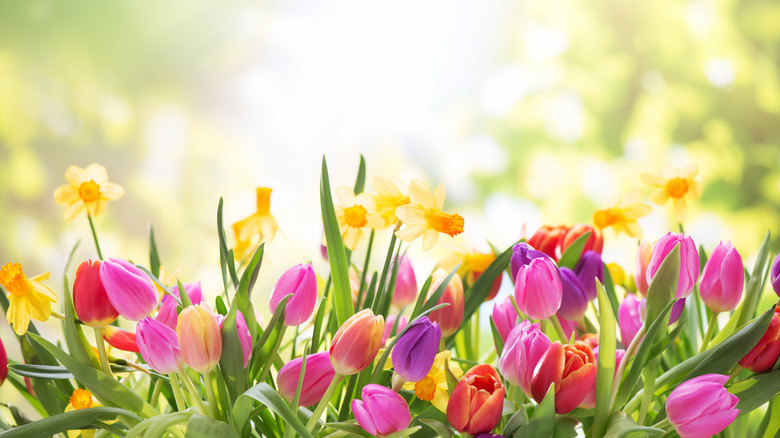 Moncherie/Getty Images
Daffodils have been a traditional symbol of motherhood and rejuvenation, often gifted to new and expecting mothers. With it being one of the first springtime flowers after the winter frost has cleared, it's no wonder that daffodils represent renewal and beginnings. In general, these flowers bring forth good fortune, wealth, and prosperity, with specific colors adding an extra flare. Since pink is a distinctive daffodil color, it's a token of one-of-a-kind love and unique friendship. White takes on a classic meaning of innocence, generosity, and pure tenderness.
Tulips represent many emotions, such as unwavering love, extreme kindness, and new adventures. White tulips are frequently used as a sign of forgiveness, high regard, and appreciation, as well as a celebration of important milestones. Yellow boasts hope, opulence, and optimism for the future. Although red is always symbolic of passionate connection, it can also be extended to platonic relationships to express unending love and care toward someone. Pink tulips will send well-wishes and admiration, a less romantic color than red but showing endearment nonetheless.