Vinyl Vs. Fiberglass Windows: Which Are Right For Your Home?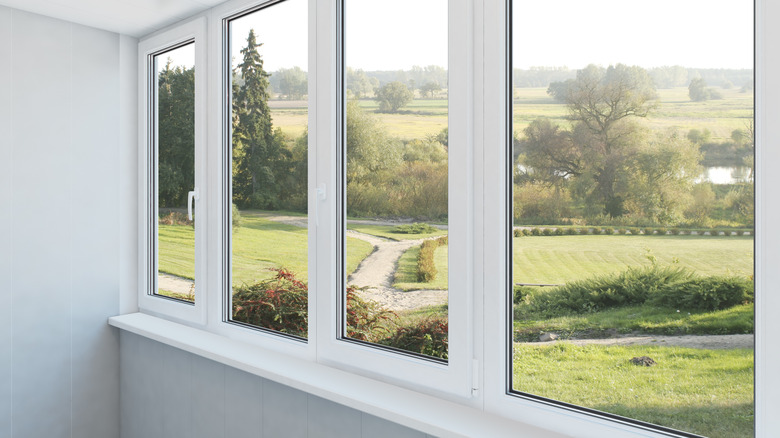 Kuzavok/Getty Images
Fiberglass and vinyl have become popular alternatives to traditional — and pricier — wood windows. At first glance, these two options may look similar. Each, however, offers its own advantages and disadvantages, ranging from cost and installation to appearance and durability. So how do you determine which window is the right type for your home?
If budget is the sole basis of your choice, vinyl windows beat fiberglass in nearly every scenario. Though both are less expensive than wood, fiberglass options cost 10-30% more than vinyl when including the labor to install it. And that's true whether it's a picture, casement, single- or double-hung, bay, sliding, or any other custom window. You'll still get a quality window with vinyl — you just won't break the bank doing it.
That said, the extra dollars spent on fiberglass will net extra benefits, such as longer durability and more customization options. That might make fiberglass windows more appealing for those looking to outfit their new home build or renovation with a long-term solution that can better take on the outdoors and adapt to any style.
Pros and cons of vinyl windows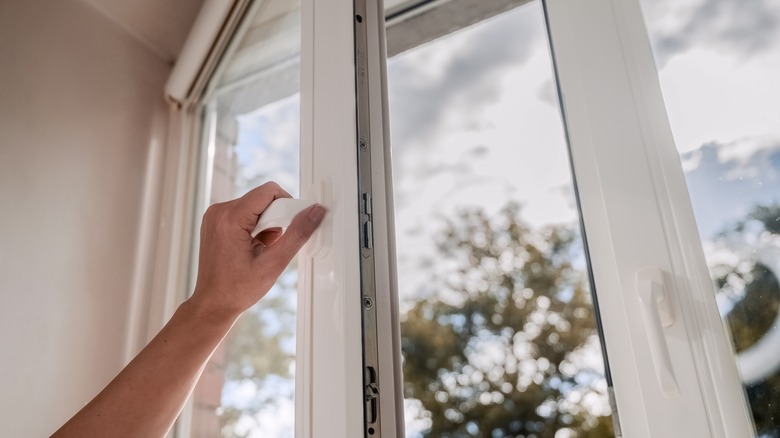 mgequivalents/Shutterstock
Aside from price, one of the biggest advantages of vinyl windows is the ease of installation. These windows are made of a strong plastic, known commonly as PVC. This material is flexible, meaning it can be maneuvered much easier into the tight space of a window frame. Professional installers take kindly to the quickness and ease provided by PVC, which contributes to the lower overall price. DIY-ers will also appreciate this flexibility.
Unfortunately, that same material also leads to a downfall of vinyl windows. As the plastic is exposed to temperature changes and various weather patterns, it begins to expand and contract. That movement can cause the window to warp over time, which negatively affects its insulation qualities and durability. Most vinyl windows are said to last up to three decades, but homes in very hot or cold climates may not get quite as much life.
From an appearance standpoint, vinyl windows are a bit thicker than fiberglass, and they're only manufactured in a select number of colors. A paint job won't solve the latter, either. Unlike fiberglass, vinyl cannot be changed from its original color — the paint simply won't apply properly.
Pros and cons of fiberglass windows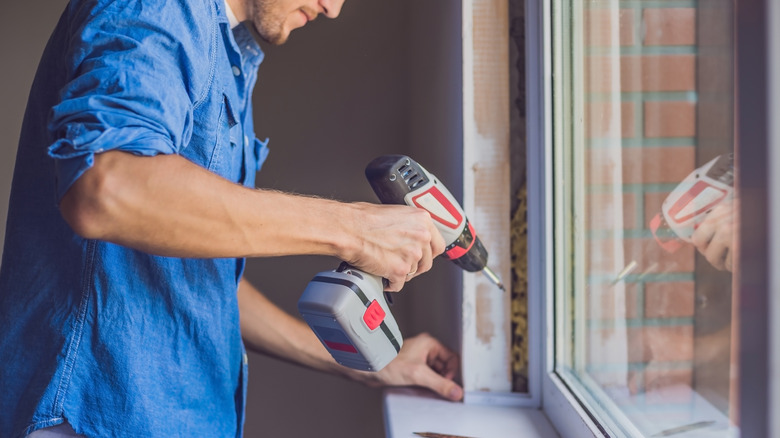 Galitskaya/Getty Images
Fiberglass windows take on paint well, and you'll find a number of colors and styles available to match your home. But the benefits of fiberglass go beyond the look. These windows are up to eight times as durable as vinyl thanks to the glass fibers that are woven into the tough plastic. They weather the outdoor elements much better, including extreme hot or cold temperatures, resulting in a lifespan of about 50 years.
Yet again, though, the material that makes up these windows contributes to its disadvantage. Fiberglass is rigid, and it'll put up quite the fight when trying to install it. If you're thinking of tackling the installation on your own, you may just want to quit while you're ahead and call a professional, even if that means paying more for the service. Hiring a professional will also prevent you from handling glass fibers, which can cause irritation if inhaled.