Should You Add An Oven To Your Walk-In Kitchen Pantry?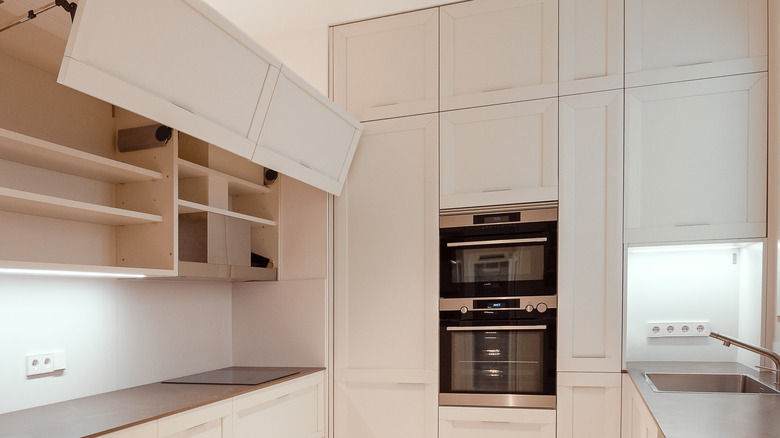 KARNAVALL22/Shutterstock
Kitchens are always evolving to have innovative features that make the space function better for the chefs of the household. Walk-in pantries have evolved from a place to store dry goods and rarely used appliances to a key part of kitchen organization. While storage is still the primary goal of most pantries, they can now serve as prep spaces to prevent counters in the main kitchen from getting too cluttered.
Like traditional butler's pantries or prep kitchens, many homeowners opt to put in sinks, wine refrigerators, and custom cabinetry to create an auxiliary room. In a TikTok video, real estate agent April Williams shows off a new-built home with a unique feature: an oven in the pantry. Williams notes that it's the first time she's seen something like this but raves about the benefits of having a second oven outside the main kitchen space. While the comments on the video are polarizing — some saying it would be a dream for their home and others stating they would opt for something else — there are some cases where an oven in a walk-in pantry might be ideal.
Good for entertainers
If your home is the go-to location for family holidays, friend get-togethers, and weekly dinner parties, you know the balancing act of getting food in and out of the oven. For those that like to entertain, a functional kitchen is among the highest priorities when it comes to features in the home.
Wanting more room to bake and cook has led most people to install double wall ovens in their kitchen, but when that's not enough, the extra oven in the walk-in pantry might come in handy. The main oven in your kitchen is the one you'll most likely use every day, but the one in your pantry can act as an overflow when necessary.
The separate ovens allow you to cook two different items at different temperatures without wasting time for one to be done. Similarly, the oven in the pantry can also act as a warming space while the main appliance prepares the meal. A second oven or set of ovens is especially great if guests bring over dishes that need to be warmed or finished before dinner, and this will not interrupt any cooking process.
Save some cabinet space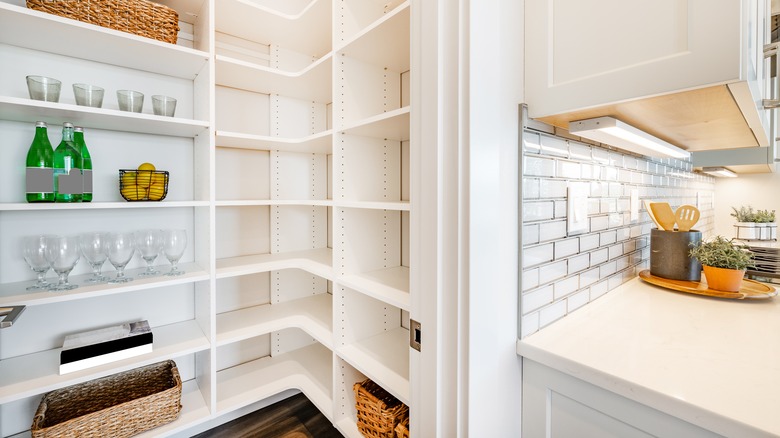 Sheila Say/Shutterstock
Kitchen storage is essential for the functionality of the space. Since it's premium real estate, many homeowners are cautious and conscious about what appliances they add to their main area. If you want the added function of a second or third oven without taking up more room that could be devoted to cabinetry, an oven in the pantry is a good option.
Placing an extra oven, or even the main oven, in the pantry also frees up your kitchen for appliances you use more often. For those who routinely cook at home, the cooktop is used more frequently than the oven — a difference of eight and three times a week, respectively. So an appliance that isn't the main focus when making meals at home to take up a central place in the kitchen might not make sense for every home cook. Instead, putting the oven in the pantry can give you more cabinet space that can be used for storage, which might be preferred depending on your kitchen priorities.