HomeGoods' Spring Clearance Sale Offers Bargain Basement Deals For Indoors And Out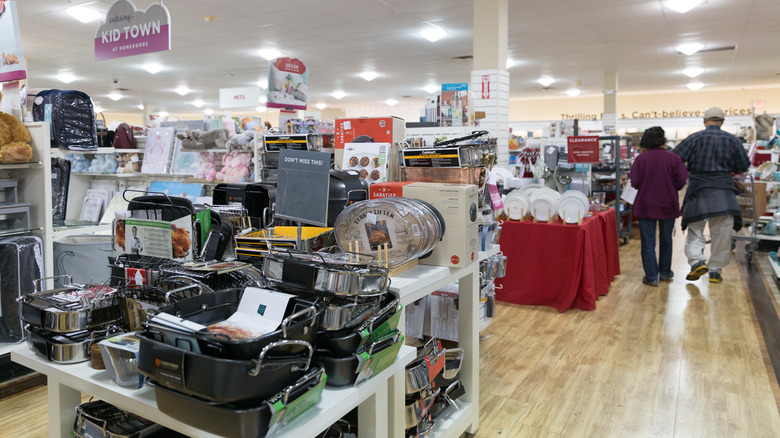 Helen89/Shutterstock
While it's possible to score great deals at HomeGoods year round, it's still always a good idea to check out their clearance sales –- and luckily, there's one going on right now, with storewide deals to be found up to 83% off.
Whether you're in the market for a new bakeware set, comforter, or accent table for your living room, now is the time to save big on items from all departments, from kitchen essentials to décor to furniture to bed and bath –- though let's be honest, you don't really need to be in the market for anything to easily add things to your cart at HomeGoods. And with the weather finally heating up, it's the perfect opportunity to stock up on outdoor patio furniture, seasonal décor, and more for all your spring and summer outdoor entertainment plans.
Read on to check out a highlight of some of the best deals, though browsing the clearance online or at your local store is the most guaranteed way for you to find exactly what you're looking for at a great price.
Inside HomeGoods' massive clearance sale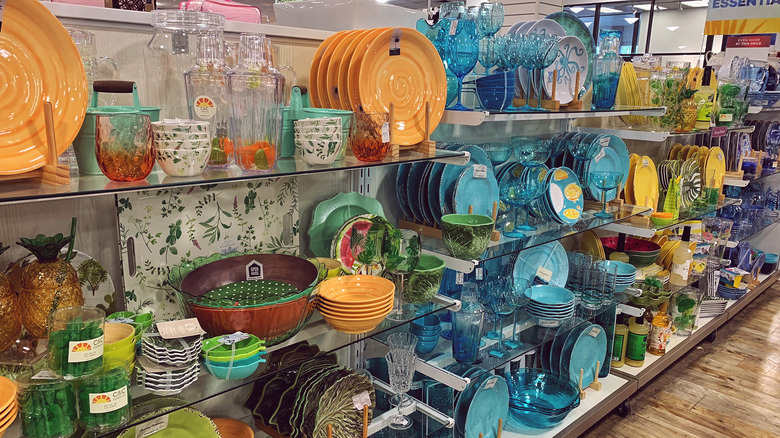 Anatoliy Tesouro/Shutterstock
HomeGoods typically has plenty of clearance items to shop, but with new markdowns and even bigger discounts taken off of already discounted items, the clearance event happening right now is one of the best times to shop and save all year.
If you are in need of new kitchenware, this 16-piece stone dinnerware set by Martha Stewart is on clearance for just $45, marked down from its usual price tag of $59. The fun, blue splatter pattern is perfect for spring and for serving guests on the patio or inside at the dining table all season long. This 3.2-quart stainless steel saute pan, normally $100, is currently just $69, and you can also snag this $130 stainless steel stock pot for just $89.
To reward yourself for all that spring cleaning, treat yourself and your living space to this beautiful rattan framed mirror before it's gone –- normally $200, on clearance for just $59. Its earthy, bohemian finish pairs perfectly with this wooden carved table lamp, marked down from $150 to just $69. If your outdoor deck or patio needs a refresh before cookout season really kicks off, you can save $100 on this four-piece wicker patio set or snag this four-pack of $80 Sunbrella indoor/outdoor cushions for just $25. This two-pack of Martha Stewart throw pillows can be used both indoors and out, comes in multiple colors, and is marked down to just $10.
Other ways to shop and save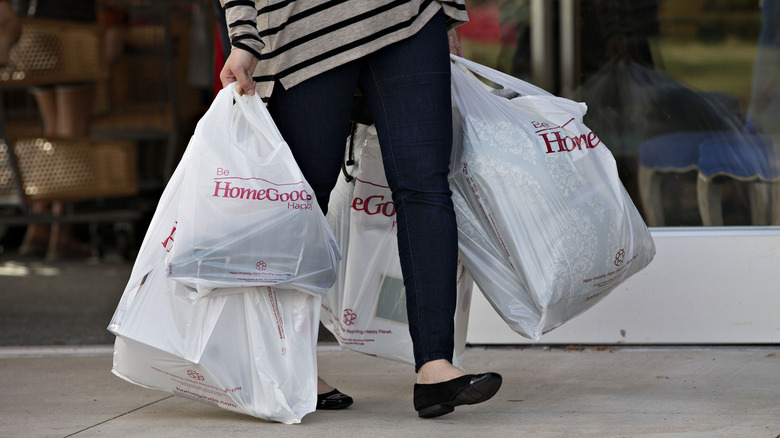 Bloomberg/Getty Images
As convenient as online shopping is, it might be better to make the drive to your local store to see what they have on hand -– even if it's to supplement your online haul. Though you can still find plenty of great deals online, HomeGoods' online fulfillment center doesn't always compare to the treasures you can find in-store. Because there simply aren't that many of certain items kept in stock, you can find cool, individual pieces hiding on the shelves that you can't find online –- or in any other store near you.
When shopping clearance in-store, be mindful to fully inspect all items before checking out at the register. Though it's possible to score some mega deals on some really great items, some products are marked down to clearance because they have been damaged in some way –- and sometimes, that damage isn't visible at first glance. Though the damage is often minor, you will still want to know it's there before you decide to buy. With that being said, it's entirely possible to score some unique items in perfect condition for huge savings if you have the patience to search through the shelves.