What To Know Before Buying Flooring Underlayment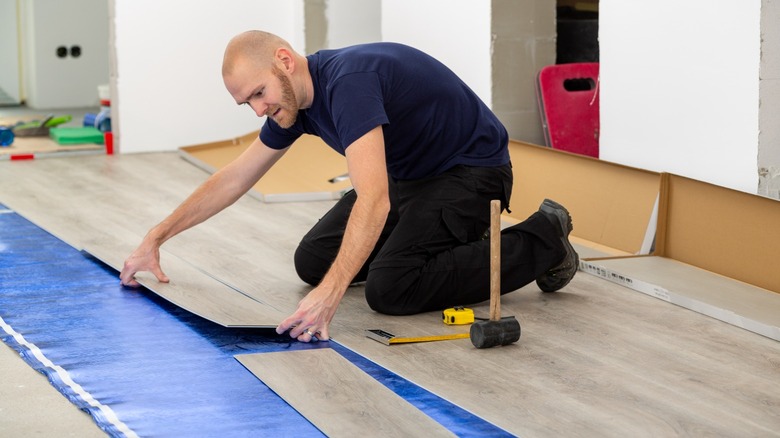 boitano/Shutterstock
If you're working on a renovation project that includes updating the flooring, there's a lot to consider. What we think of as "the floor" actually consists of a complete structure composed of several layers. Besides just choosing the surface material, such as carpeting, hardwood, tile, or other type of flooring, you also have to choose the proper underlayment for it. The underlayment is part of that structure, and chances are, you need it. And contrary to what many people believe, the underlayment is not the same thing as the subfloor. Choosing the right material is critical, so educating yourself on how to navigate the topic is smart. If this is your intention, you're in the right place! We're going to talk about what to know before buying flooring underlayment.
There are a few things to keep in mind when choosing the right flooring. First, consider the purpose of the space and what kind of traffic it will endure. Do you want the feet-friendly, noise-canceling effects of carpet, or do you want the resale value and longevity of hardwood floors? Will there be heavy foot and/or kids and pet traffic? Do you have elderly or disabled visitors to think about? These are all important considerations when choosing the right type of flooring for each room. Once you have that part figured out, then you can move on to what's beneath the surface.
What flooring underlayment is and where it's placed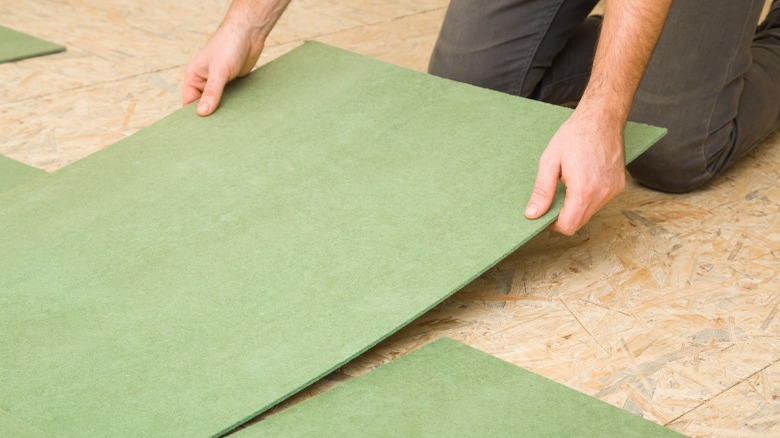 FotoDuets/Shutterstock
Underlayment is the layer in the floor system placed directly underneath the surface or floor covering, and just above the subfloor. It can be either a soft or hard material depending on the subfloor and the covering you choose. For example, cork or foam are some common soft underlayment materials, while cement board is an example of a hard underlayment material. The floor structure consists of four layers. Starting from the bottom, the first layer is the floor joists, which are the wood frames representing the main foundational structure of support. The joists hold up the entire system and are a part of the framework of your house.
The next layer is the subfloor, made of plywood or OSB. These are usually plywood panels that attach to the floor joists that provide the rigid layer of the floor itself. This layer is also a part of the home's original construction. Then you have the underlayment, which is the layer directly under the floor covering, and differs depending on what that is. Sometimes simply foam padding, but multiple types are used, typically about ¼" to ½" thick. The top layer of the floor system is the covering, the part under your feet, such as carpeting or tile. The underlayment is chosen according to the floor covering. It's important for the floor structure to have all four of these layers.
The purpose of floor underlayment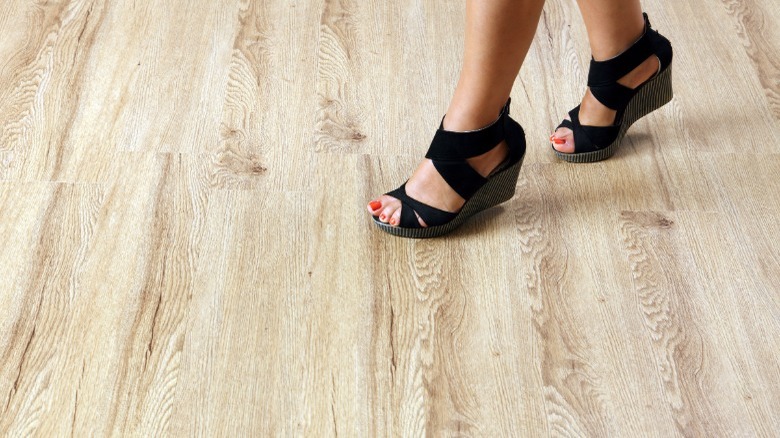 Kursad/Getty
There are multiple great reasons for the underlayment to be there. For example, it helps to insulate the flooring so the surface doesn't get too cold. It also softens the floor so you're not walking on such a hard surface. Another benefit is that it provides a barrier against moisture reaching the subfloor and damaging the entire floor structure. Underlayment also helps with noise-canceling effects such as from walking in heels, especially with hardwood, laminate, and tile flooring.
Additionally, underlayment provides a surface for the floor covering to adhere to. It offers a flat, smooth surface to make an easier installation and a more professional, finished appearance. The thing is, without using underlayment, the lifespan and durability of the floor covering you use will be significantly compromised. It's not a good idea to place new floor covering directly onto the sub-floor for this reason. By using the appropriate underlayment for the specific floor covering you choose, you will ensure it lasts the optimum length of time possible and nearly eliminate the risk of damaging your flooring system.
Do all floors need underlayment?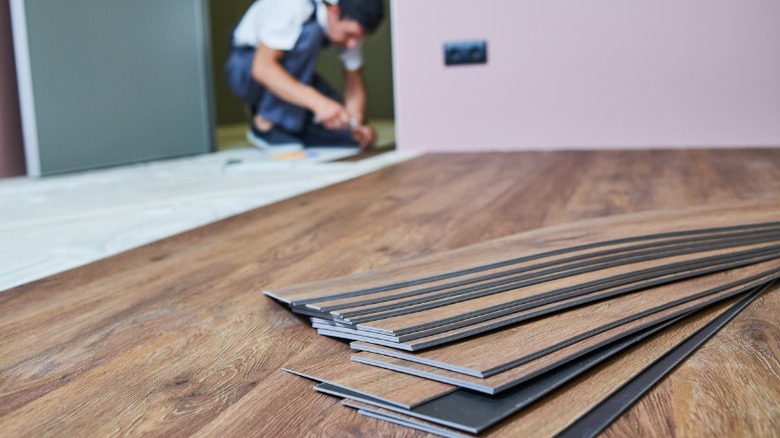 Dmitry Kalinovsky/Shutterstock
One common question is, does all flooring need to have underlayment, or can you get by without it? The answer is, there are only a couple of exceptions to the rule that all floors need an underlayment. One of them is with certain types of laminate flooring that have the underlayment already attached. Technically, this means it's still very much necessary, it's just already included and attached so you don't have to worry about choosing and purchasing one separately. In this case, if you add another underlayment, it can actually damage the floor system by creating the one thing you're trying to prevent: instability. Since this type of laminate flooring is currently on trend, be sure to check to make sure the underlayment is pre-attached.
The other main exception happens only in certain new builds where the subfloor is exceptionally strong and smooth. In some of these cases, only a very thin, light underlayment is needed because the main purpose of it has already been fulfilled. The only way to know for sure if you need underlayment is by inspecting and assessing the condition of the subfloor. In most cases, some form of underlayment is going to be necessary. A professional can evaluate the situation more precisely.
Appropriate tile floor underlayments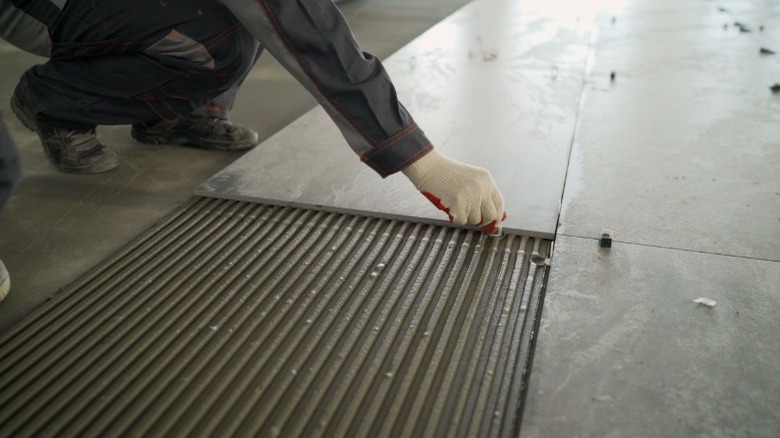 Sidorov_Ruslan/Shutterstock
There are so many different types of underlayment to choose from these days, so we're going to tackle them by the type of flooring they go best with. Tile is a choice common in kitchens and bathrooms in particular, and sometimes throughout the entire house. With tile, it's important to know what your subfloor is made of first. If the subfloor is concrete, it has to be a smooth, even surface with no cracks or flaws. If this is the case, you can use a thin underlayment and install the tile directly on its surface. Otherwise, the concrete is not sufficient by itself, and it will need to be "fixed" with a thicker underlayment. With a wood subfloor, tile cannot be applied directly to the surface. It will need to have a thicker underlayment such as cement backer board, which is applied first on the subfloor using a trowel and mortar.
There are a few recommendations for tile underlayment. The most commonly used is CBU, or cement board underlayment. Typically it comes in ¼" or ½" thickness and costs about $0.75 to $1.10 per square foot. Another type is called the DITRA uncoupling membrane, an innovative design made of polyethylene that allows tile to bond especially well to it. DITRA comes in 3" wide rolls and can be applied to either wood or concrete subfloors. The cost is $1.55 to $1.90 per square foot. Additionally, if you have an older home with concrete subfloors, you might want to use self-leveling underlayment. This is a thin concrete product that provides the solution to an unlevel surface when dry. The cost is about $30 to $36 for a bag that covers 40 to 50 square feet.
Appropriate wood floor underlayments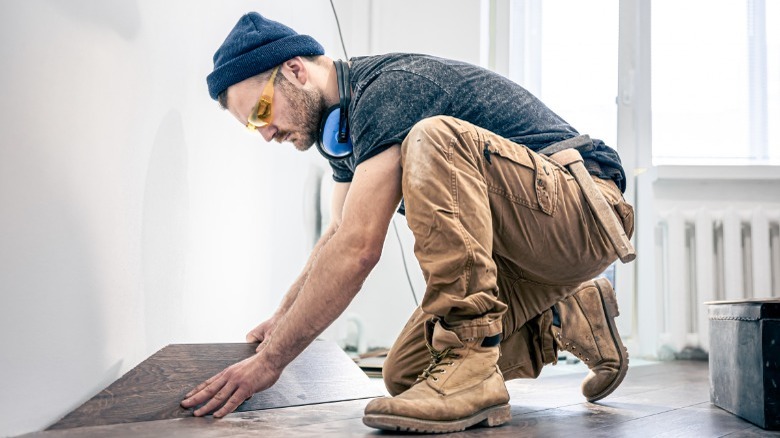 PV productions/Shutterstock
Whether you're installing traditional hardwood floors like oak or maple, exotic woods like teak or Brazilian cherrywood, bamboo, cork, or even engineered wood, the appropriate underlayment is the same. Felt is the most commonly used material, sold in rolls for this purpose in thicknesses of ⅛" to ¼". The cost of this choice will run anywhere from $0.75 to $1.25 per square foot. Another option is cork underlayment, which comes with or without a moisture barrier, which is used for especially humid regions. This type is also sold in rolls and will cost from $0.50 to $0.75 per square foot. You can also get a better quality hybrid product made from cork and rubber, which will cost from $1.15 to $1.50 per square foot.
The next type of wood underlayment is rubber, which has noise-canceling effects as well as moisture protection and insulating qualities. It also comes in rolls and doesn't need to be glued down, saving time on installation. It comes in varying thicknesses of 2mm to 9mm, and the cost of rubber underlayment is going to run from $1.15 to $1.50 per square foot. Finally, foam underlayment can also be used under wood flooring, and is especially good for engineered wood. This form of underlayment is effective against noise and mold and comes in different densities for better moisture protection. Additionally, it comes in what's called combination foam, which has an added barrier against moisture. Foam underlayment has a price range of $0.22 to $0.45 per square foot, depending of course on which type you choose.
Appropriate laminate floor underlayments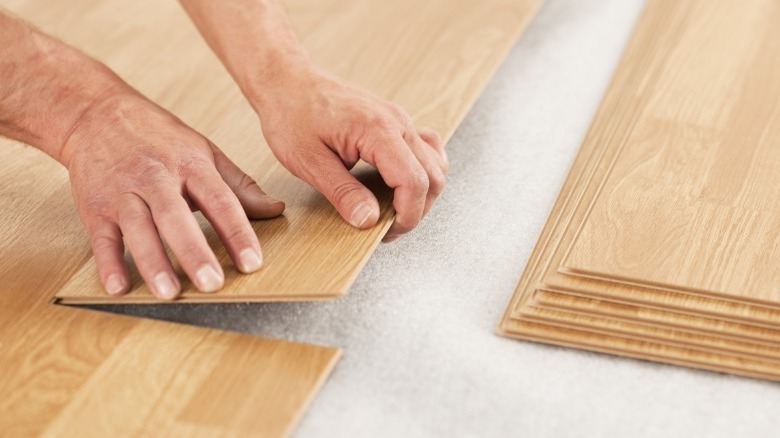 Esp_imaging/Getty
Laminate flooring is becoming quite popular due to its lifelike hardwood appearance at a reasonable cost. The most common material used for laminate is foam underlayment, but of a slightly different composition than that used for wood. This type comes in ⅛" to ¼" thicknesses and comes in rolls of varying widths and lengths. Like wood foam underlayment, laminate foam has the optional combination moisture barrier. The cost is also in the same range as wood foam, at $0.22 to $0.45 per square foot.
The other option for laminate is called acoustical laminate flooring underlay. This type of underlayment is specially designed to reduce the noise of foot traffic. It comes in rolls of either felt or cork material in ⅛" or ¼" thickness. The price for acoustical laminate underlayment is between $0.50 to $0.75 per square foot for cork, and for felt it's $0.75 to $1.25 per square foot. Additionally, most of these types include a moisture barrier.
Appropriate carpet underlayments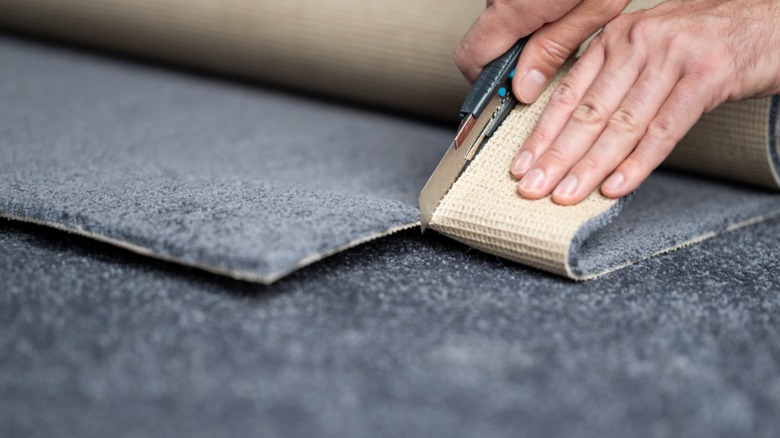 FrankHH/Shutterstock
With carpet, if the wood or concrete subfloor is in good condition, the carpet can be installed using only the foam padding as its underlayment. There are multiple different types of carpet padding for this purpose, starting with rebonded foam. It's popular for its low cost and eco-friendliness, but isn't good for high-traffic areas and isn't compatible with all carpet types. The price is from $0.25 to $0.80 per square foot. Frothed foam is more dense and durable, making it ideal for high-traffic areas. The range for frothed foam padding is from $0.50 to $2.00 per square foot. Waffle rubber padding has an innovative design that helps keep carpet cleaner, plus it's hypoallergenic and mold-resistant. It's not as dense or durable for heavy foot traffic, but it's affordable with prices from $0.50 to $1.00 per square foot. Flat rubber is the most expensive option with prices from $0.75 to $3.00 per square foot, but it's also the most durable with a 20-year life expectancy. These are just a few of the options available.
However, if the subfloor is subpar, you'll have to use a separate underlayment underneath the padding and carpet. This will make the installation easier, help insulate, absorb shock, and keep the padding from getting worn from friction. The three main types of rigid carpet underlayments are cork, OSB (oriented strand board), and Luan, made from a tropical hardwood cut into ¼" sheets with a very smooth surface. The price range for the three types ranges from $0.50 to $1.25 per square foot.
Appropriate vinyl underlayments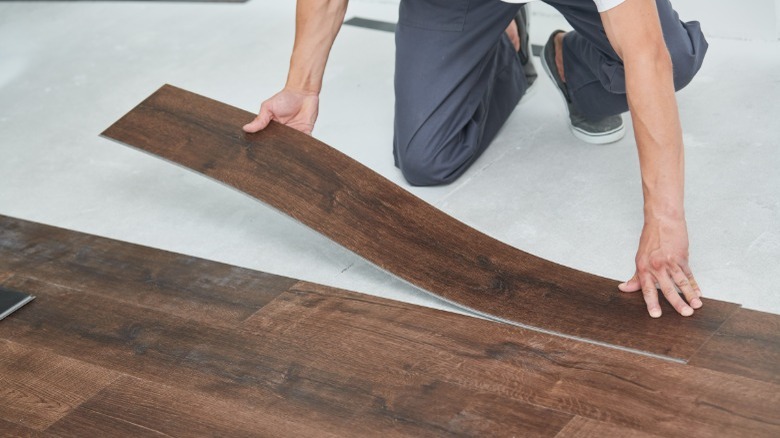 Dmitry Kalinovsky/Shutterstock
Vinyl flooring today usually includes an attached pad underlayment, but not always. Although you can adhere it directly to the subfloor, the results may be less than ideal. The proper underlayment will provide moisture protection, insulation, and noise-canceling effects, and keep the floor from sagging. It's important to choose the right thickness for the vinyl flooring you use, as well. For sheet vinyl flooring, most people use ¼" plywood underlayment that comes in 4' X 4' and 4' X 8' sheets. The price ranges from $0.40 to $1.00 per square foot, depending on quality. OSB is also an option for a bit more durability.
Cork is another popular material for vinyl floor underlayment, and is especially good for its noise-canceling qualities. Even if your flooring has an attached underlayment, you can use compressed cork to augment those effects. However, you may have to install a separate moisture barrier since cork absorbs it. The price range is from $0.55 to $2.30 per square foot, depending on thickness. There are multiple other types of underlayment you can use, depending on the type of subfloor and vinyl flooring being used. For luxury vinyl flooring at least 5 mm thick, felt is one of the best types of underlayment. QuietWalk Plus is a popular brand that has good soundproofing qualities and includes a moisture barrier. You can find it at Lowe's for $151.20 for a roll that will cover 360 square feet.
Can you use old flooring as underlayment?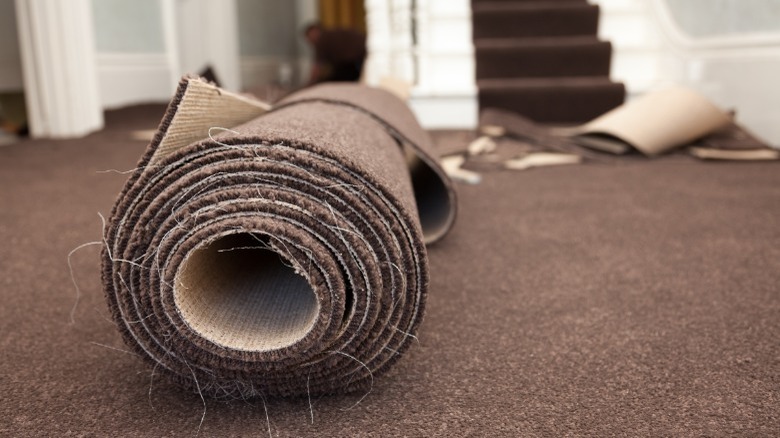 Nicolamargaret/Getty
There are times when you can use the old flooring to serve as the underlayment for the new flooring. For example, sheet vinyl flooring can serve as the underlayment for laminate flooring. Another possibility is putting carpet over hardwood flooring. This can typically be done with only the carpet padding and no separate underlayment. Sometimes vinyl can be used under luxury vinyl. The manufacturer or a professional should always be consulted if you're unsure. The main consideration is always going to be the condition of the subfloor.
However, it's likely that you'll need an underlayment. For best results, the surface you apply any flooring to must be as smooth and free from imperfections as possible. In fact, in certain situations, the subfloor may even need to be rebuilt. If there's any water damage to the floor, it will be important to have it inspected by a professional to make sure you don't need a whole new subfloor.
Final tips
vovidzha/Shutterstock
One of the main things to remember when choosing the right underlayment is the thickness. If you choose something too thick, it can have a detrimental effect on the integrity of the flooring. Additionally, a thicker underlayment from one room to the next can create a tripping hazard. You could even experience problems in the kitchen with your appliances if the floor is too thick. It can affect doors, as well.
Choosing the wrong underlayment or trying to get by without one can have negative effects. For example, tile that develops cracks, or noisy floors to walk on. Laminate flooring with an underlayment that's too thick can result in an unstable locking system. The right underlayment is vitally important in nearly every instance, so consult with a professional if you're unsure. When you're dealing with flooring, keep in mind everything depends on the quality of the installation. Get estimates from more than one place, and make sure you check reviews and research the business or contractor. Hopefully, this helps you out with what to know before buying flooring underlayment.