The Pros And Cons Of Installing Iron Stair Railings In Your Home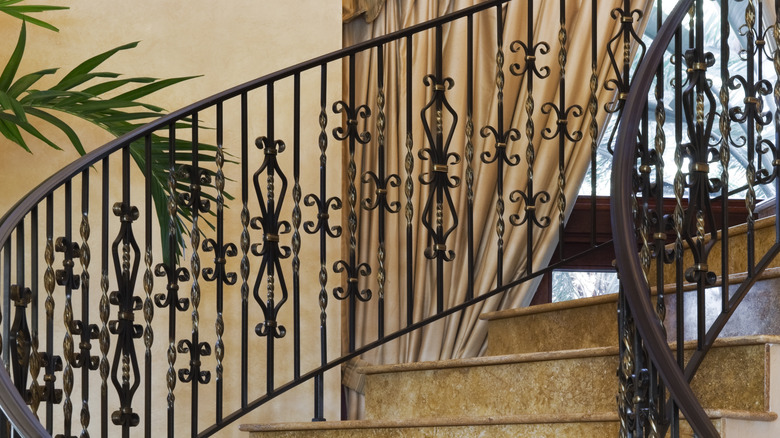 Terryj/Getty Images
Investing in metal stair railings for your home could add a bit of elegance and charm to the space, easily creating an architectural element that sets the tone for the rest of your home. And although there are many metal options out there, iron is the material that stands out the most, especially if you want to create a Mediterranean or ornate vibe. However, it is prone to changing color over time when exposed to moisture, which means you'll need to put a good amount of maintenance and upkeep into them, especially if used outdoors. Additionally, professional installation may be required to ensure the best long-term results, so they're typically more expensive than other options.
However, iron stair railings certainly have benefits, including being beautifully ornate and strong. They can last a lifetime and tend to be environmentally friendly because they can be made with recycled material, much like other metal railings. They are versatile in the way they can be crafted, creating a look that fits everything from the modern aesthetic to the more historically charming look you may be after. Often used as outdoor railings to provide security and privacy, they create quite the look when used indoors with curved elements and decorative features, especially with their typical dark hue.  
The benefits of installing iron stair railings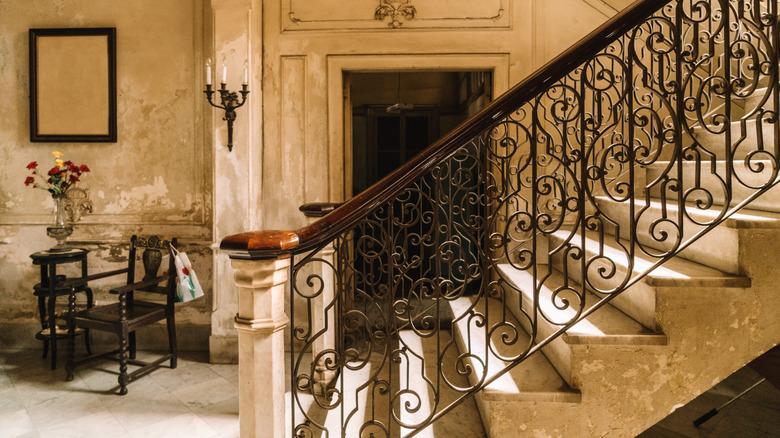 Nikada/Getty Images
Iron, especially wrought iron, is a rather higher-end, sought-after type of stair railing material, and with good reason. It's been used for generations to create a sturdy, beautiful staircase railing within any home while emitting an elegant and sophisticated appeal. Looks aside, iron can be an excellent choice for other reasons. 
Inside the home, iron stair railings are versatile enough to fit most aesthetics. For example, with curved elements, and flowing, vine-like detailing, it works well to create a romantic vibe. By contrast, other styles with geometric shapes or simplistic patterns can help create a modern feel to an updated space. You can also use iron to complement most staircase materials, such as marble or wood, and It can stand out even against various wall colors, such as a light beige or vibrant blue. While you can purchase them already formed and ready to go, some may also appreciate the value of custom-designed options. No matter where it's used, iron tends to offer added value to the home for anyone who enjoys its look. 
The drawbacks of installing iron stair railings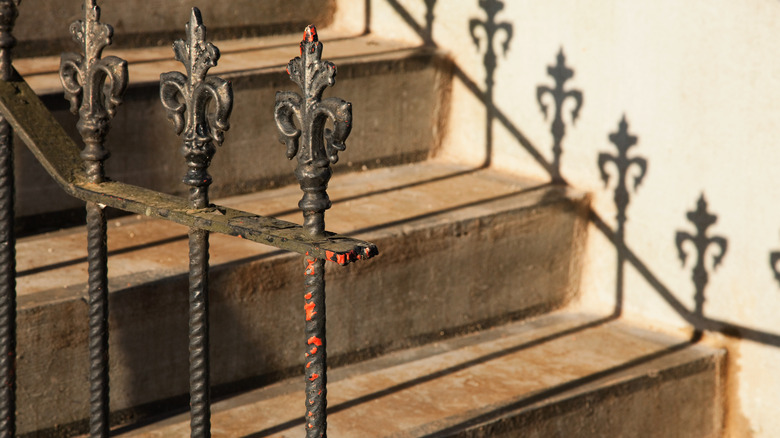 Image Source/Getty Images
Although there aren't many disadvantages to installing iron stair railings in your home, they can be a bit more expensive compared to simpler options like wood. A wrought iron staircase railing may cost between $700 and $4,600, with an average of around $2,600. Custom-designed railings are likely to be a bit more expensive. Because they are heavier, they will need a sturdy foundation and can be less forgiving if installed incorrectly.
The other concern with these railings is exposure to moisture, which can cause them to rust. If you notice rust starting to form, it's important to quickly take action by gently scraping it away with a wire brush. Additionally, there are sealants that you can use to help protect the metal, which does add to the cost and the maintenance steps you'll need to complete every year. Also, if you invest in metal steps to accompany the stair railing, you'll have to deal with the loud sounds that occur when someone walks on them. Yet, it's easy to overcome this problem by adding a runner or pairing the iron with wood steps or carpeting.