How To Customize Your Stove's Vent Hood Just Like Joanna Gaines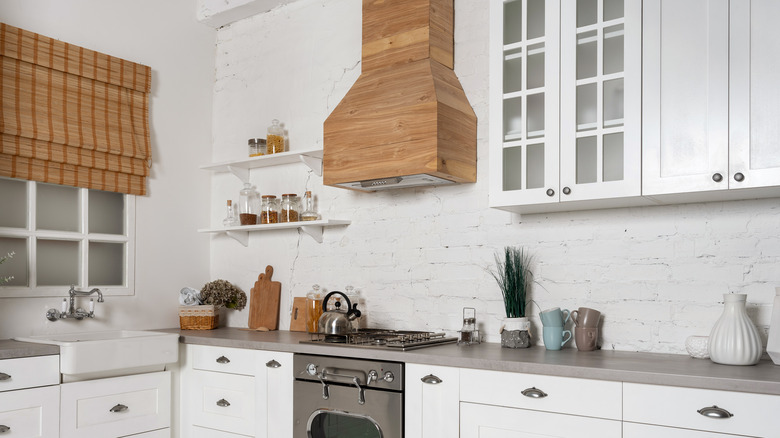 brizmaker/Shutterstock
Joanna Gaines believes that your stove's vent hood is the perfect place to infuse character into your kitchen. "Don't be afraid to think outside the traditional vent hood. Have fun designing it!" encourages Gaines. She continues, saying, "You can go online and see hundreds of different styles — you don't have to go with your standard cabinet grade version," per her blog on Magnolia. In many of her renovations, the vent hood is built out of wood to add a farmhouse feel.
If you want to create a similar look to what Gaines adds to many homes, have the wooden piece custom-made to the right size and look. "The great thing about this [vent hood] is if you want one of these for your kitchen, you just call your local carpenter and he can customize a vent hood specifically for your space for under $500, and it'll really make a difference," says Gaines per HGTV. This is a relatively inexpensive and easy way to completely transform your entire design and make it look unique to your tastes.
Benefits of a wooden vent hood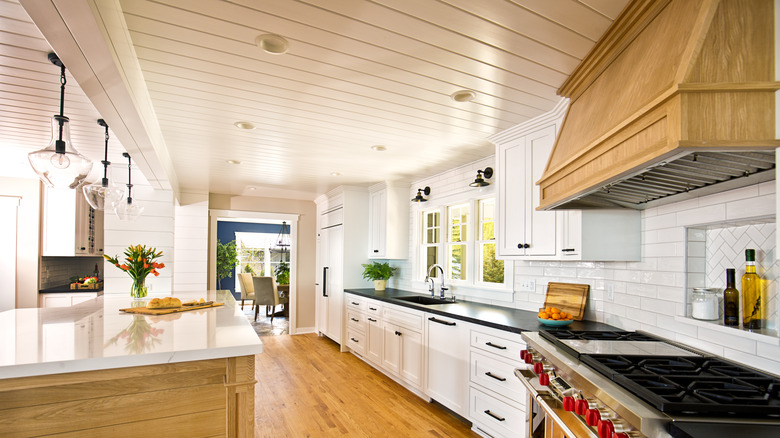 Yinyang/Getty Images
One of the main benefits of a wooden vent hood is that it will take the place of an island as the focal point. This can be especially beneficial in a small space, as you may not have enough square footage for an island. "I tell people an island is really an anchor for their kitchen, but in a space this small, we couldn't do an island, so we've got to find another thing that creates that same amount of interest," says Joanna Gaines. "For me, this vent hood, I love this thing. I mean, it's distressed wood, it's all about character," per HGTV.
Another benefit of a wooden vent hood is that it will create interest in a kitchen that's filled with plain cabinets. For instance, maybe your whole space is white, and you want to include more warmth. If so, a wooden feature could be just what the room needs. "A vent hood is the perfect opportunity to visually break up your cabinetry by bringing in dimension and different materials or patterns," explains Gaines, per her blog on Magnolia. 
Different styles of wooden vent hoods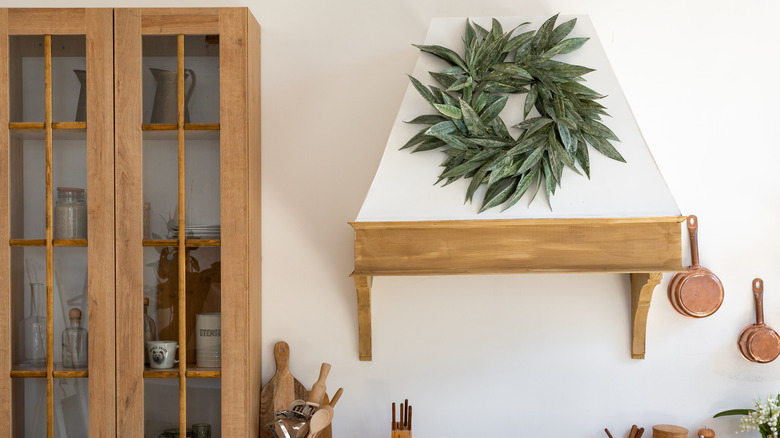 Brizmaker/Getty Images
There are plenty of styles of wooden vent hoods that you could include in your kitchen, and Joanna Gaines has used them all in various renovations. For instance, in a small space, she includes a dark, distressed wooden piece with a tapered shape. When designing another kitchen for Season 3, Episode 8 of "Fixer Upper," Gaines adds wooden trim around a white vent hood, which makes the simple piece pop.
In Season 5, Episode 5, Gaines simply installs a raw wooden beam along the bottom of a white vent hood, which makes the whole Mediterranean design feel cohesive. This could be a great idea for those on a budget, as you'd just need to cut a raw piece of wood to size and install it above your stove. Finally, during Season 5, Episode 7, to add both a modern feel and clean look, Gaines includes a boxy vent hood that's covered in vertical panels and trimmed with whitewashed wood.