The Vertical Garden Hack That Repurposes An Old IKEA Bed Base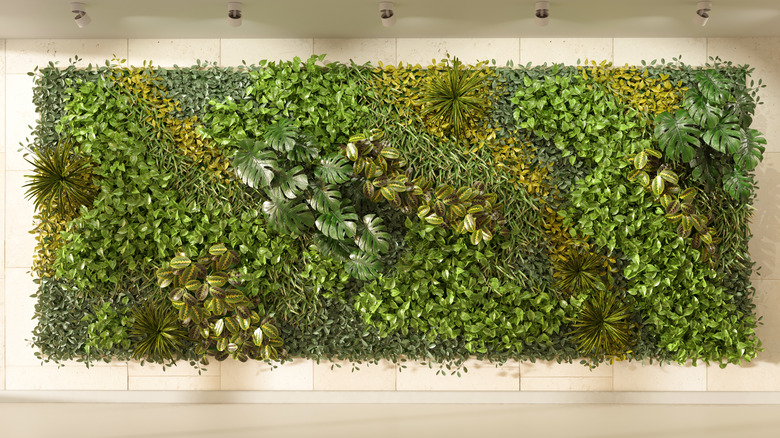 Vasyl Cheipesh/Getty Images
IKEA is well-known for its reasonably priced furniture and home decor pieces, which can be bought in-store or online and assembled at home with ease. Many of their individual pieces can be used in a variety of ways to create different house furnishings with distinct silhouettes. Some crafty folk have taken it upon themselves to design their own furniture out of IKEA wares. For example something as simple as the VITTSJÖ nesting table can be completely reimagined into a chic and affordable DIY ottoman. Obviously, the imagination of these DIY furniture-makers doesn't stop there. One of the more creative ways of repurposing IKEA pieces is taking bedframe, containers, and transforming them into a vertical garden. 
Several people have used their creative power to build gorgeous vertical gardens with just two specific IKEA products. For under $50, you can make a gorgeous yet functional standing garden to harvest herbs and other small plants. Though it does take some work to set up, most other vertical gardens you can buy from home improvement stores start at about $80, and are extremely basic and much less aesthetically pleasing. 
How to create the vertical garden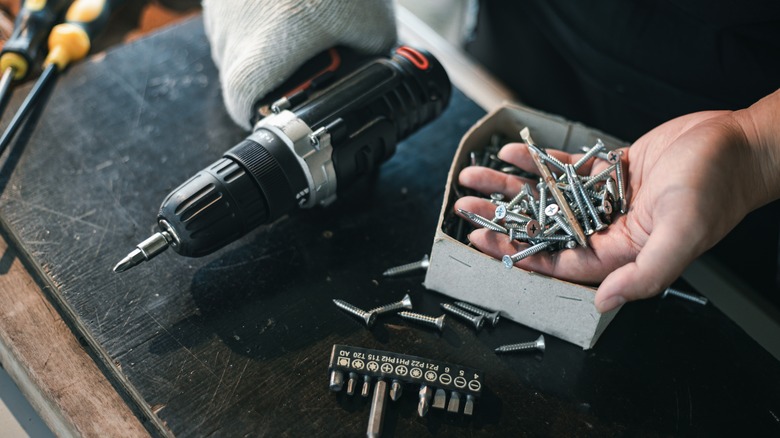 Naknakhone Malaymeuang/Shutterstock
To make this, you'll need IKEA's LURÖY slatted bed base, a 1-inch x 2-inch length of wood, ten 2-inch wood screws, exterior wood paint, a paintbrush, and several SUNNERSTA containers to hold the hanging plants in place. The first step, which can actually be done while you're at the hardware store, is to cut the wood into two pieces. Each piece should be the same width as your slatted bed base, measuring approximately 38 inches long if you're using a twin-sized LURÖY.
Next, it's time to break out the power tools. You'll need to grab your power drill and two of your wood screws. Decide how tall you want your vertical garden to be and screw one of the pieces of wood into your fence horizontally, with one screw on each end. For the next step, you may need some help from a friend. Hold up the bed slats and align the top plank directly on your mounted wood. Once the two are lined up, drill in screws at both ends to secure it. Now, with the bed base hanging from your fence, cut the fabric that holds the slats together at the bottom to trim off any excess length. Finally, screw in your second piece of wood and attach the lowest slat to it with the last of the screws.
Styling your DIY vertical garden
Instagram user bukatron, who put together this vertical garden, used some leftover black exterior fence paint to blend it into her backyard. She painted all of it including the fabric strips that hold it together and the supporting wooden boards. If you decide to use this hack yourself, you might consider a different paint color to match your exterior aesthetic or even a wood stain. Alternatively, you could also use spray paint that is intended for use on exterior wooden surfaces, like Rust-Oleum Painter's Touch 2X General Purpose Spray Paint.
Once your vertical garden is dry and ready for styling, you can use the IKEA containers to hang your plants. The extremely cost-effective SUNNERSTA features built-in hooks to attach to the slatted board with ease. You can simply lift them off the frame to move them around, bring them indoors, or switch them out. Other versions of SUNNERSTA are available too such as shelves and hooks that may be of good use in your vertical garden. Shelves can hold already potted plants, and you could use the hooks to hang small garden tools.