Why DIYers Are All Buying This Item At IKEA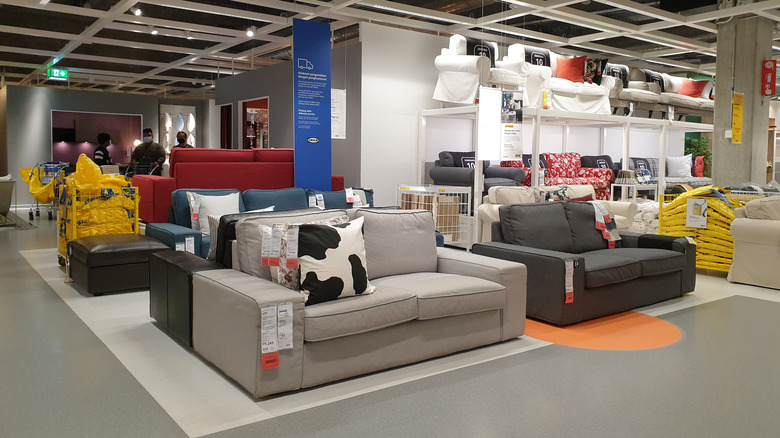 AngieYeoh/Shutterstock
IKEA is a well-loved and often frequented store, mainly by those looking for both good looking and good quality furniture on a budget. Almost everyone you know likely owns at least one piece of furniture, home décor, or even simple and small utensils or accessories from the Swedish-based furniture retailer. In fact, according to Comfy Living, one Billy Bookcase from IKEA sells every minute in the United Kingdom, with 8.7 million Billy Bookcases sold from 1999 to 2018 in the UK alone.
One of the major conveniences of IKEA products is how easy they are to assemble, available for use almost immediately after purchasing. That doesn't have to be the end of the line for your IKEA furniture and décor pieces, though. There are many ways to upgrade, hack, or flip common IKEA items on a budget, creating a unique and customized look in your home without breaking the bank.
Nesting tables to trendy ottoman
One easy and trendy IKEA furniture flip is made with the VITTSJÖ nesting tables, which retail for $90. Melodrama came up with this easy and affordable DIY, and it involves the tables, spray paint, 2-inch thick foam, a drill, batting, and velvet. They also added optional tufting, which requires polyester cords, an upholstery needle, and buttons.
Begin by assembling the nesting tables according to the included instructions. Melodrama only used the larger table, but you can certainly use both. Then, spray paint them gold or any color of your choice. Cut a piece of foam the size of the top of the table, but don't attach it yet. Set it to the side, and put the wood shelf on top. If you want to add tufting, mark and drill holes where you'd like it to go. Remove the wood shelf, put it on the underside with the foam on top, and attach them to the table.
Next, add some batting on top of the foam, and cover all of it with a fabric of your choice. Melodrama used velvet, but any fabric works. Pull it tight and staple it into place. The corners may be tricky, but you can secure them neatly by cutting the fabric and pulling and stapling it around the back. You can add tufting through the holes you drilled by attaching the buttons with polyester cords. Attach the included glass shelf to the bottom, and you're done!