How To Find Cheap Kitchen Cabinets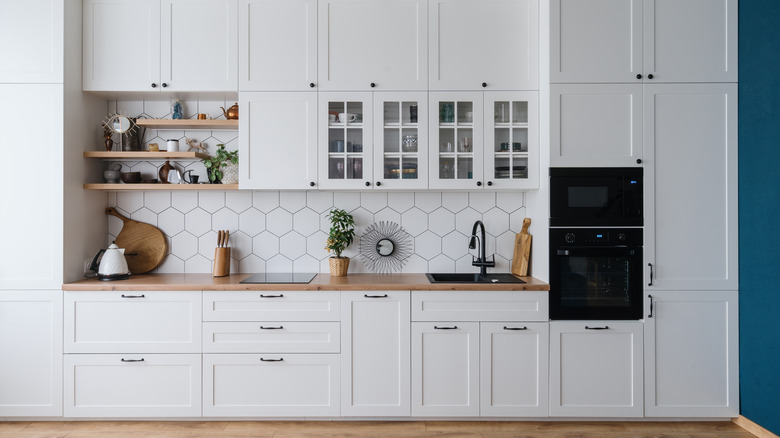 Brizmaker/Getty Images
Finding affordable kitchen cabinets requires research and creativity. It's important to know where to go and what to look for in your search. Check out home improvement stores, kitchen cabinet showrooms, online retailers, and the discount and clearance sales they offer so you can compare. You can also take this on as a DIY project and use affordable retailers as sources for the materials and equipment you need.
However, you need to know what to look for and how to go about it. Consider buying used or salvaged cabinets, ready-to-assemble (RTA) cabinets, and alternative materials or finishes. By keeping your mind open to achieving your desired look in ways you hadn't considered, you can find budget-friendly kitchen cabinets and be happy with the final result. Remember that while cutting costs is important, quality and durability should not be compromised, and you should always choose cabinets that are functional and built to last.
Where to shop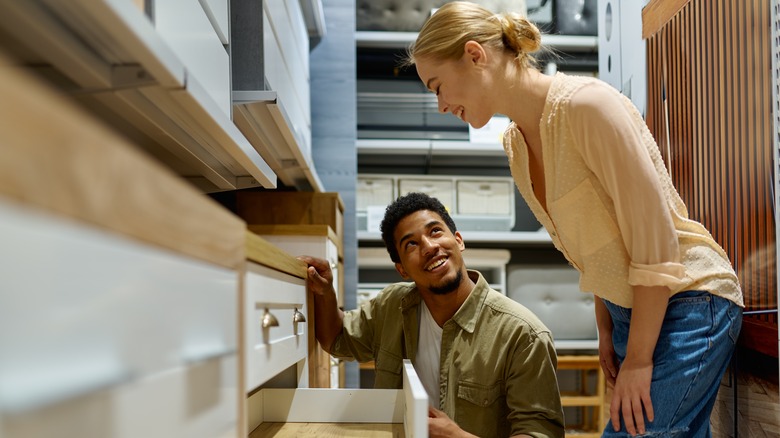 Nomad_Soul/Shutterstock
Browse various stores and providers so you can know your options in terms of prices and offerings, and keep your eye out for sales and clearance events at stores like Home Depot and KraftMaid, and online at IKEA and Amazon. By doing this, you can stumble upon low prices for overstocked inventory or styles about to be discontinued. Display models are also great, cheap findings because they are already put together and won't have much wear and tear.
If you choose to DIY your kitchen cabinets, you will be able to save a significant amount of money when it comes to labor and material costs, and you will have full control of the final result. A DIY project of this scale needs a lot of time and skill, however, so be realistic about your resources so you don't have to spend more money on fixing mistakes or hiring a professional down the line.
What to look for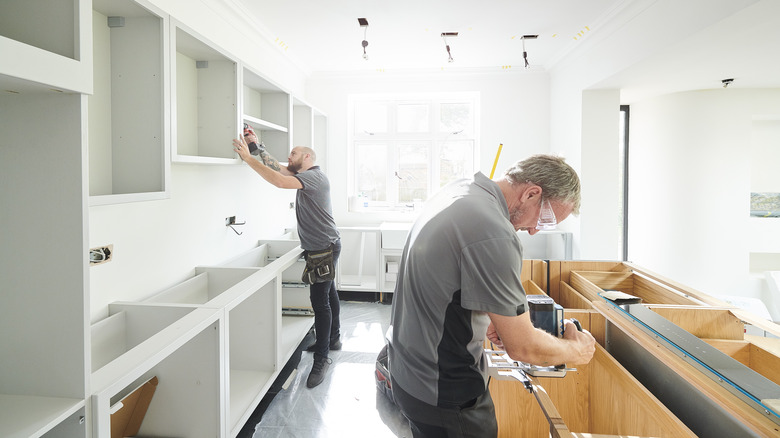 Sturti/Getty Images
Buying ready-to-assemble or used cabinets might be one of the best cheap cabinet hacks. RTA cabinets are pre-cut and packaged to be ready for assembly, which is why they are typically more affordable than custom-built options and require fewer labor costs. You can find them in big box stores like The RTA Store, Home Depot, and Costco. If you're going this route, check that you're getting a quality product. Low-quality RTA cabinets will have thin drawers or frames, which means they won't last long. Their finishes will also be sprayed instead of brushed on.
For used or reclaimed cabinets, check second-hand stores like Habitat ReStore and online marketplaces like Craigslist, eBay, Etsy, Buy Nothing, and Facebook Marketplace for quality products in good condition. You can also invest a bit more to freshen them up with a new coat of paint. Just note that the source, in this case, will be less reliable since it isn't coming from an official provider. Finally, consider alternative materials or finishes to reduce costs. Instead of solid wood, opt for plywood which is cheap and also great for DIY, or laminate which is durable and easy to maintain.