RTA Cabinets: What To Know Before You Buy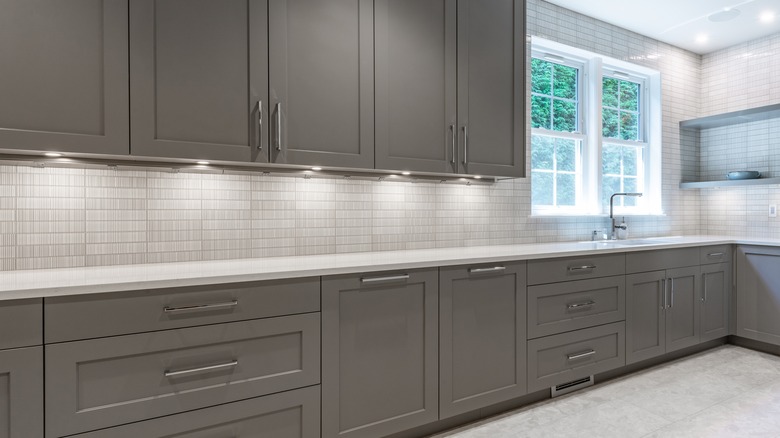 Sheila Say/Shutterstock
If you've ever attempted a kitchen renovation, or a cabinet redo, you know that the process can be daunting. Making choices not just about the visual appeal of your space, but also practical use and materials can be overwhelming. If you're considering cabinet replacement, here are some things to think about if RTA, also known as Ready to Assemble cabinets, are in the running.
RTA cabinets are pre-cut, flat packed, and shipped to your home with all the parts needed to assemble them on site. RTA cabinets come in many different materials, and can be purchased with special features, just like their fully-assembled counterparts. They can take anywhere from two weeks to a month to ship once they're ordered. Because they are cheaper than pre-assembled cabinets, RTA versions can be a way to save money on an upgrade. Lilyann Cabinets advises paying close attention to the instructions for assembly to go smoothly.
Because RTA cabinets come in such a wide variety of finishes (including unfinished) and styles, not to mention degrees of quality, you should make sure you know what you're getting before you buy. A good supplier will provide renderings as well as expert instructions for assembly. Look for these factors when you're making your purchase to make installation go smoothly (via Simply Kitchen USA).
RTA cabinets can save you money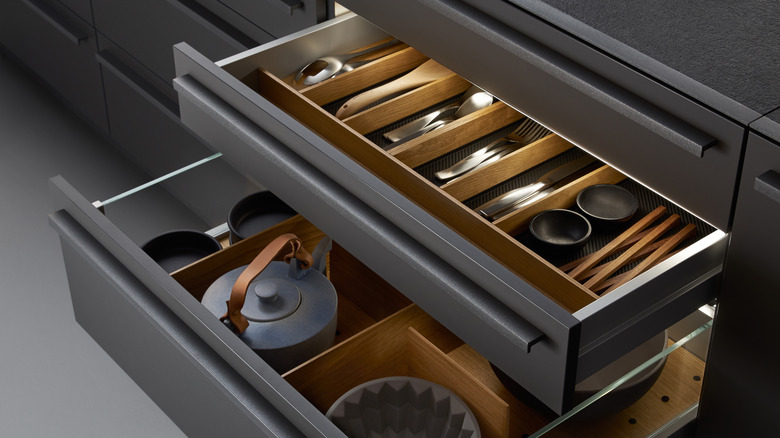 PK-Donovan/Shutterstock
The biggest variable when doing any kind of renovation project is the cost of labor. If you're replacing or adding kitchen cabinets, you can save significantly by doing the assembly and installation yourself. Not only are you saving on costs once they arrive, but you're also saving money by assembling the pieces yourself.
The savings on RTA versus conventional cabinets doesn't stop at the manufacturing costs. According to Easy Kitchen Cabinets, you will also save on shipping costs because flat packed parcels take up a lot less space in transit. You can also install RTA models sooner, because they're made in standardized stock sizes. RTA cabinets can be shipped in 2 to 3 weeks instead of 5 to 6 weeks for customized cabinets that come already assembled. If you're on a budget or in a time crunch, RTA can save you some hassle.
If you factor in all the ways that RTA cabinets can save you money, they're about 66% cheaper than standard cabinets. This means that the average kitchen could cost only $2400 for all new cabinets, a significant savings from the $4000 low end estimate for pre-build models. Looking out for deals around the holidays can save you even more (via Oven Via).
You will need some tools to assemble RTA cabinets
Zephyr_p/Shutterstock
The DIY aspect of RTA cabinets means that you will need some tools. While the process is simpler than what a custom cabinet shop might do, it's still not the most beginner-level DIY project. If you're not a woodworker, you will likely have to buy some if not all of the tools necessary to assemble your cabinets. You can start with a tape measure and a square, but there are other things you'll need for your cabinet project to go well.
According to Nuform Cabinetry, you will need a cabinet jack, a cabinet claw, a level, shims, a stud finder, a drill, and filler strips. If this list of tools sounds like a lot, it might be better to buy traditional cabinets. If you're up for a challenge, though, you can get these tools at most hardware stores.
In addition to things you will absolutely need, there are also some tools that might make your assembly and installation process easier. Cabinet wedges, a handle template, a trim nailer, and a miter saw will make the process go more smoothly and cut down on time and frustration. Doing your own assembly and installation might seem intimidating, but it's also not as complicated as it sounds.
Assembling RTA cabinets takes time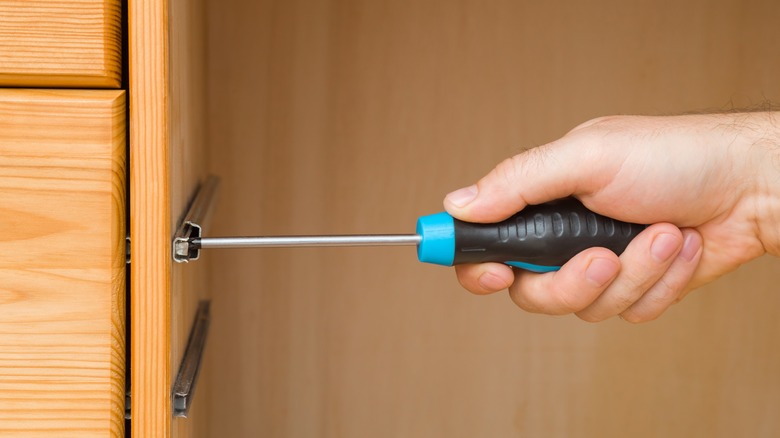 FotoDuets/Shutterstock
Putting cabinets together is often more time consuming than you might originally think. According to Sincerely, Sarah D., while manufacturers might claim that each unit takes a half hour to assemble, she found that the time needed was really closer to an hour. This difference is probably because people who build cabinets for a living might not be great at estimating how long it will take someone with little or no experience to get the job done.
Since cabinets are a big investment and will hopefully last for years, there's a lot of patience required to install them correctly. There can be hassles such as misaligned facings or worse yet–cabinets that are shipped without their instructions. These kinds of problems can be solved of course, but again will require work on your part to address. Shipping back faulty parts, obtaining missing directions, or addressing assembly mistakes are all things that the buyer is responsible for with RTA cabinets.
There are different styles of cabinet, and that can affect quality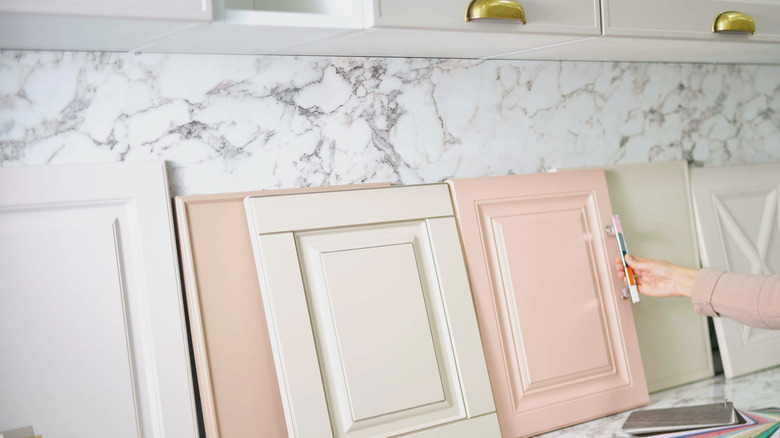 PhotoNastya91/Shutterstock
With such a wide variety out there, it might be difficult to tell the different types of cabinets apart, or decide what kind you want. These details can make or break a cabinet project, as the look and functionality of the units will likely be something you will live with for a while. Consumer Reports recommends tackling the decision process by beginning with a budget, and then selecting your style and features. That way, you won't get carried away with extras you can't afford, or end up spending more than you need to on features you don't need.
The big difference in cabinet style has to do with framed and frameless design. With framed cabinets, the drawers and doors are attached to a frame on the front of your cabinet box, while frameless cabinets allow drawers and doors to be directly connected to the cabinet box with no additional frame on the face. 
The features you choose for your cabinets can greatly impact price. Keeping your eyes on what's the most functional will help you to stay on budget and get a kitchen that works well for you.
It can be hard to find quality RTA cabinets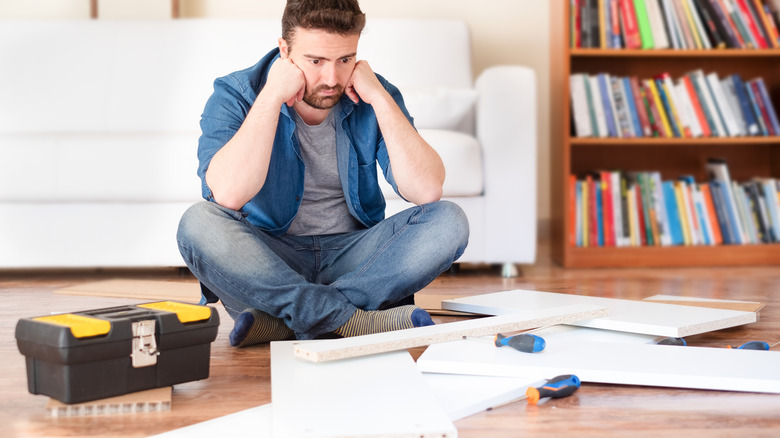 Tommaso79/Shutterstock
There are some big drawbacks to choosing RTA cabinets that you should be aware of. While they might be cheaper than pre-built ones, there might be quality deficiencies as well as complicated assembly to contend with. Degnan Design Builders points out that the assembly process isn't as simple as it's made to seem by RTA vendors and that the quality of the materials is often poor. This means that while you might save some money, you also might end up dealing with a lot more hassle than you thought you were signing up for.
The plywood that ready to assemble cabinets are made from is often of poorer quality as well as the hardware like drawer slides and hinges. This means that your cabinets might not last as long as you would like and that they won't be as sturdy. In addition, poor quality materials can warp or peel over time, making them a poor investment. Hardware and joints that are too advanced for a beginner DIYer can also lead to problems down the road with gaps, misalignments, and weak joints.
Average cabinet prices and what they mean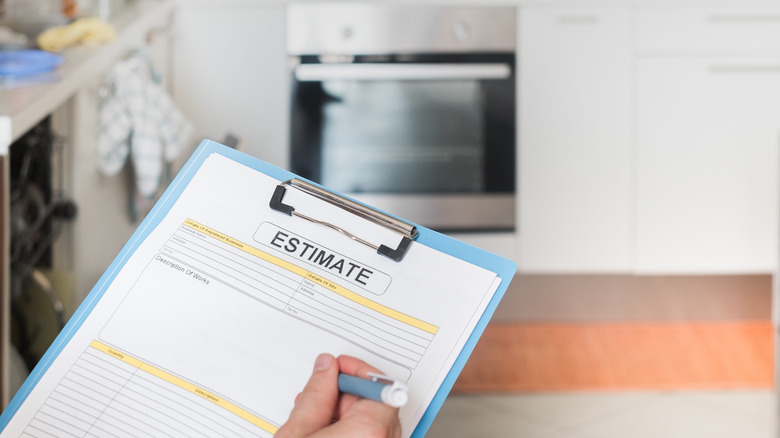 Tommaso79/Shutterstock
Because cabinet installation has such a wide range in price, it is always a good idea to look up average prices in your area before calculating costs, but you can get a general picture by looking at national averages for cabinet cost as well as installation if you're not planning to do that part yourself.
RTA cabinets can cost between $1,000 and $2,400 for a 10x10 kitchen, as compared to pre-built cabinets that average between $1,300 and $4,000, according to Cost Owl. But the total cost of the cabinets doesn't factor in shipping, which can add to the total cost. You can expect free shipping on larger orders if you buy from major manufacturers, which can cut down on costs.
One way that the total cost of installed cabinets can be measured is by looking at the national average cost per linear foot. If you factor in installation costs, the average price per linear foot to install cabinets is between $200 to $1000. You can see that material choice as well as pre-built vs. RTA can make a big difference in price (per Fixr).
How to look for quality materials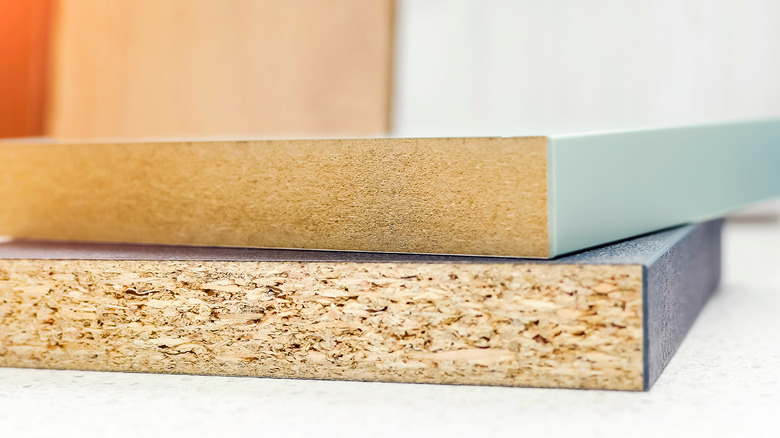 NataVilman/Shutterstock
The materials your cabinets are made from can make a big difference in their quality. In addition to the different types of lumber used to construct cabinet boxes and facings, there are different quality grades within the categories of lumber as well.
The two major materials that cabinet boxes are made from are plywood and particle board. Since plywood holds together better and receives hardware more soundly, it's usually considered to be a better choice for cabinet construction, according to Boston Building Resources. While plywood can warp if exposed to temperature changes or moisture if it's not properly sealed, it also is more structurally sound when screwed or glued together.
The other important difference in material type is the grade or quality of the lumber used within its category of plywood or particle board. Good quality plywood will have more layers than poor quality plywood, meaning that ½" thick plywood with 6 plies will be more sturdy than ½" plywood with 4 plies. The more overlapping layers, the more it will hold up to hardware and wear and tear. For fiberboard or particle board, the denser the board, the sturdier it will be.
How to price compare with other types of cabinets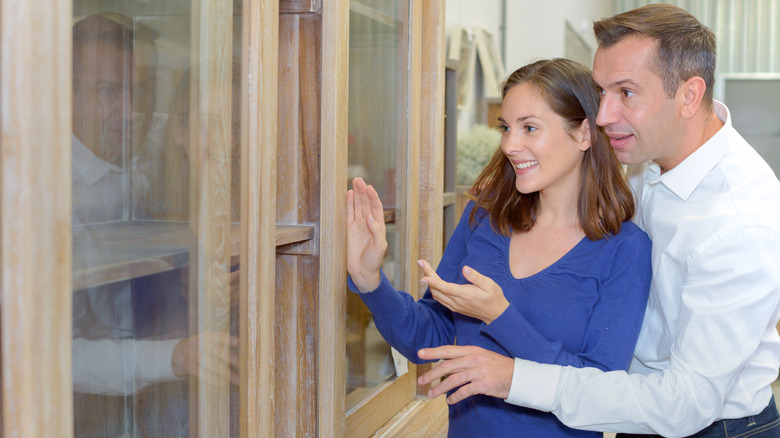 Alpa Prod/Shutterstock
RTA cabinets can be high quality if you know what to look for. Although the general trend in RTA cabinets is cost savings, and therefore lower quality materials are often used, you can find better quality ready to assemble cabinets out there. Choosing a manufacturer that uses all or mostly wood and has a good reputation is important if you want your cabinets to last, according to CHS Hardware.
If you're looking to upgrade your cabinets and are interested in RTA, it's a good idea to look at the cabinets in person if possible before you buy them. If there is a retailer nearby, you can look at the product up close and see the hardware and materials for yourself. In addition, a retailer is a convenient way to get replacement parts of additional parts you might discover that you need during the assembly process.
To make sure that you're getting an accurate idea of what the comparative cost of an RTA vs pre-assembled cabinets really is, make sure that you're comparing products of a similar quality (via Fine Kitchen Cabinet).
Cabinet materials aren't poisoning you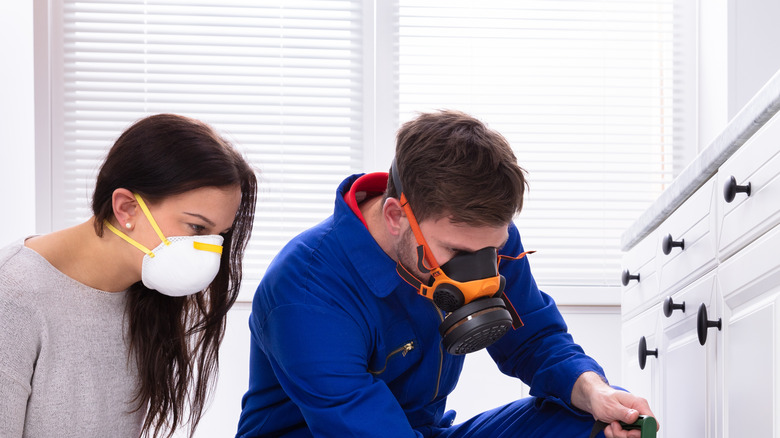 Andrey_Popov/Shutterstock
The common idea that the plywood or fiber-board that RTA cabinets are made from emits dangerous levels of formaldehyde is false. All pressed lumber contains some formaldehyde, so any new construction will release some formaldehyde into the air. That said, the amount of formaldehyde released is very low, and there are things you can do to mitigate the effects.
 Newer wood will off-gas the most, so increasing ventilation when your cabinets are newly installed can help with keeping emissions from affecting indoor air quality. You can also use dehumidifiers and air conditioners to keep the temperature and air moisture stable, which will help to limit the effects of off-gassing. MDF, or Medium Density Fiberboard, contains the most formaldehyde and can cause more of an increase in indoor formaldehyde levels. Choosing a plywood that's an exterior grade, or cabinets that are made from non-formaldehyde containing materials is an option if you are concerned about formaldehyde levels in your home's air (via the EPA).
Do your research before buying your RTA cabinets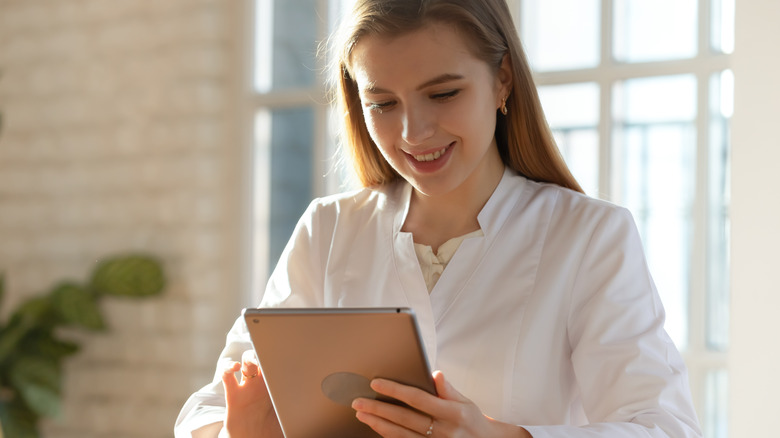 Fizkes/Shutterstock
Do all your research before making a decision. Cabinets can be a complicated purchase and you will be happier with your results if you know what you're looking for. Looking into a manufacturer's customer service practices and problem-solving channels can give you a better idea of whether they will provide you with a reliable product, says Wallcraft Cabinetry. Look up the manufacturer you are buying your RTA cabinets from and do some sleuthing before you make a purchase. It can be the difference between a great or terrible experience with your assembly process, and can help you avoid some hurdles.
Once you have read through some reviews and hopefully gotten some good feedback, you can also look your retailer up on the Better Business Bureau website. A company with a good rating and more positive reviews is more likely to end in a successful cabinet installation process. You can narrow down your options by reading what consumers have reported, their rating, and an overview of the company's services.
Preparation is as important as assembly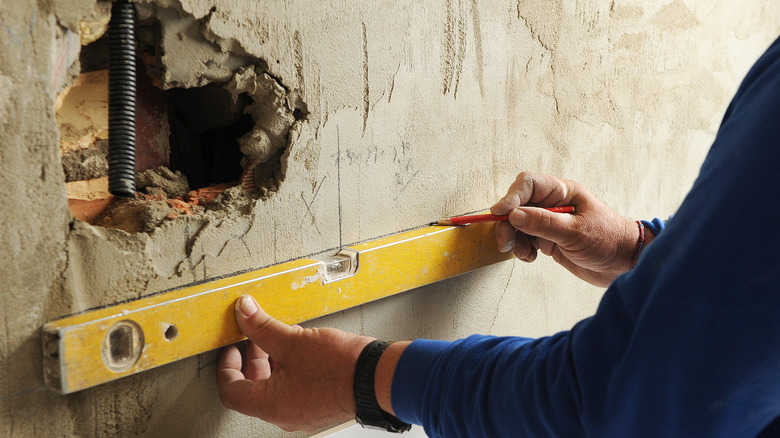 Joserpizarro/Shutterstock
Getting ready to do a home project often takes as much as if not more time than the project itself. Prep and cleanup always add a significant amount of time to your overall estimate, but they can also save you time and hassle while you're doing the assembly. The Site suggests going over all the appliances that need to be connected to power or plumbing before bringing in your cabinets to make sure everything is properly installed. You should also make sure that the walls are in good shape, as uneven walls or walls with holes will prove challenging when installing cabinets. If you plan to paint, it's better to do that part first, because painting around cabinets once they're installed is more time consuming.
Before you start assembling your RTA cabinets, make sure that you have all the pieces and nothing is damaged. Open the boxes and check for dents and scratches, and then count out all your parts to make sure you have everything you need. There is nothing more frustrating than getting a few steps into the process only to realize that you can't continue because the parts you need are missing or damaged (via Cabinet Corp).
Quality construction matters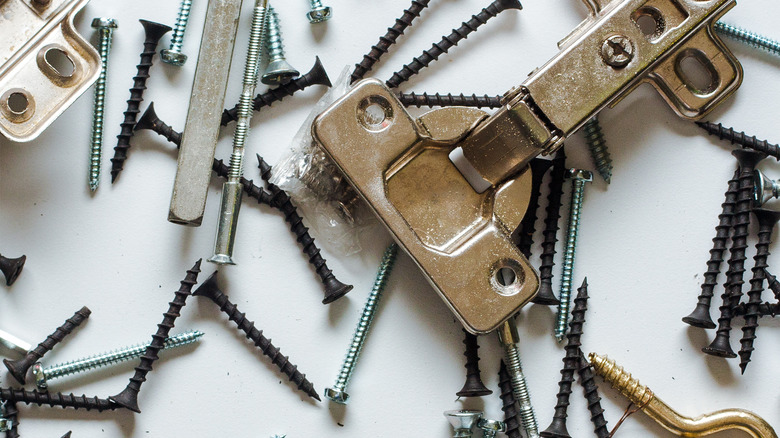 Jsphotoraw/Shutterstock
Picking out the best quality RTA cabinets can be tricky, especially if you're shopping on the internet. But there are a few things that will help determine the quality of the hardware and craftsmanship, even if you can't inspect the cabinets in person. If your cabinets are good quality, you will be able to tell by the materials and hardware they're made from, as well as the types of joints they used. In addition to looking for dovetail joints on your drawers, look for metal instead of plastic hardware components. According to House Integrals, flimsy, thin drawer bottoms are a dead giveaway of inferior quality.
Cabinets made with backs that are at least ⅜" thick and go the full height and length of the cabinet box will last longer and be more durable. Other things you should look out for when selecting cabinets are undermount drawer glides because they will last longer than other types of hardware, solid wood construction because it will hold up longer to wear and tear, and durable joints. If there's not enough overlap on joints or if they aren't tight, they will wear out faster and be more prone to breaking. Using lower quality materials like particle board is a sign that the RTA cabinets are lower quality (via Cabinet DIY).
The different types of cabinets and how they compare to RTA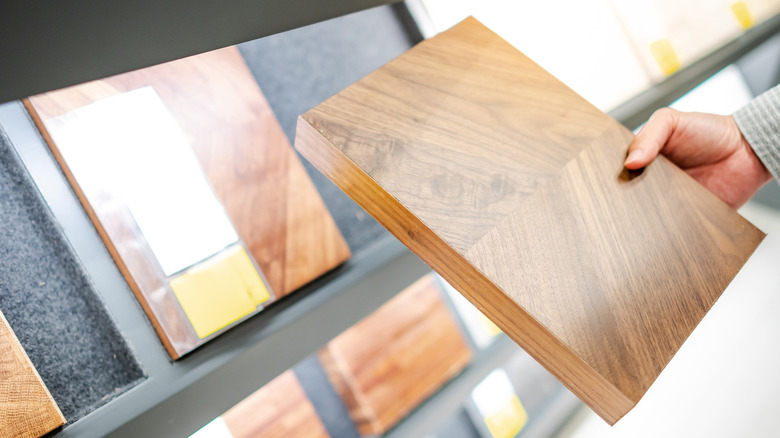 Zephyr_p/Shutterstock
While you might have already made your decision about which type of cabinets you want, if you haven't, a handy comparison guide could help you out. Knowing the differences between stock, custom, and RTA will help you decide which option is best for you if you haven't already made up your mind. Also, knowing what the differences are can help you better get a handle on what the cost/benefit of each cabinet type will be.
It might be helpful to know that stock cabinets and RTA cabinets often have a lot in common. They're both economical choices, and they both come in preset sizes. In addition, because the more choices they offer, the more warehouse space they occupy, there's generally less selection for color and style with these cabinets. The major difference between the two is that with stock cabinets, you're outsourcing the task of assembling them, while with RTA, assembly and installation are up to you.
For semi-custom cabinets, there can be more choices because they are built in a factory based on your individual layout. These cabinets often offer some variety, and you can make measurements specific to within one inch of your custom layout. Different outlets will have different options, but you might be able to do more customization with these cabinets than with stock RTA.
Take shipping times and customer service into account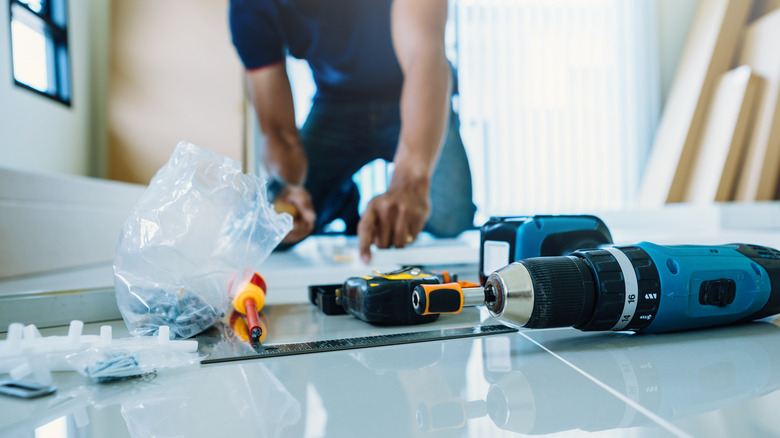 Only_Kim/Shutterstock
When it comes to buying cabinets on the internet, it might be hard to tell which vendors will give you the best service. You should look into the types of instructions provided by your RTA manufacturer as well as shipping times and customer service to choose a product that won't cause headaches during installation, according to Rent Prep. If the company has shorter shipping times, make sure to ask about replacement parts if something goes wrong. If your cabinets arrive promptly but they are missing parts and it takes a month to get the replacement, the short shipping time won't do you much good.
If you're buying from a vendor without a brick and mortar store, you want to make sure that they can back their product up. You should also make sure to compare prices with other vendors that offer the same or similar products. Using a company that will do price match is a good way to ensure that you're getting the best deal on your purchase. The other important comparison to keep in mind is shipping price. While most dealers will give you a discount on larger orders, you should make sure that the retailer with the lowest sticker price doesn't also have the highest shipping costs. That could eat into your savings a lot (via E-Architect).