Brie Larson's Rare Kitchen Backsplash Is A Historic Statement Piece (But Practical Too)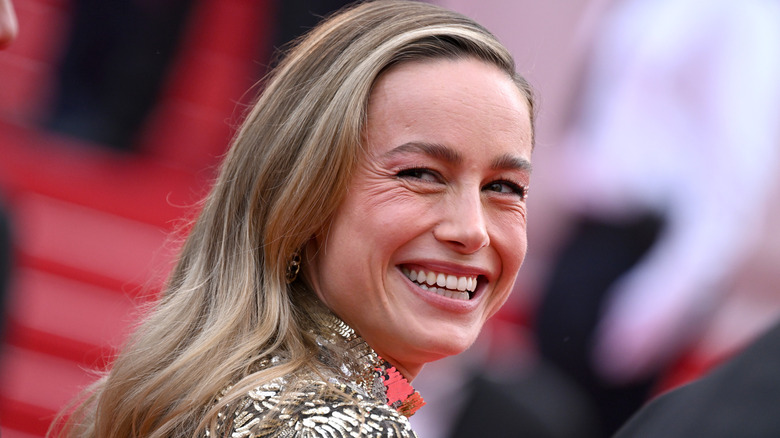 Lionel Hahn/Getty Images
We may receive a commission on purchases made from links.
Instead of a typical tile or stone backsplash, actress Brie Larson has a unique historical feature in her kitchen, isolated above her stove. It's a cast-iron fireback with a design that showcases a replica of "The Birth of Venus," the popular painting by Italian artist Sandro Botticelli. Other cast-iron firebacks, both historical and modern, can feature images of mythological motifs, religious figures, or nature scenes. Her specific piece works perfectly in her home, since the architecture of the building has an obviously Italian design.
While cast-iron firebacks are typically used nowadays for aesthetic purposes, they also have a practical use as well. During the 15th century, when these were first used, they were placed behind fireplaces to absorb excess heat and send it back into the room, even after the fire was put out. In modern times, however, they typically take the place of a decorative backsplash behind the stove and have the main function of protecting the wall from heat damage and food splatters.
How Larson integrated a cast-iron fireback into her kitchen
Because she lives in an Italian-style home, Brie Larson made sure that every element in the space was consistent with that aesthetic. For instance, her space is filled with warm, medium-toned wood, as demonstrated by her gorgeous cabinets and simple hardware. Her ceiling is also covered with wooden panels and beams, which adds more interest to the space. The cream walls have a subtle texture, which provides the room with a unique appearance. The pendant over her island is rustic and metal, to add in another natural element.
To make the black cast-iron fireback match the space, she used a dark material for the countertops. She also made sure the piece was centered beneath her large vent hood, for an orderly look. Next to the fireback is a metal pot filler, which adds a modern touch to her antique space. Because her design perfectly marries old and new elements, it provides the room with an elegant and sophisticated appearance.
Where to purchase a cast-iron fireback
If you want to include a cast-iron fireback in your own home, know that the price can vary widely from hundreds to thousands of dollars. This typically depends upon whether the piece is modern or antique. For instance, if you want to purchase a similar piece to Brie Larson's, that's from the 18th century, on 1stDibs, it's going to cost over $1,800. Another similar item from the 19th century on Chairish's website will cost over $1,300.
However, if you want a similar look but at a much lower price, there are a large number of pieces available on Amazon. These typically showcase a nature or animal scene instead of a religious one. For example, you could buy a piece that displays a flower bouquet for a little over $150. If you're looking for a historical piece that costs less than thousands of dollars, an 18th century item on Etsy, which depicts Venus on a chariot, is currently priced at under $800.