End Table Or Side Table? Here Are The Key Differences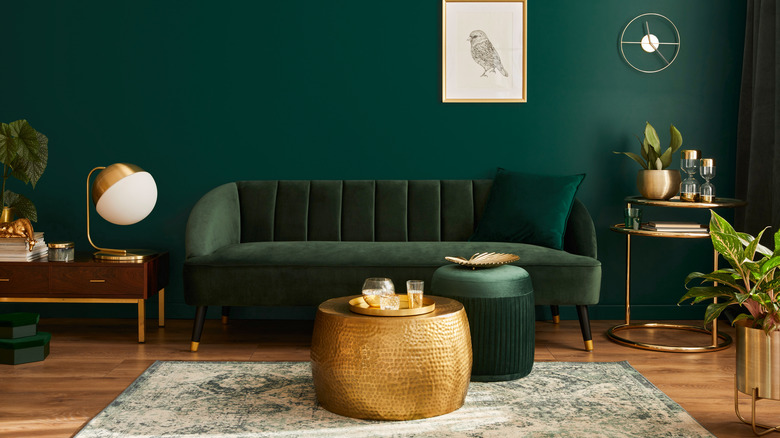 Followtheflow/Shutterstock
While the terms "end table" and "side table" are typically used interchangeably, they're actually not the same thing. They are both small surfaces used to hold items like lamps and drinks, but there are a few key differences between them, beginning with their size. While the top of an end table is about 12 to 18 inches wide, a side table is slightly larger, at 18 to 26 inches.
Another key difference is that end tables are used to complement a piece of furniture, like a couch or a chair, while side tables can add a sense of style and functionality in most spaces of the home without an anchor. Finally, the last difference has to do with the primary purposes of these pieces of furniture. While an end table mostly functions as a place to store useful items like the TV remote and beverages, a side table is not only functional but is also often used to display decorative items like a picture frame or a plant.
Deciding which type is right for your space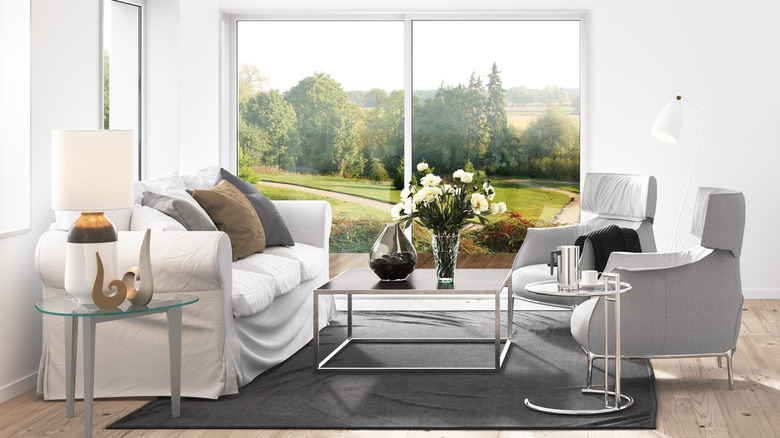 Nelleg/Getty Images
While these two tables are typically used in certain areas of the room, your decision depends upon what you want. The first consideration when deciding which one to purchase is the size of your space. If you're working with a tight corner, an end table would be best, but choose a side table if you can accommodate a larger piece.
Another consideration is how prominent you want the table to be in the room's design. Side tables typically make more of a statement in a space, as they can enhance the style of the room, while end tables usually have a more basic look and are meant to blend in. Finally, consider how you want to use the piece of furniture. If it's next to an armchair, you most likely will need room for a lamp and a beverage, so you may want to choose a larger side table. On the other hand, if you don't want to display any decorative pieces, an end table will work perfectly.
Purchasing the right piece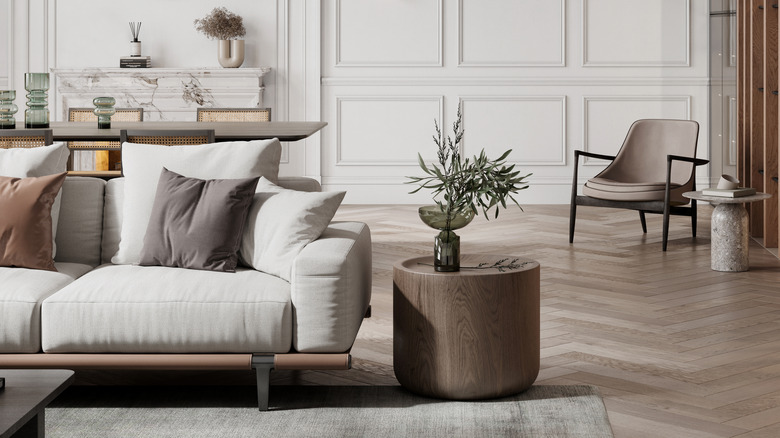 Alvarez/Getty Images
Once you've decided upon an end table or a side table, you'll need to choose the specific piece to purchase. Start by measuring the space and selecting the appropriate size. If you need more room on top of the piece, but you're working with a really small area, look for a table that contains storage underneath, like extra drawers. When it comes to the height of the piece, it should either be the exact height of the furniture around it, like the edge of the couches or armchairs, or a few inches shorter.
If you're using more than one side or end table in the space, you can find identical pieces or mix and match them, but keep them within the same general style. Further, to make them look consistent, use tables that are about the same height as well. Also, consider how much you want the tables to stand out. If you want them to be a potential focal point in the room, choose a bold color or appearance, but if you want them to blend in, keep the design simple.