Keep Your Pots And Pans Accessible With A Lazy Susan Storage Solution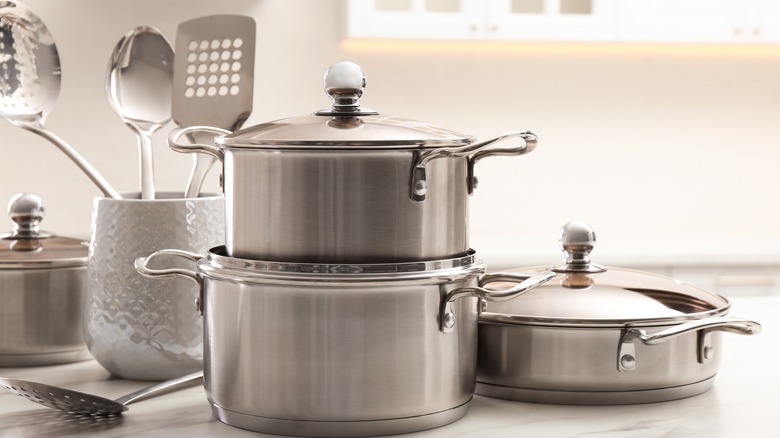 New Africa/Shutterstock
Pots and pans are often stored in lower kitchen cabinets. However, they get piled on top of one another, making it difficult to take a specific one out when you need to use it. An easy solution would be installing a lazy Susan inside the kitchen cabinets designated for your pots and pans. Lazy Susans are a kitchen's best friend, since they are handy organizers and have rotating trays to hold your appliances. Instead of piling them on top of each other, they'll have their own space on the tray, which you can rotate easily when you need a pan from the back of the cabinet.
Lazy Susans can be and have been used for multiple kitchen solutions, like organizing your spice cabinet. If you install one in your kitchen cabinets, a lazy Susan will only take up a small amount of space, eliminating any clutter that was there before. Otherwise, you'd have pots and pans lined up across the entire lower level of your cabinets or island. You can also use them for barbecues or dinner parties and fill the trays with appetizers. They'll free up space on the tables or counters so that you can even place extra dishes nearby.
Lazy Susans fit in corner cabinets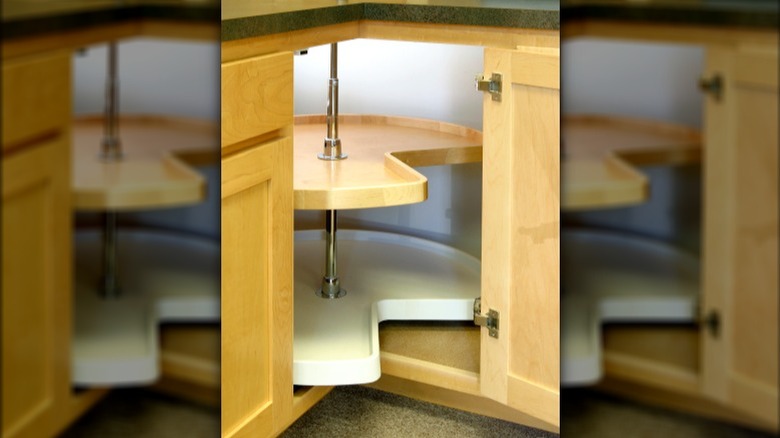 Jimkruger/Getty
If you want to free up space in your kitchen cabinets to store other appliances or containers, you can install a lazy Susan in a corner cabinet to hold your pots and pans. Corner cabinets are weird storage places; they limit the number of items you can put in them without creating clutter. Opening up the space and installing a lazy Susan would make better use of the space. Most lazy Susans are composed of two-tiered round trays that can be directly installed into the cabinet with a fixed pole. When placed in corner cabinets, the trays aren't complete circles; they're pie-cut shaped to match the cabinet's design. But they're much easier to use instead of taking out each pot and pan until you get the one you need.
You can DIY a lazy Susan in your corner cabinets or have a professional install one, but they can be costly. To have a professional install a lazy Susan can cost between $200 to $600, not including labor. The price will vary if you don't have a corner cabinet but want to install one. Custom cabinets can cost between $9,000 and $40,000, which includes installation costs, but it does depend on your kitchen size. Of course, other features can change the price, such as the style of cabinet doors. It can be cheaper to install one yourself, if you know what you're doing.
Use a lazy Susan DIY kit
Buying a pre-made kit is the most accessible and affordable way to install a lazy Susan in a corner cabinet. If you don't have a corner cabinet, you can build one yourself or have a professional install one for you, then you can install the lazy Susan afterward. For example, Build with Ferguson sells various lazy Susans, ideal for corner cabinets. The Rev-a-Shelf 3472 Series 24-inch Kidney 2 Shelf Lazy Susan is available in different sizes, ranging from 24 to 32 inches in diameter. In addition, the lazy Susan comes with a fixed pole and your choice of one or two shelves in an almond or white finish. The price varies depending on which diameter size you choose, which can be between $80.92 and $105.92.
The Rev-a-Shelf is made from heavy-duty polymer and can withstand up to 20 pounds per square foot for each tray. It also comes with installation instructions, which are easy to follow according to the reviews. Build with Ferguson shows the different types of lazy Susans they sell to ensure you're purchasing the right style for your cabinet. They also offer a limited warranty on Rev-a-Shelf products in case anything happens to the one you bought.