The 200-Year-Old Flooring Nate Berkus And Jeremiah Brent Swear By For Durability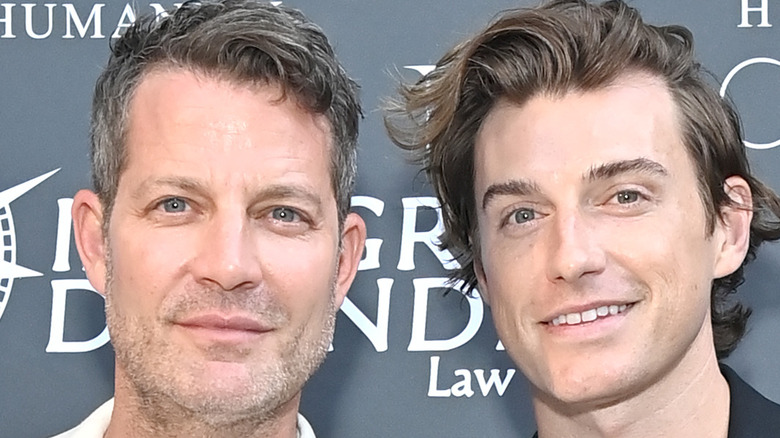 Stefanie Keenan/Getty Images
When HGTV stars Nate Berkus and Jeremiah Brent renovated their upscale New York City family home, there was one thing that they couldn't leave out. In a home tour with Architectural Digest, the married design duo emphasized how their foyer is covered in Spanish concrete flooring that is nearly 200 years old. Following some of their other stylish home renovations, the current co-hosts of "The Nate and Jeremiah Home Project" finally decided to incorporate black-and-white checkerboard tiles into the personally designed home. Nate Berkus explains, "This is the floor we always wanted" (via Youtube). Located on the second-floor entrance of their Greenwich Village apartment, the striking tiles are showcased within the entryway and partially extend into the formal dining room.
While the previous flooring had to go, they opted for antique Spanish tiles, which initiated the vision for the remainder of their home. Jeremiah Brent adds, "I think this room really set the tone for what we're trying to execute throughout the house." Known for their durability and resilience, Spanish flooring is often installed within interior and exterior areas, including bathrooms and kitchens. While they come in a variety of colors, the artistic couple chose black and white shades, which offer a notable contrast with the right amount of balance. A highly successful team, Berkus and Brent know the value that old-world Spanish tiles have amidst a design that is both modern and traditional.
The design couple installed hard-wearing Spanish tiles in the foyer
Beautiful and timeless, concrete tiles are made to withstand a variety of high-traffic areas. This may be the main reason why HGTV's Nate Berkus and Jeremiah Brent chose to decorate their foyer floor with sturdy, early 19th-century Spanish tiles. While black-and-white checkerboard flooring was often showcased in royal ballrooms and other formal areas, including the Queen's grand staircase floor at Versailles, Brent says, "In practicality, they're actually really durable" (via Youtube). While most flooring may be likely to crack when approached with heavy objects, concrete is one of the top contenders for strength and longevity compared to other natural materials like granite or marble.
Although it's unclear what kind of flooring was there originally, it's certain that Berkus and Brent wouldn't have selected anything other than their new, antiquated tiles. "The floor always drove us crazy, it was never the floor that we would've picked," says Berkus. Like the tiles themselves, the foyer's updated look is a balanced blend of both designers' styles. As Berkus puts it, "It mixes from very traditional to super, super modern." With the ultimate symbol of light and dark presented, the pair incorporated other diverse elements around the area with ease.
The antique tiles were styled with an ultra-modern motif
Simple yet elegant, Nate Berkus and Jeremiah Brent have created an ultra-modern entryway with an old-world flare. "I love this space, it feels formal," says Brent (via Youtube). The space is quaint but airy, with a round, arched window to let in the sunlight. While the expert designers explored ideas, the right elements merged naturally by starting with the concrete tiles. Brent continues, "I think the foyer is where we kind of got our feet wet and started to play around and experiment with different stuff." The railing is also a new addition to the renovation, as the checkered floors stand out amidst various greenery and contemporary, stone-based furnishings and décor.
High contrast is also at the design's center with the enigmatic snake-like candle sconce near the front door and a tall, welcoming tree in a reclaimed pot resting alongside a sphere on the floor. "But then we put this great stone table in here and some branches and a glass chair, and all of a sudden, it feels like you could be anywhere," adds Brent. The lighting is soft overall, with the addition of two more scones on the opposite wall and a large farmhouse lantern pendant centered. From rustic to midcentury modern, Berkus and Brent have created an innovative yet functional design to coincide with their durable Spanish tiles.