Is Costco's Compost Worth Buying For Your Garden?
We may receive a commission on purchases made from links.
With peak gardening season fast approaching, Costco is rolling out its plantlings, gardening tools, outdoor patio furniture, and lawn care favorites. We've been seeing great deals on home gardening items like large planters, packets of flower bulbs, and even healthy fiddle-leaf figs. Our newest favorite find is available online and in-store — a 10-pound bag of earthworm castings that are ready to buy for $10.99 at some Costco locations, or $18.89 if you purchase it on their website.
Natural plant food makes it simple to provide your indoor or outdoor plants with the nutrients they need to grow healthily. It can be used with many species of flowers, shrubs, ornamental houseplants, and fruit and vegetable-bearing plants. A single 10-pound bag of compost can cover a space of 100 square feet. Introducing more plant-supporting nutrients to your garden and containers can have a wonderful effect on your young, healthy, or dying plants. Is this true for Costco's affordable earthworm-casting plant food? We think so. Let's get into it.
What can organic earthworm castings do for your garden?
The organic and natural soil amendment by Impact Organics is a great source of organic and essential nutrients for plants. It uses worm castings — or worm poop — to introduce higher amounts of nitrogen, iron, and beneficial microbes into the soil as they break down with water. With the exception of getting worm castings directly from the source, using a compost product like this is among the best ways to amend nutrient-poor garden beds.
However, the benefits of earthworm castings don't end here — the worm poop can also improve soil aeration and water retention due to its humus content. This helps to keep plant roots healthy, hydrated, and properly supplemented with nutrients that cling to them and the soil. These advantages beneath the soil speed up your plant's growth, which boosts the production of flowers and fruit. With a leg up on health, your plants will also more easily fend off diseases and survive harsher torment from common pests.
How does Costco's affordable compost compare to others?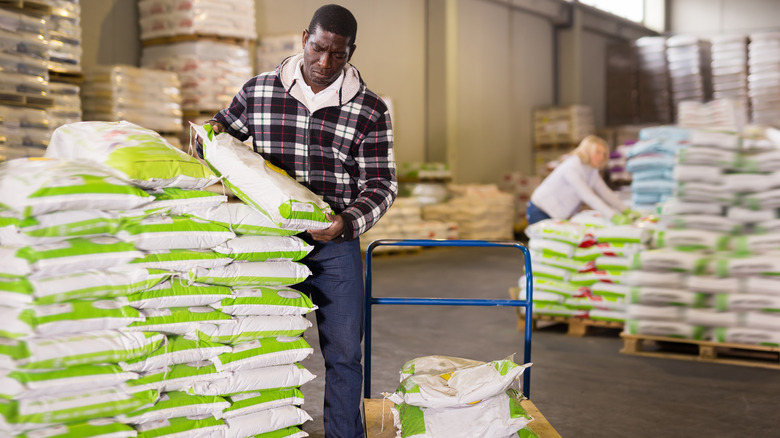 BearFotos/Shutterstock
Ace Hardware, Home Depot, Amazon, and several other stores also sell their own organic earthworm castings for feeding plants. Their bags of compost are comparable in price to Costco's option, which offers a 10-pound bag of plant food for as low as $10.99 in-store, rounding out to about 7 cents per ounce. But if you buy the same bag on the chain's website, your total would be $18.89 — or 19 cents per ounce.
We compared a highly-rated bag of earthworm castings plant food from Ace Hardware, Home Depot, and Amazon against the one from Costco and found that the price difference isn't all that shocking. In dividing the cost of the bags by the total number of ounces inside, we saw that Ace Hardware's Black Gold Organic Earthworm Castings was the best option for those without access to a Costco Warehouse at just 7 cents per ounce as well, or 9.5 pounds for $9.99. The others from Home Depot and Amazon were a bit more expensive at 10 cents and 13 cents per ounce, respectively. Because the price of Ace Hardware's compost and Costco's compost in-store were so similar we became curious about which would perform better. As indicated by their reviews and specifications, we would choose Costco's product over Ace Hardware. Costco's natural soil amendment contains no additives like peat moss and is loved by verified buyers who saw it encourage new growth right away.