Here's What To Consider When Choosing The Right Doormat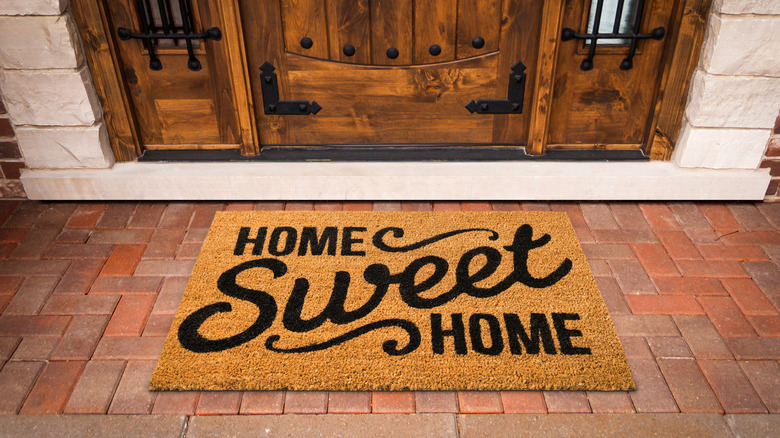 Feverpitched/Getty Images
From Snoopy lounging on the beach to vibrant flowers twisted into letters spelling out the occupants' last name, doormats often reflect the eclectic personalities of homeowners. Sure, their main function is to prevent dirt, debris, germs, and moisture from being tracked throughout a home, but the right doormat can be practical without compromising individuality. When selecting the perfect doormat to accentuate your entryway, consider size, shape, purpose, and design.
The humble doormat. Often underappreciated, yet always reliable. When it comes to outfitting your home, you may be tempted to focus on big-ticket items, such as furniture and appliances, while smaller accessories like doormats end up as an afterthought. If your doormat has been relegated to nothing more than an unsung deco piece, it's time to step up your game and select one that will make visitors' first impression of your home memorable ∫ for all the right reasons. In the end, your guests will appreciate the effort, and you can take satisfaction in knowing you're protecting your floors and your family's health while simultaneously elevating your home's façade.
Size and shape matter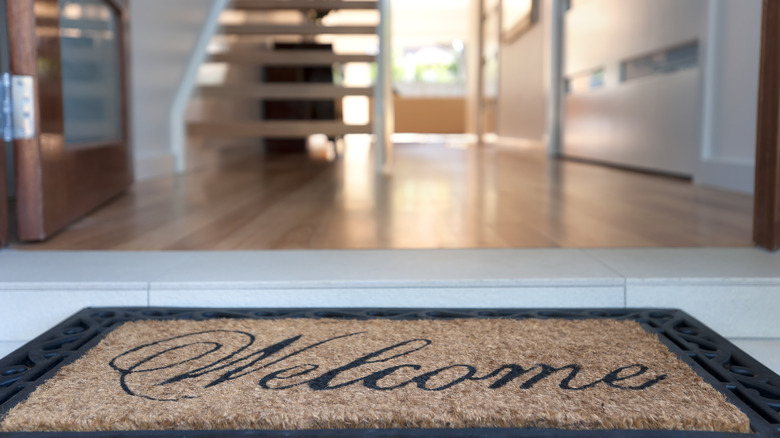 Courtneyk/Getty Images
Before you hit the mall in search of a must-have doormat that adds flair to your home, get out your tape measure. While doormats come in a variety of sizes, a standard doormat measures roughly 18 inches by 30 inches. If you're dressing a space in front of a single front door with sidelights, consider a mat that is 2 feet by 3 feet. Be mindful when sizing a doormat — if it's too small, guests may ignore it altogether and traipse into your home without wiping their muddy shoes. Conversely, an extra-large doormat may overpower a small space, making it appear cramped and unwelcoming. Likewise, a doormat's thickness plays into sizing. Ideally, a doormat should be dense enough to effectively scrub dirt off of footwear, but not so chunky that it interferes with the swing of the door.
When it comes to strategic doormat selection, consider shape as well. Fortunately, there's no shortage of creative silhouettes to add pizazz to your front porch, back patio, or side entry. Doormat shapes range from classic rectangles and squares to more modern semicircles and ovals. Some of the most unique doormats embrace nontraditional shapes to form beloved motifs, such as rainbows, watermelon slices, and butterflies. However, before experimenting with a novelty door mat, it's a good idea to measure the width and length of your door or entry space to ensure you're covering at least 80% of the area from edge to edge.
How to combine function and flair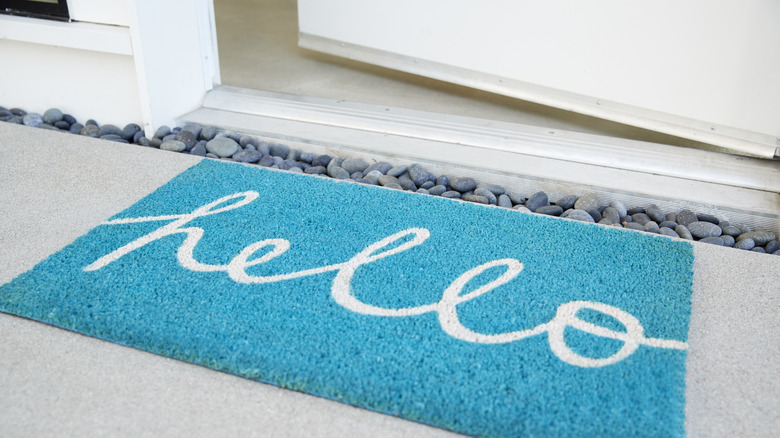 Monkeybusinessimages/Getty Images
Whether you live in a small apartment or a double-door mansion, you'll want a doormat that's practical and stylish. Narrow down your options by prioritizing purpose and placement. For example, if you have an active family and live in an area that experiences inclement weather year-round, consider a heavy-duty rubber doormat. Waterproof and weather-resistant, the durable mat is made for repeated stomping and scraping. Most feature textured surfaces with deep grooves, thick bristles, and retention dams to capture water, grass, and mud.
Eco-friendly coir doormats are equally effective at cleaning footwear. Made from rough coconut fibers, coir mats are also ultra-absorbent. Unfortunately, they're not machine washable; rather, they can be vacuumed, wiped with a damp rag, or hosed down to remove trapped debris. For areas that don't see a ton of traffic, consider doormats made of polypropylene fiber, nylon, polyester, or microfiber. Just be sure your doormat features anti-slip backing to avoid accidents while your guests are dusting dirt from their shoes.
Finally, when it comes to selecting the perfect doormat, you don't have to compromise charm for capability. Manufacturers have made it easy for homeowners to enjoy both show and substance with a near-infinite number of doormat colors and designs. Consider picking a bold-colored doormat to complement the vibrant tones of your front porch furnishings. Or, select a doormat with a dramatic herringbone, flame, or leaf pattern to add some sizzle to an otherwise boring entryway.