10 Must-Have Doormats That Add Flair To Your Home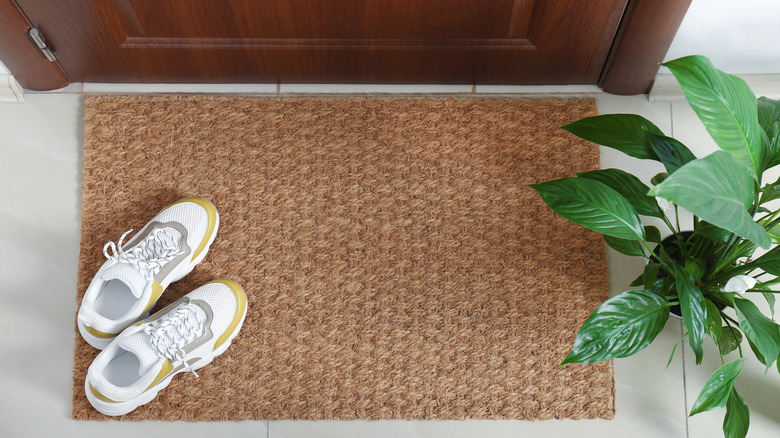 New Africa/Shutterstock
The entryway of your home makes the first impression about you. When visitors come through, you want them to be greeted in the best way possible. That's why it's important not to skimp out on your entryway décor. A simple and affordable way of decorating is finding the perfect doormat.
Obviously, door mats are functional pieces, and there are different types made from a variety of materials. Make an Entrance notes that there are scraper mats that help remove dirt from your shoes. Then there are absorbent mats used to soak in any extra moisture. The best mats are multi-purpose and can do both, which is why coir is a popular material. But just because these pieces are practical doesn't mean they can't also add some flair to your home. Use your doormat as an opportunity to bring some style to your space. Let's look at 10 doormats that may make you rethink your entire entryway design.
1. Different shapes
Doormats aren't just rectangular; they can come in different shapes such as this arch-shaped doormat. Its black color contrasts nicely against the tile for a simple and modern look.
2. Colors and fringe
Show off your personality with a doormat that has your favorite colors and designs. This doormat with beautiful fringe ends will excite guests for what's to come inside your home.
3. Large and in charge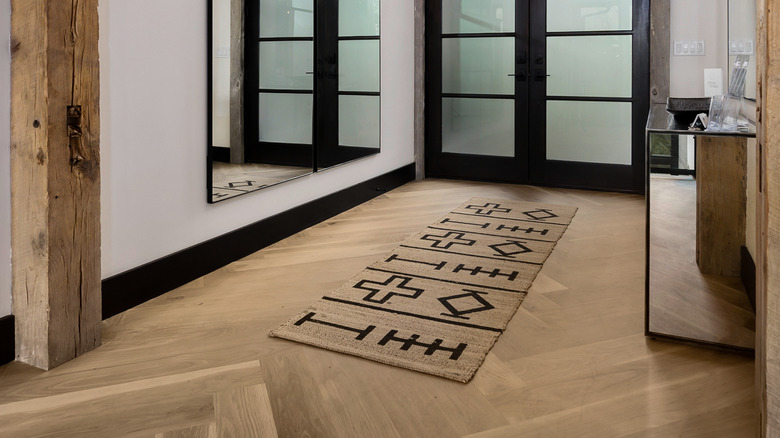 Samantha Ward/iStock
Choose a doormat that will fit well in your space. If you have a long foyer or wide entryway, then select one to fit accordingly to ensure that it's not too small as it'll become insignificant and awkward. This patterned option fits perfectly and guides guests into the main areas of the home.
4. Coir with color
Some may believe that coir rugs are boring, but they are sturdy and easy to take care of. You can also find them in several different designs that meet your needs.
5. Bring in the right colors
When choosing a doormat, it's important to keep the current colors of your home in mind. This minimalist design was completed well as this rug has an eye-catching pattern, but is made soft by the colors and complements the rest of the space.
6. Match with existing furniture
This beige doormat with black polka dots matches nicely with the black entryway console, which has accessories made from a similar material to the mat, creating a consistent flow. 
7. Natural elements
Get creative with natural elements for your doormat, and incorporate materials you can find in your own backyard. This doormat made of stones eases the transition from outdoors to inside.
8. Bohemian rug
Bohemian rugs can make the perfect entryway doormat as they come in several colors, patterns, and fringe designs that can fit into many design themes.
9. Usher in the season
Your doormat can be an excellent way to welcome in the seasonal changes every year. This autumnal doormat is sure to make your visitors smile.
10. Show pride
Want to showcase your pride? This rainbow doormat will welcome your visitors and give them good vibes even when it's cold outside.