The Time HGTV's Page Turner Painted An Accent 'Rug' On A Flip Or Flop Deck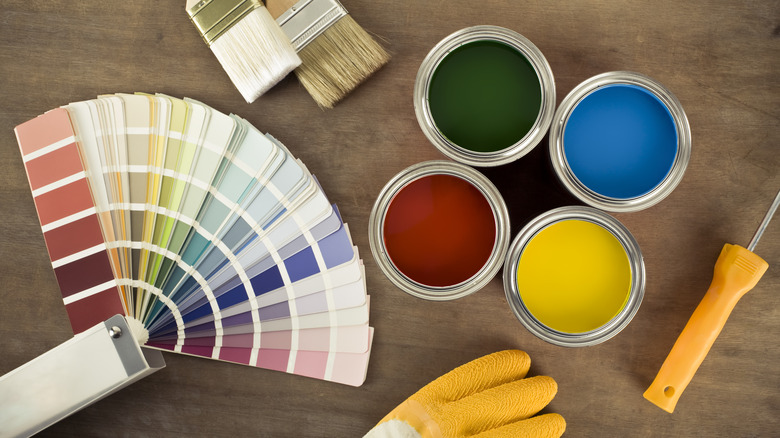 Kutaytanir/Getty Images
Exterior spaces of your home can often get overlooked, especially if you live in a climate where you can't enjoy your deck and backyard year-round. Or, perhaps you've splurged on outdoor furniture and don't want to spend much on decorative accessories. Luckily, there are plenty of ways to refresh an exterior space on a budget, as HGTV personality Page Turner proved on an episode of "Flip or Flop Nashville." All you need to do is get creative with a bit of paint. As Turner explained to HGTV, she enhanced the look of a wooden deck in a home she was trying to flip by painting the floor to resemble a large blue-and-white area rug.
As anyone who has ever tried to purchase a sizable area rug knows, they can be seriously pricey — even ones meant solely for exterior spaces. Not to mention, you need to find an option that's not only stylish and budget-friendly, but also crafted from a material that's resistant to mold and mildew and able to withstand things like rain, sun exposure, and dirt.
In comparison, a bucket or two of paint is an absolute bargain. Turner did admit that the design decision was a bit polarizing, stating that "a buyer was either going to love it or hate it," but for your own deck, obviously you don't need to worry about mass appeal. You simply need to find a design and color scheme that you think would best suit your outdoor space.
Do the prep work — and pick the right paint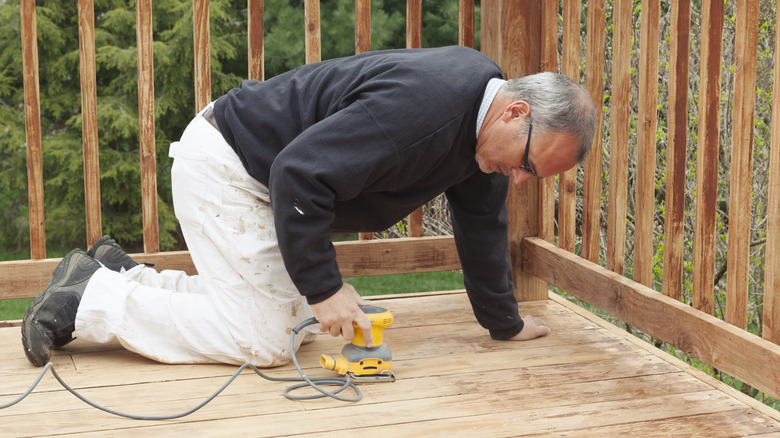 Lissart/Getty Images
As Turner's "Flip or Flop Nashville" co-star Deron Jenkins advised HGTV, prep work is "the most important part of any paint job." This is especially the case when you're dealing with an outdoor surface like a deck. Not only do you want to sand the wood and address any holes or marks that have arisen over the years, but you also want to thoroughly clean the surface so your paint properly adheres. And, while you might have used spray paint or regular household paint on outdoor furniture and accessories before, your deck sees a lot more wear and tear. People will be walking over the area, it'll be exposed to the elements, and you'll likely have furniture or other pieces situated atop it.
This means you want to select a paint or stain that's able to withstand all those stresses without deteriorating too quickly — after all, you don't want to be repainting the rug every year. While exterior paint might work, what you really want is something specifically labeled as deck paint. These paints can be a bit more expensive and might require an extra step, such as a sealant. However, they're also formulated in a way that helps prevent erosion from the elements, keeping your painted rug (and deck) looking incredible for years to come.
Get creative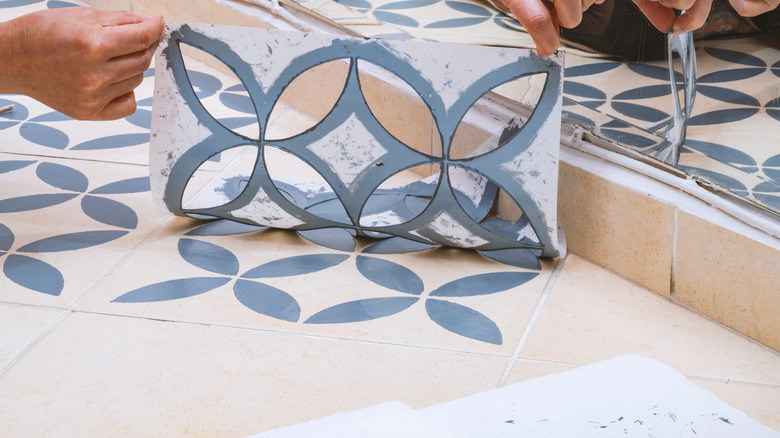 stockwars/Shutterstock
Turner's painted rug was a fairly simple design, with a solid blue hue making up the majority of the rug and a white border adding a bit of visual interest. You could certainly opt for something quite minimalist if all you're looking for is a splash of color. However, provided you have the patience to invest a little extra time, the sky's the limit in terms of how creative you can get.
One way to make a serious style statement is by using stencils to create a design mimicking what you'd see on an actual fabric rug. You'll require a few extra materials, such as the stencil you want to use and perhaps multiple paint colors. And, depending on the pattern you go with, you may need to do some calculations in terms of the ideal area rug size to ensure you're not cutting off the stencils at an awkward point. But, you'll be left with a one-of-a-kind addition to your deck.
However, be aware that particular colors can fade faster, especially if your deck has minimal shade. In general, lighter shades and earth tones will retain their original color best while very saturated hues, either bright or dark, might fade more over time. Alternatively, while Turner opted for paint, you could also consider using stain to create a rug-like effect with a slightly more subtle or natural aesthetic, since the wood grain will still show through.