Motel Rescue's Lindsey Kurowski On Her Biggest Remodeling Challenge & Bouncing Back - Exclusive Interview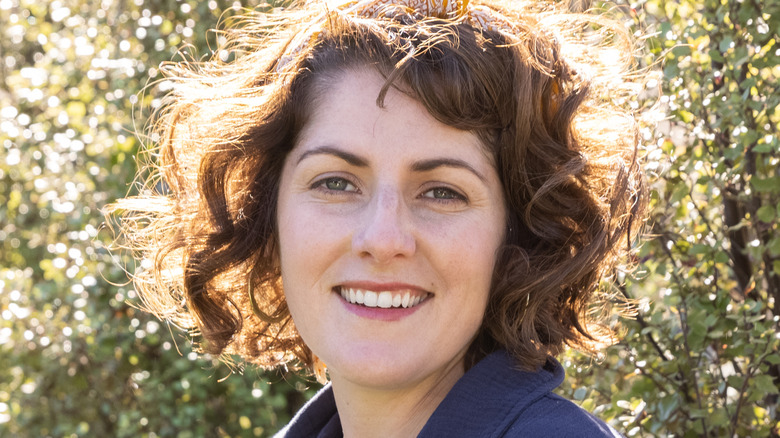 Magnolia Network
Most American roadside motels peaked in the second half of the 20th century, back when a Big Mac would set you back about 70 cents and branded ashtrays sat on the beige tables lining every fast food joint in the country. By the 1980s — when the term "flyover country" found its way into dictionaries — the dream of many moteliers had already been snuffed out like a spent cigarette. But Lindsey Kurowski, host of Magnolia Network's "Motel Rescue," has a message for the roadside motel owners who are still struggling to stay afloat: Your business can be profitable; now isn't the time to give up the fight.
In her new seven-episode series, Kurowski hits the road to assist motel owners across the country. From modernizing outdated business models and accommodations to restoring the rustic charm these establishments are known for, the "Inn the Works" veteran has a proven track record that precedes her. In an exclusive interview with House Digest, the multitalented renovation specialist discussed her unique approach to preserving this quintessential slice of Americana and offered insight into how to make your short-term rental business thrive.
Talking Motel Rescue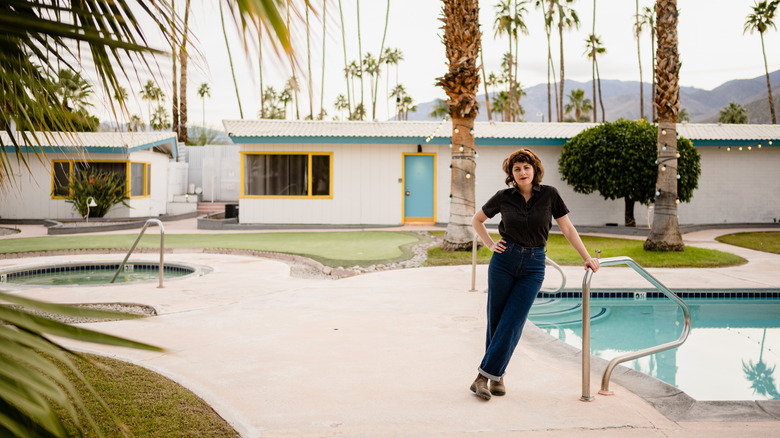 Magnolia Network
How will "Motel Rescue" differ from "Inn the Works"? Are there any surprises you can share for the inaugural season?
The main, massive difference between "Motel Rescue" and "Inn the Works" is I am now not the motel owner. I'm coming in to go on the road and help out other struggling hotels and motels.
I've done "Inn the Works" twice — I own two motels. I've flipped them, and I've got them up and profitable and running great. "Motel Rescue" is centered around going out around the country to go help other people. That's the main difference; I'm not necessarily the owner. I'm coming in to help steer the ship for some places that need some help.
Naturally, most TV viewers will never own or renovate a motel. What do you think fans can take away from shows like "Inn the Works" or "Motel Rescue"?
How dare you? Of course they can! [laughs] I do! I have to tell you that not only ... I do hotels and motels, but I also own over 10 short-term rentals. A lot of what I teach you in "Inn the Works" and "Motel Rescue" is leaning into the short-term rental market and regular renos.
I do a lot of DIY. I'm always refinishing furniture. I'm always coming up with interesting ways to fix a problem. A lot of my experience is in working in scenic, so I can build things from scratch. Even if you don't own a hotel, there's still a ton you can learn from this show. We are consciously always coming up with DIY projects for our viewers.
On the road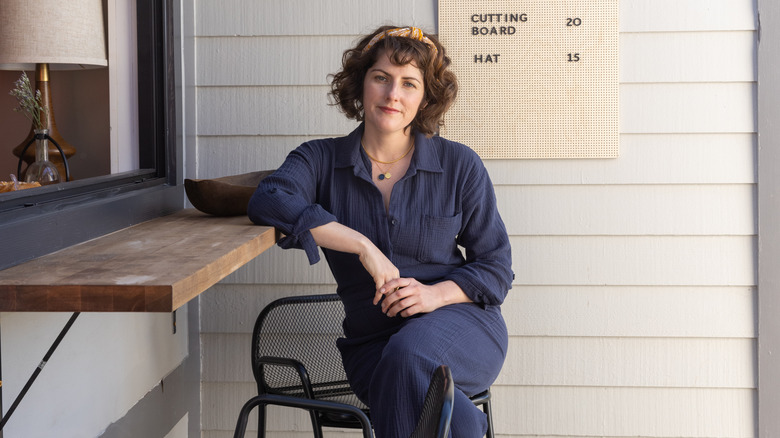 Magnolia Network
Why is it important to you to save vintage motels and the unique style they're known for?
I'm so drawn into this industry, specifically for the history and the stories of these places. There's such a romance to an old motel and looking up at the photos of what it used to be when it was in its heyday. There's something to be said about the people all across the country who are doing their best to keep these places up and going — also, people who are buying them and trying to refurnish them and bring them back to what they were or restore them.
It's preserving our history. Right now, I'm in ... Here's a surprise for you. I'm on Route 66 in Kingman, Arizona, which is ... Route 66 is the birthplace of the American road trip. It's cool to help preserve the story, and it's a huge part of Americana and why people were traveling these roads when they came up almost a hundred years ago. I love preserving history, and these places have such a story that should keep going for generations.
What I'm finding, being out here on the road, is there are some older people running things and also not understanding the younger generation and how to attract this new kind of traveler. Things are changing so much faster than they used to. You used to have a business model you could stick to for 20 or 40 years. Now it's changing every three to five years — how people are traveling, and how they're finding you. It's really an education for the owners.
I don't feel like everybody should have to sell. That's also why I want to do this show. There's a lot of people who are right on this cusp of, "Business is down; we're going to have to sell. It's been in our family for three generations." That's where I shine and say, "Hey, if you make a couple of tweaks ... and here's the tweaks: Let's redesign the rooms so they're inviting and they have modern updates. Let's get you on social media and get you a website."
There's a couple of hacks that can help them turn the ship around. That's why this show can be important, because it is make-or-break for a lot of these owners, and I'm here to help educate them that they don't necessarily have to sell. They take my advice, they can thrive. They're not always open to change — that's what we're finding as well.
Iconic design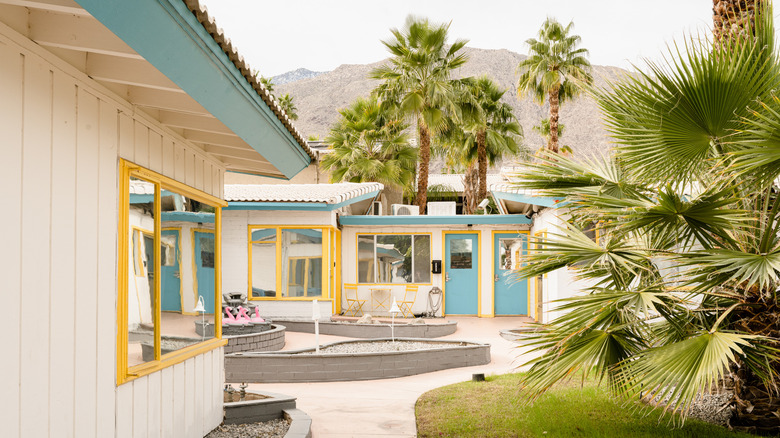 Magnolia Network
Many historic inns and hotels offer large outdoor spaces to relax and socialize with other travelers. What must-have backyard features would you recommend for homeowners who like to entertain guests and neighbors outdoors?
You must have a fire pit — there are all kinds. I love an old vintage chiminea. I like a big wrought iron open face. Fireplaces come in so many shapes, sizes, and styles. It's really cool. If you're going for a '70s look, you can buy one of these old 1970s with the chiminea and everything, which are awesome. If you want a more modern look, I would suggest an open bowl that's black matte steel. Those are a no-brainer, and they're a lot of fun.
What else is cool outside? I love a rocking chair — something that moves. I've got too many things going on; I'm not much of a person who sits, so to have the option of rocking makes me feel like I'm somehow progressing.
In the past, you've said that the 1950s is your favorite era of design. What underappreciated characteristics of 1950s design would you like to see make a comeback in 2023?
Well, I am seeing a lot of the classic black and white vinyl checker floors in kitchens. That's making a massive comeback. You're seeing this diamond print being painted over raw wood floors. That's all coming back, and I love that. That's very, very classic to me, so I've been excited to see that. Also, old appliances — I love the look and feel of a rounded fridge and the way things were made in the '50s and '60s, and now you're seeing new fridges, new blenders, new toasters, all being made [with] this similar shape, curving out the sides and repoing what happened in the '50s.
Learning on the job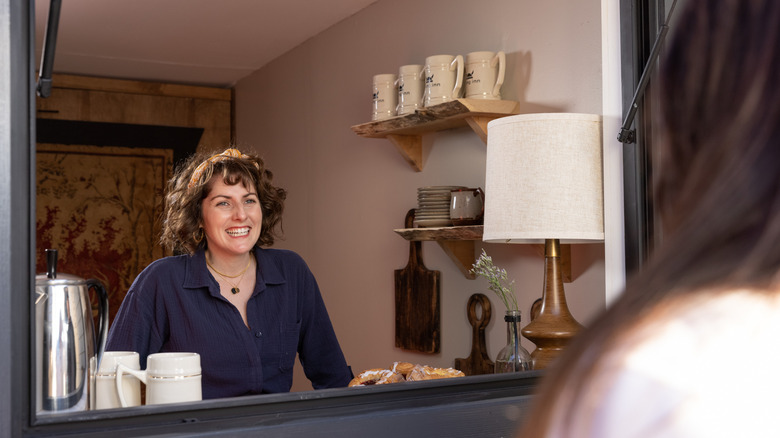 Magnolia Network
When looking back at your renovation roots, you once said you "didn't know what you were doing" when you bought the Oak Knoll Lodge from Season 1 of "Inn the Works." What lessons did you learn about renovation and design from that learn-by-doing project?
Oh God, so many lessons ... This is funny. When I purchased the Oak Knoll Lodge, the first thing I did was realize how low all the ceilings were. With all the magazines I was reading, I wanted open-concept, high ceilings.
I stuck my head up in the attic and saw I could extend the lobby another six feet or so in the rooms; I could open this up and have another six or eight feet on the ceiling. I did that right away — took down every ceiling, vaulted it, made it look gorgeous. Then winter rolled around, and I realized that it was cold in the rooms. My biggest learning curve was [that] they did these drop ceilings to help keep the heat in.
I ended up having to put in substantially bigger heaters. Now, it was still worth it. You should still vault your ceiling, but I did learn you need to check the capacity of your heating system before you vault the ceiling, because you may also have to up whatever kind of heater you have. I did not have enough to heat the extra 600 square feet I had just introduced to the room. That was a major learning curve, but I'd still do it. It's worth it. It's a little more expensive in the winter.
For "Inn the Works," you renovated historic inns with the help of your family. What advice can you give to homeowners undertaking a DIY-heavy renovation with the help of spouses, siblings, and parents?
Get a therapist on retainer? Honestly — it can be challenging. The lows are lower, but the highs are high. Family is amazing, but it can be very challenging. If you're a couple, get a couples counselor queued up. Also, put some budget aside for the stuff you don't know how to do. It's okay to be a DIYer. You can figure out wallpaper, but if you don't want to tackle tile, don't — pay someone to. You can make your big project list and maybe try three. If you have 10 things you've got to do, you should do three to four and maybe hire some professionals.
What decorative or functional flourishes do you like to add to motel rooms that people can also employ in their homes?
I do a lot of upholstery work and reupholstering. It's awesome if you guys are zooming around on Craigslist or [Facebook] Marketplace — finding old furniture that needs to be refurbed is fun, and anyone can do it. You can do it at scale. I often find 40 bar stools — then I do new fabric on the cushions, and I use those at a hotel. But you can do the same thing at home. Upholstery is not as expensive as you would think, so make a good relationship with your local upholsterer.
Journey to the past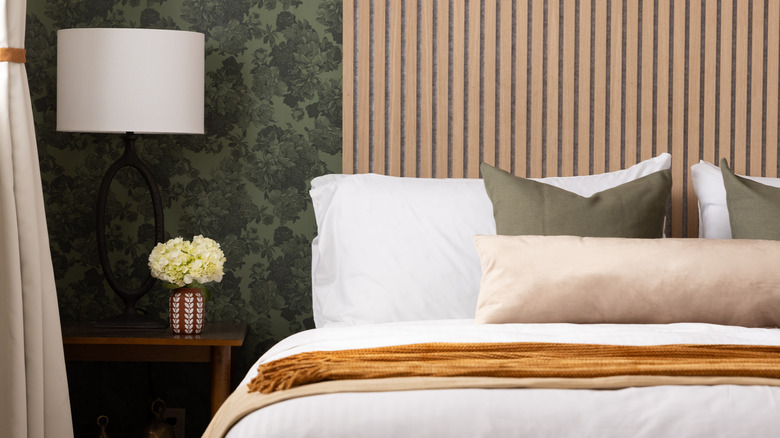 Magnolia Network
While Airbnbs can certainly have charm, it's hard not to be sad about classic motels going the way of the dinosaurs. What are American travelers missing out on when they opt for Airbnbs over the kind of motels that you're helping out in "Motel Rescue"?
I own Airbnbs. I own short-term rentals and I own hotels; normally, these are two people against each other. I have embraced the reasons why people rent Airbnbs. They want more amenities, so I have started taking parts of Airbnbs and putting them in my hotels. That's small kitchenettes ... They want amenities — using your outdoor space smart. The first thing I did at the Springs Motel was that I went over that parking lot and turned it into a gorgeous lawn because I'm also realizing why people rent Airbnbs — they want their own outdoor space.
They want extra amenities; they want a kitchen. I added little kitchenettes to every room. These things can work more in unison. You could stay at an Airbnb and a classic roadside motel. But if I had to pick between the two, or why I would pick a motel that's done well, it would be the nostalgia.
The Springs Motel still has all the original tile in the bathrooms that was put in [during] the 1940s, and that's pretty cool. You can see that level of craftsmanship — they don't make this kind of material anymore. You visually get taken on a journey back to 80 years ago. You can't get that at an Airbnb. The history and the stuff that's there ... When you can, if you see a motel, help support them, because they are keeping this story alive of American tourism and the great ... The all-American road trip is back, and I stay at Airbnbs and motels.
On my show, "Motel Rescue," I actually am teaching these motel owners how to position themselves like Airbnbs. I don't think Airbnb is going away, and the smartest thing to do, instead of fighting them and trying to get rid of them ... You can't beat them; join them. Why are people booking that over booking you? That's what I do a lot on the road — try to teach people new tricks.
"Motel Rescue" premiers on Magnolia Network on May 29 at 8:00 p.m. EST (with new episodes every Monday) and streams on discovery+ the same day.
This interview has been edited for clarity.