The Type Of Living Room Furniture Nate Berkus Avoids At All Costs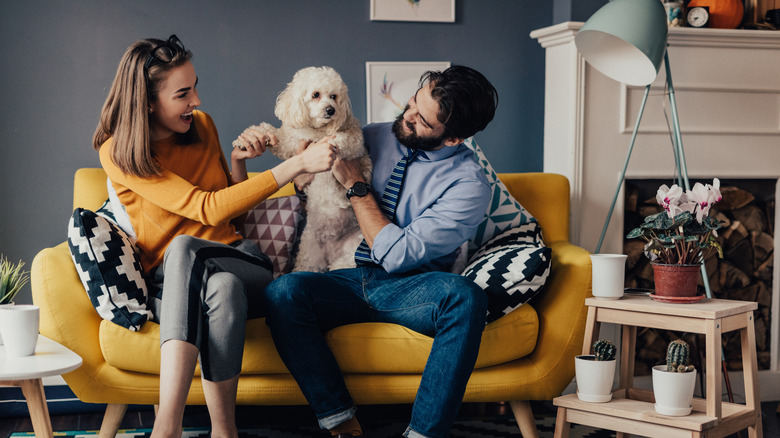 Anchiy/Getty Images
Nate Berkus, an award-winning interior designer and co-host of HGTV's "The Nate and Jeremiah Home Project," explained the type of furniture to avoid in your living room, no matter the square footage. "People tend to make the huge mistake of buying smaller furniture when they have a smaller space," Berkus said In an interview with Martha Stewart. "You really end up with nowhere comfortable to sit."
If your living room feels cramped and uncomfortable, Berkus suggests investing in a few larger pieces of furniture rather than a whole lot of smaller pieces and focusing on having a cozy place to relax. "We have a family room with a massive sectional. Try and create a space around the moments you're actually going to use in the house, and not worry about shoving in as many pieces, because it's not comfortable," Berkus explained. By ditching the small-scale sofa, armchairs, and tables, you'll be able to make your living room as functional as it is comfortable and avoid overcrowding your space.
Berkus' tips for maximizing space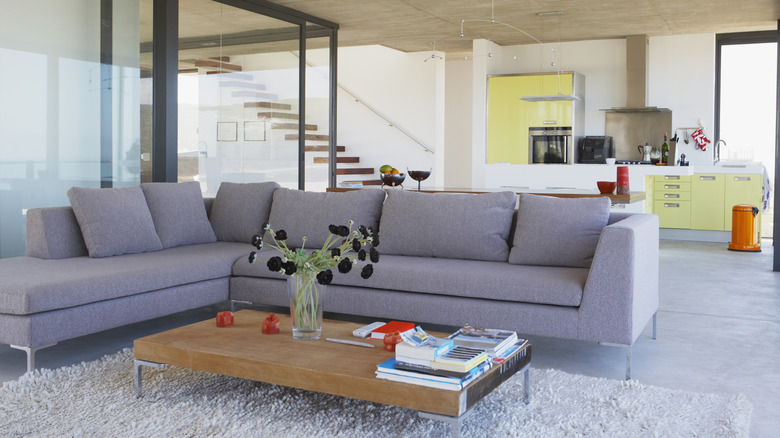 Tom Merton/Getty Images
Saving space in a small living room can be difficult, so Berkus likes to implement organizational pieces, like furniture that can double as storage. Adding functional furniture, like storage ottomans, can be a great way to cut down on clutter while maintaining the aesthetic of the room. Decorative baskets, which are perfect for hiding loose objects when entertaining and storing blankets, are another great option for getting the most space and function out of your living room.
Berkus also proposes utilizing wall space. By adding tall mirrors or decorations to your walls, you can make your room seem bigger. "Something long and tall in a small space really [draws] your eye up," Berkus said (via Martha Stewart). If you're reorganizing your living room and deciding what to keep and what to get rid of, Berkus and his husband, Jeremiah Brent, stress the importance of only holding onto items that are functional or bring you joy. However you decide to redecorate your living room, following Berkus' number one tip by avoiding small-scale furniture will help you maximize space and stay comfortable.
Utilizing color
Creativastudio/Getty Images
Another important aspect of interior design is color. For smaller living rooms, Berkus recommends implementing more neutral colors, rather than something bright and bold. "A lot of people in design might disagree with me, but I've found that using a series of layered textures and layered neutrals—and things that have patina and character—are really better in a small space than an explosion of vibrant pattern and color," Berkus said (via Martha Stewart). By keeping the colors of your furniture and decorations softer colors, you'll be able to make your room seem more spacious.
If you want to use some vibrant colors, Berkus suggests grouping them in threes. Rather than spreading your bold colorful pieces around the room, creating a specific spot for them can change the vibe and let you see your living room from a new perspective. "Grouping things in threes makes them more impactful," Berkus told House Beautiful.
Adding texture with decorations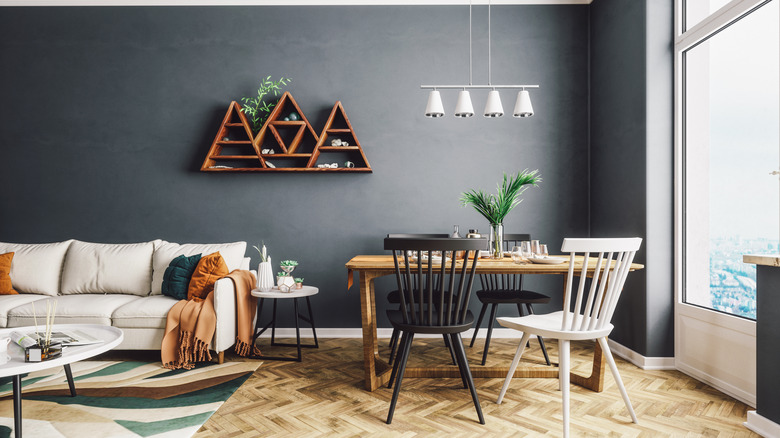 Imaginima/Getty Images
When decorating a living room, it's easy to simply hang a few framed pictures and be done with it, but this might not be doing your space any service. By adding decorations that have texture to a specific wall, you can not only maximize your vertical space, but liven the room. "When you have a wall of only framed pictures, it often falls flat," Berkus said (via House Beautiful). "But there are a lot of ways to make a gallery wall more interesting. I especially like adding unexpected texture, like a necklace, [or] a brass screw with beads hangings ... "
Another way to add texture to a room is by layering throw pillows, adding interesting rugs, and using decorations made from a variety of materials, such as metal and wood. This can help open up your space and keep your eye from focusing on one spot.
Move furniture and decorations around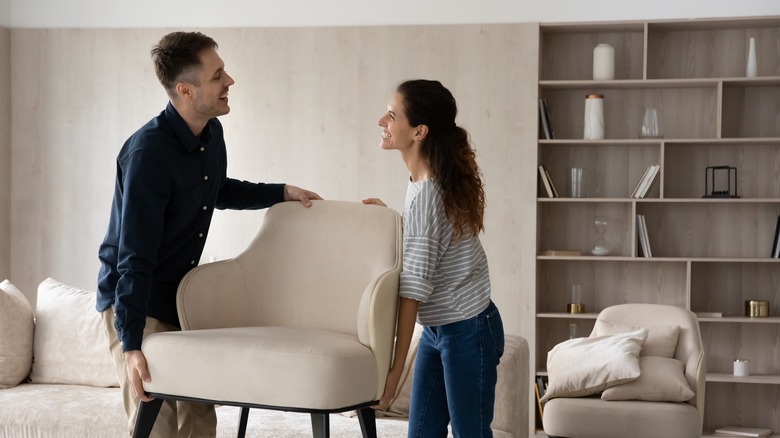 fizkes/Shutterstock
If your living room is starting to feel claustrophobic and isn't inspiring you anymore, you can try rearranging your furniture and decorations. Using a larger piece of furniture, like a sectional sofa, to anchor the space can make it feel roomier. Berkus told House Beautiful, "We get so fixed in patterns in our homes: These lamps must go on my nightstands. These four chairs have to be at the dining table. But design needs to be more fluid than that."
If the furniture in your living room isn't living up to your expectations, Berkus suggests looking through your home and reevaluating where your belongings might look best. "The key is not being afraid to try," he said (via House Beautiful). By finding new spots for your favorite end table or a vibrant vase, you may be able to rearrange your living room in a way that is more functional, more comfortable, and looks a bit larger.