Plants That Deserve To Be In Your Salsa Garden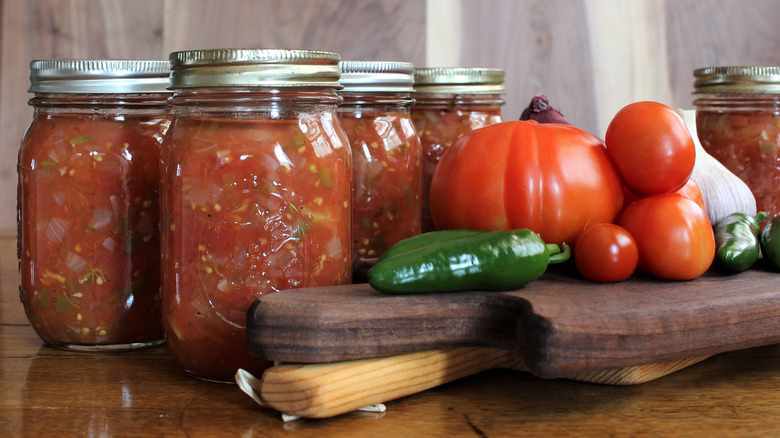 Sjarrell/Getty Images
If you have a garden, even a patio-based container garden, there's nothing quite like the taste of fresh vegetables coming right off the stem. One way to use them to enjoy their wholesome nutrition and bright flavor is in a salsa. Grow a salsa garden that incorporates the vegetables and varieties that you love. Of course, there are a few must-haves, such as just the right tomatoes and onions. Depending on your spice tolerance, you may want to incorporate some hot peppers. Don't forget the herbs, too.
Your salsa garden is likely to produce a higher quality mixture than anything store-bought, especially if you create the perfect combination of vegetables. You may have enough to send a few jars off to the neighbors or can some for later use (be sure to use the right homemade salsa canning recipe to avoid any health risks). To get started, create the desired raised bed, purchase some deep containers or pots, or till and boost the nutrient content of your garden. The right soil and moisture levels are dependent on the type of vegetables you plan to grow. Also, you'll need to reference the plant hardiness zones in your area to know which species and specific types of plants are best in your area and when to plant them.
Start with the best tomatoes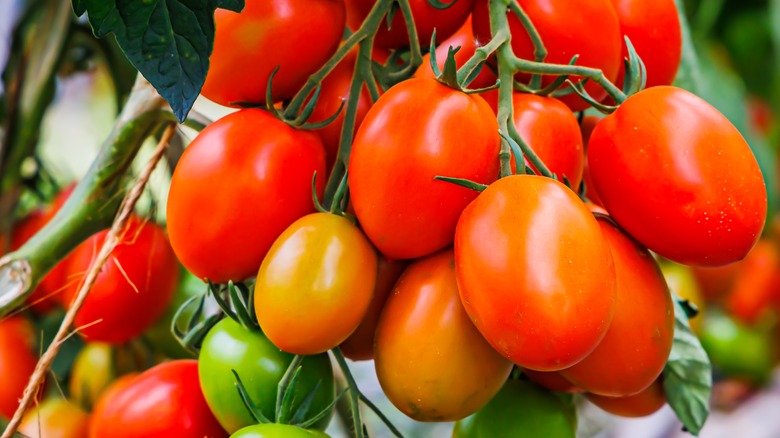 nnattalli/Shutterstock
Choosing the best tomatoes for salsa depends, in part, on where you live. However, because this is the foundation ingredient in many salsa recipes, you'll want to be picky. Ultimately, paste, plum, and Roma-type tomatoes are excellent since they have less water and a meatier flesh that adds substance to a salsa. You'll also find most varieties like this have few seeds.
Be particular about the specific species selected up to a certain point. In other words, any of the following are excellent choices, but if you can't find the specific type, most paste and Romas will work well in salsas. Some of the best varieties of red tomatoes for salsa include Abe Lincoln, Plum Regal, and San Marzano. The goal with these tomatoes is that they should yield a bright flavor profile but be hearty. A meatier variety yields more product. Plum-style tomatoes tend to be best for this.
Don't avoid other types of tomatoes for salsa as well. Orange and yellow tomatoes can add a bit of sweetness to salsas. Banana Legs, which are plum tomatoes with a bright yellow color, are an excellent option for their fruity flavor. Sunrise Sauce tomatoes are another option.
Other salsa garden veggies to grow
Tatianamironenko/Getty Images
Don't overlook growing other high-quality vegetables to fill out your salsa. For peppers, choose those that offer a range of heat profiles based on what fits your recipe and desired spice level. For a hotter salsa, grow jalapenos, or, for more heat, add serrano and habanero to your garden. If you're not after a mouth-scalding mix or want a very mild option, try bell peppers. For a middle-road option, consider Anaheim peppers.
Growing onions in your garden for salsa also offers a number of options. Typically, a sweet red onion variety will do well because it helps keep the heat from peppers in check. You can use yellow onions, but red is more traditional. To bring down the onion profile, consider shallots instead.
There are a few more noted inclusions in a salsa garden, including herbs like cilantro. It does best in a hot area, where it's going to get a lot of sunlight. If you live in an area lacking that, consider growing it indoors. Garlic is a must for some recipes as well. Most varieties of garlic will do well in salsa, but they tend to take much longer to grow than the rest of your veggies. An alternative is to grow garlic scapes, which offer the same flavor profile but grow faster. You could also mix in corn, cucumbers, and any other vegetable you enjoy eating.