Add An Outdoor Bar To Your Home With This Genius Window Attachment
There's nothing quite like outdoor entertaining. However, hosts often find themselves spending more time indoors refreshing snacks and drinks and less time actually entertaining their guests. Fortunately, with the help of a genius window attachment, this common party problem is completely avoidable.
Installing a large window with hinges at the top allows it to push outwards, turning an enclosed room into a fluid space with a half-wall leading outdoors. Companies like Flip Out Windows specialize in this design and use intricate components to ensure that each window locks at a 90-degree angle when open and is waterproof when closed.
There are multiple different ways to style and utilize such a convenient addition to the home. Similar to open-floor plans, these windows create a transformative area leading to more open and inviting living and entertaining spaces. Depending on your space's function and your personal preferences, the possibilities for the half-indoor half-outdoor space are virtually endless.
Endless ways to entertain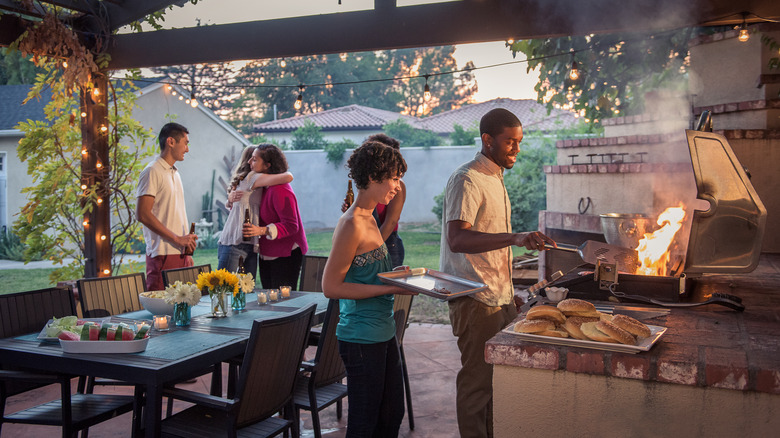 Spiderstock/Getty Images
One of the best ways to utilize this multifunctional space is by transforming the window ledge into a dining table. For instance, two bar stools can be placed on both sides of the wall, creating the perfect indoor/outdoor space to enjoy a meal. Another great way to integrate hinged windows into your home is by utilizing the space as a kitchen bar with either a sink or stovetop outside. This is also the most convenient way for entertainers to continue socializing while preparing meals, snacks, and drinks.
Regardless of what you choose to do with your hinged windows, the windows themselves will act as a canopy-like structure when the window is open. This feature shelters the outside of the home from elements like rainfall while also allowing light to come through. The canopy-like feature also acts as a bridge connecting the interior and exterior living spaces, adding more fluidity between the two.
Unique and customizable
You may be thinking to yourself, "People have windows leading to their outdoor entertainment spaces all the time; what makes this design so different?" The simple answer: The versatile nature of the hinged windows. The chic and sleek design is simple, effective, and easy to maneuver. Unlike other outdoor canopies and awnings, these windows can be opened or closed in a matter of seconds. This comes in handy often, especially when a scattered thunderstorm or two shows up at your gathering both unexpectedly and uninvited. 
Flip Out Windows advises customers against installing these windows on tile countertops, which could affect waterproofing and sealing. For the best results, the counter should be made of more solid materials, such as marble or granite. Much like the surface that it's connecting to, the window itself is also customizable to fit your needs. You can choose between vinyl and fiberglass windows to ensure that you make the right decision for your home.