Here's How To Properly Stock Your Cleaning Caddy For On-The-Go Tidying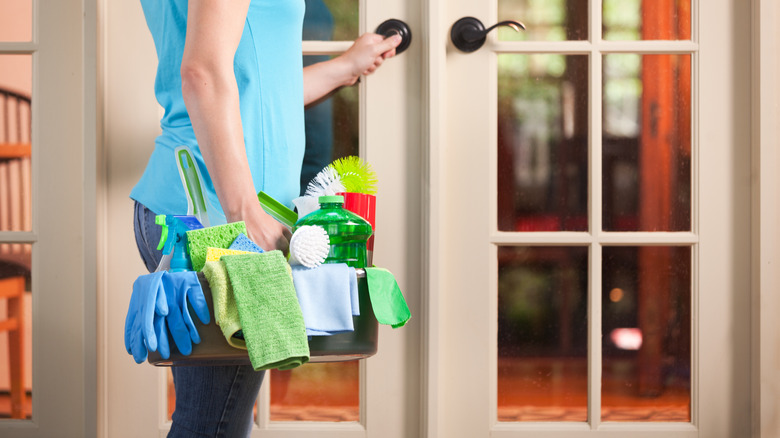 Yinyang/Getty Images
Every talented pro needs a place to put their working supplies; fishermen use tackle boxes, artists use palettes, and builders use tool belts. According to a survey by The Waycroft, about 2.91% of households rely on a hired professional cleaner to keep their home tidy. When it comes to cleaning your home yourself, sometimes the secret to a professional-level clean is as simple as having professional-level organization! A cleaning caddy can be an excellent tool to speed up your tidying routine and save you from making multiple detours to the supply closet. Cleaning caddies are especially helpful if you have a large house or prefer to get all your cleaning done in one day. Most people will find it useful to keep basic supplies for dusting, wiping, scrubbing, and sanitizing in their cleaning caddy.
The best way to stock your cleaning caddy will depend on your unique lifestyle and cleaning schedule, but we've offered some suggestions to help you get started. Here's what you'll need to know to build the perfect cleaning caddy. 
Choosing your caddy and tools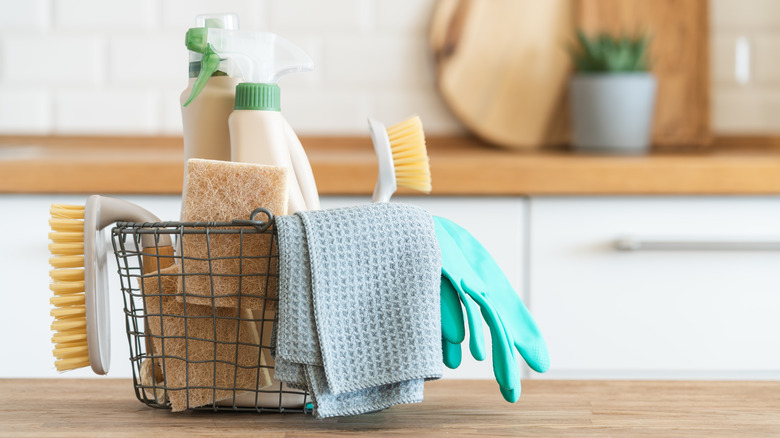 Anna Puzatykh/Shutterstock
If you don't already own a cleaning caddy, shop for one that is decent in size but not so bulky as to make it inconvenient to carry around your home. Plastic or metal caddies are great so that you can easily clean the caddy itself when needed. Straps or handles will make it easier to transport the supplies. Ideally, your caddy should have a few spacious compartments to organize your supplies by their purpose, such as dusting cloths in one pocket and trash bags in another. Of course, if you prefer, your cleaning caddy could also just be one large basket, but this is harder to keep organized.
Some of the most essential cleaning items to have in your cleaning caddy include tools for dusting, wiping, and scrubbing. For dusting, include a duster wand, microfiber cloths, and a lint roller. The foldable and extendable Swiffer microfiber duster is professional housecleaner Sara San Angelo's recommendation. "I love this Swiffer because it really traps the dust and helps me get hard-to-reach places like the tops of cabinets and above door frames," She tells The Kitchn. For wiping surfaces like countertops, bathtubs, and sinks, stock a non-scratch sponge and cotton cleaning rags. For tough and stuck-on messes, it's good to have a scrub brush, toothbrush, or Magic Eraser on hand. You may also want to include a pair of rubber gloves to protect your hands from harsh chemicals and unsanitary messes. 
Cleaning solutions and other supplies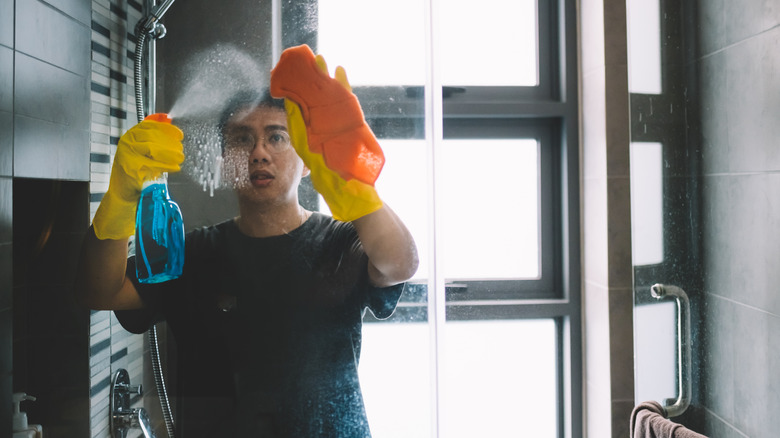 Edwin Tan/Getty Images
After you've gathered your most frequently used tools, consider which cleaning solutions you tend to reach for often throughout your home. For many people, those essentials include a multipurpose cleaner, glass cleaner, and disinfecting products, such as bleach spray or antibacterial wipes. When stocking your cleaning caddy, be sure that each product is clearly labeled and distinguishable. While it might look nice to pour all your solutions into matching amber glass bottles, mixing chemicals is a real danger that can have serious health consequences. Bleach can be deadly when mixed with ammonia, vinegar, or rubbing alcohol, so avoid keeping these chemicals together in your cleaning caddy and stick to one disinfecting solution. 
The convenient thing about a cleaning caddy is that it's totally customizable! If you prefer to use gentle, eco-friendly cleaners, stock your caddy with the products you like, and leave the harsh stuff in your linen closet or under the sink for when you need it. You can even make your own household cleaning supplies or include a few items that are specific to you and your home. Some nice touches to add to your cleaning caddy might include an air freshener, your favorite essential oils, or an empty pocket to hold your Bluetooth speaker as you move around the house.