If You're Not Cleaning Your Bathroom With Essential Oils, You're Doing It Wrong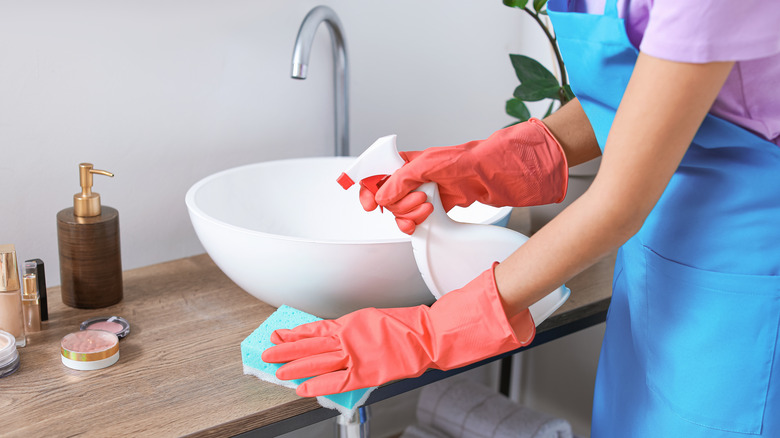 Shutterstock
Essential oils, like lavender, rosemary, and tea tree have helped people's lives for more than a thousand years, according to Statista, and the desire for such products continues growing with U.S. sales expected to generate $27 billion by 2022. These concentrated oils come from plants and sometimes are described as possessing the "essence" of the vegetation, whether it retains its smell, taste, or other attribute from the flower, tree, or herb it is extracted from — usually gathered via a mechanical method like cold pressing or distillation before being mixed with a carrier oil. There are more than 90 essential oils total, which are used for a variety of purposes, from medical to aromatherapy to skincare to cleaning (via Healthline).
Additionally, lots of household cleaners, in fact, can hurt you. Some may just bother your eyes or throat, while others can contain volatile organic compounds (VOCs) that might intensify respiratory conditions, allergies, or headaches, according to the American Lung Association. Ammonia and bleach, for instance, two cleaning products often used when scrubbing your bathroom, can become deadly if combined together. The Lung Association recommends reading all labels before purchasing products to reduce potential problems and researching anything you use on a regular basis. You can also look for simpler cleaning alternatives, such as mixing vinegar and water to make glass sparkle and using essential oils to keep your bathroom sparkling and sweet-smelling.
Essential oils: not just for a spa day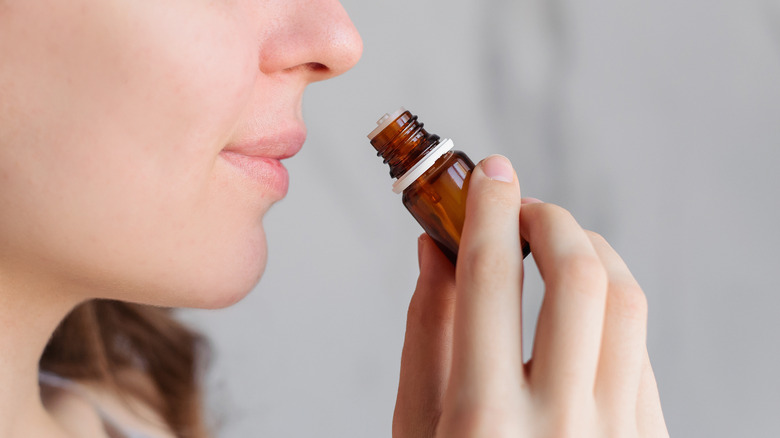 Shutterstock
Essential oils, The Spruce points out, are natural, biodegradable, and often can provide antibacterial, antifungal, and antiviral properties. Make sure, though, you know what you purchase because sometimes "essential oils" are created through chemical rather than natural means. To use plant-derived essential oils, you need to embrace your DIY spirit. For instance, a tea tree oil spritz for your shower requires 2 cups white vinegar, 2 teaspoons liquid non-castile dish soap, and about 20 drops of the oil. Mix it all together in a spray bottle and you'll have a daily shower spray that sanitizes the area and kills insects.
Besides keeping your bathroom squeaky clean, essential oils leave behind a sweet scent. Breathe in tea tree oil and it smells fresh, earthy, and pungent, a much nicer residue than the burning sharpness of bleach. Plus, tea tree oil provides a powerful disinfectant, according to Apartment Therapy, that's perfect for the bathroom ... unless you have a marble or granite countertop (then the vinegar the spray includes might damage the stone).
Lemon oil with ¾ cup of baking soda, ¼ cup unscented liquid castile soap, 1 tablespoon water, 1 tablespoon vinegar, and about 5 to 10 drops of oil can create a scrub that eliminates soap scum and takes away stains while it brightens your tub and toilet (per Doterra). 
Essential oils are eco-friendly effective cleaners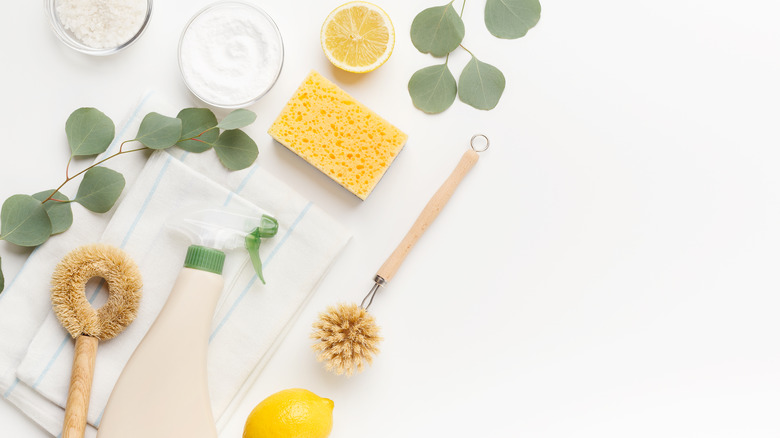 Shutterstock
Lemon oil works well in your bathroom because it breaks up grease and acts as a natural deodorizer while it purifies. You can also put a few drops into an ounce of water to clean your sink area, tiles, and toilet, offered Jane at Home. "Lemon oil is my favorite," she revealed. "Its beautiful scent, combined with its natural cleansing, purifying and uplifting properties, make it the most-used essential oil in our home."
Herb oils make excellent bathroom cleansers as well — all you need to do is mix the oil with easy-to-find ingredients like water, lemon juice, or vinegar, depending on the cleaning recipe you choose. Peppermint oil keeps the insects away, according to Bob Vila. And eucalyptus oil (plus water and tea tree oil) and rosemary oil (with white vinegar and water) will all disinfectant the bathroom and keeps it smelling heavenly.
Finding essential oils is easy; so many places carry them, from health food stores to home representatives to online shopping sites. Clean My Space suggests looking for products marked 100% pure that only list the essential oil on the ingredients section. You want to ensure that nothing synthetic, like preservatives, was added. Furthermore, be sure that the essential oil is always diluted — the contents in the bottle are concentrated and too powerful to use as a cleaning agent on their own. Since essential oils should not be digested, be mindful leaving these products out around pets and children, too.