The Viral Blanket Storage Hack That Uses A Hay Rack For Easy Organization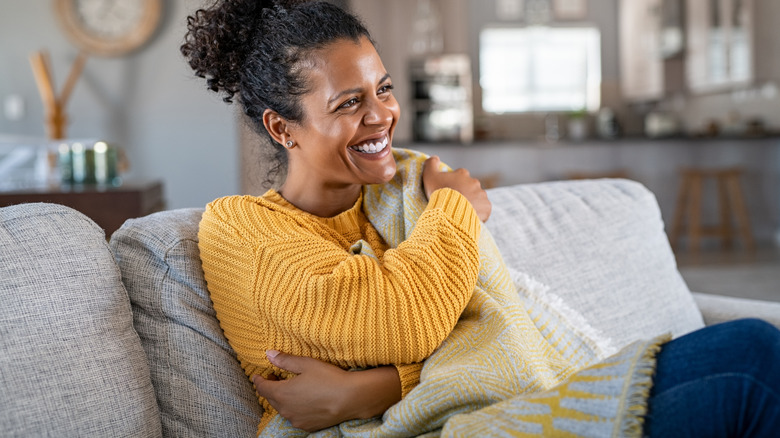 Ground Picture/Shutterstock
We may receive a commission on purchases made from links.
Blankets are meant to keep you cozy and warm for every occasion. If you're having a movie night with friends, you'll typically provide a blanket to hide behind during jump scares. However, it's much more convenient to have them nearby rather than stowed away in a closet. You've seen multiple storage hacks, but some can take up too much space on the floor. Instead of buying baskets, a new storage tactic has gone viral on TikTok, where user @nikkionthefarm mounted a hay rack onto their living room wall and used it to store their throw blankets. 
Hay racks are meant to be used in barns to hold animal food, but it's become a brilliant storage hack you can use inside your home. Even if you don't live on a farm or work with animals, it can complement any farmhouse or industrial interior. They are made from solid metal, so they're heavy-duty and durable. In the video, they use lightweight throw blankets, which is vital to prevent overstuffing the rack. Now, here's how they display it in their living room.
An easy blanket storage method
Finding ways to use items in non-traditional ways can often make your life a little easier. TikToker @nikkionthefarm keeps their blankets in a hay rack. In their video, they show their followers how they can grab any blanket they want out of the rack with ease. Since it's constructed with steel rod bars, the space between them allows the TikToker to pull out a blanket from where they're sitting on the couch. When they hang the blankets over the top of the rack, they can pull whichever one off without dragging the rest. They also show off their blanket basketball-throwing skills as they toss them back inside.
If you decide to install a hay rack in your living room, put it where you can reach your blankets easily. The best place will be in a corner if you have a modular couch or in the center above a regular sofa. Decorate it with fairy lights to elevate its look, or leave it plain if you like the simplicity of it. In addition to mounting it in the living room, install one in every bedroom to organize throw blankets instead of putting them in the closet. With this hack, you won't have to buy another storage basket.
Where to buy a hay rack
If you're looking to incorporate a hay rack in your living room to hold your throw blankets, there are different sizes and styles you can choose from to complement your space. For example, if you'd prefer a narrow design, there is a round option that is wider at the top and slim at the bottom, such as the Corner Hay Rack from SmartPak Equine. It's made from steel, black rods and measures 31 inches long, 29 inches wide, and 21 inches tall. However, it doesn't include any nails to mount the rack, so you'd have to purchase them separately. 
Another style you can include in your home is a hay rack with a wide width, such as the Country Manufacturing Wall Mount Hay Rack from Amazon. It's made of hot-rolled steel and comes in a pack of two, each weighing 20 pounds, so you'll want to ensure it's properly installed. They're both 2 by 2 feet.