HGTV Star Jasmine Roth's 'Sneaky Storage Solutions' Will Save You Space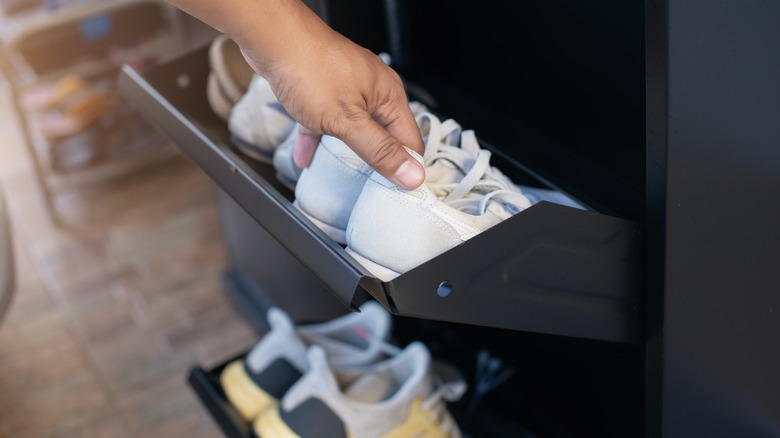 iced.espresso/Shutterstock
We could all use a little help to declutter the home and bring order to any chaos that may be taking over our living space. Unless you've adopted the Marie Kondo philosophy of ridding yourself of most of your possessions or have just embraced your fate and are living the cluttercore life, chances are you could be in need of some crafty storage solutions. Luckily, the star of HGTV's "Help! I Wrecked My House," Jasmine Roth is here to show you some helpful ways you can store your stuff. In a quick video posted to her Instagram, Roth takes her followers on a home tour, showcasing tips on how you can create easy storage around the home. This includes shifty shoe racks, under-the-bed storage, a hidden stylish Murphy bed, a secret pantry, as well as a cabinet to hold pool items and toys.
Having a home that is free of unnecessary mess can actually benefit your mental health because disorganization and clutter can lead to additional stress and make it harder to focus, according to Verywell Mind. Using clever ways to tuck away your items can not only keep your home more organized and free up extra space but may also reduce your stress levels. Let's take a look at exactly how Roth was able to create these sneaky stow-away ideas and how they may benefit your own home.
Here are some ways you can save some space in your home
Upon entering the home, Jasmine Roth showed a clever way to keep a cluster of shoes from piling up in the foyer by tucking them inside an attractive cubbie. In what looks like a regular dresser, Roth pulls down the drawer that has been repurposed to store shoes. A handy way to keep your shoes organized and easy to grab that also allows you to use the rest of the dresser for other on-the-go items such as hats, keys, shopping bags, and more. Next, Roth moves into the bedroom to showcase how a hydraulic lift bed can maximize your bedroom storage without any need for extra baskets or dressers. With an effortless pull of a lever, she lifts the bed mattress with the ease of a hydraulic bar to expose an area ideal for storing clothes, sheets, or additional pillows.
In a spare room, behind what appears to be regular closet doors, a stylish Murphy bed is revealed. This simple sleeping solution is just the thing you need to have when guests are coming to visit, but it won't take up the whole room when it's not in use. For those who want additional kitchen storage, Roth pushes a beautifully stained wooden shelf to expose a hidden pantry with plenty of space for dry goods and cooking tools. Finally, another stylish cabinet is utilized perfectly to house baskets for pool items such as towels and floating toys.