15 Ways To Shade Your Patio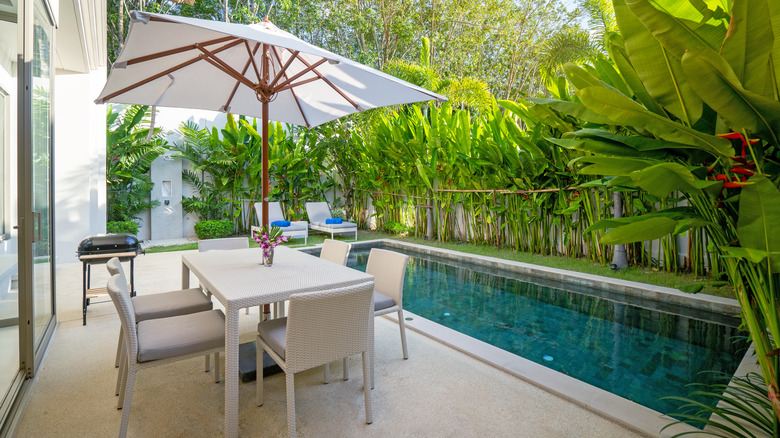 Alan SK/Shutterstock
There are a variety of ways you can create shade for your patio. One of the reasons you might want to add shade to this spot is to help you keep cool over the summer and protect from sunburn. Some great options for blocking out the sun include umbrellas, gazebos, pergolas, shade sails, awnings, and planting trees. Each option offers different UV protection, sun coverage, and other climate coverage.
When choosing how to shade your patio, you should also pay attention to the color of any umbrellas or fabric coverings. According to Reuters, black umbrellas are most effective at blocking the sun's UV rays and keeping you cool. The natural way to create shade is by planting trees, but this wouldn't protect from rain or offer UV protection. You can also incorporate more natural options like vines and other greenery with gazebos and pergolas to add more shade. Depending on where you want to add shade, you can use something different, like shade sails over pools and pergolas over patio sets.
1. Modern pergola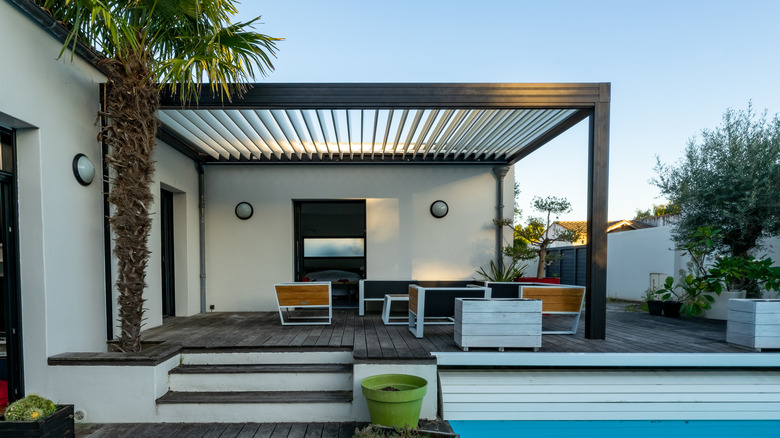 Mathilde.LR/Shutterstock
A pergola creates shade while letting some sun through when the roof has slats. The modern style fits in with the look of the home because of the materials and colors being used.
2. Cantilever umbrella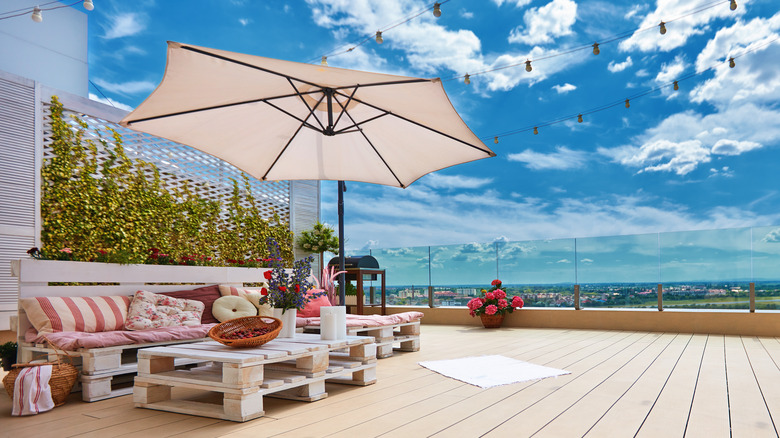 Olesia Bilkei/Shutterstock
Cantilever umbrellas are helpful when you want to cover a large area and don't want the umbrella attached to a patio table.
3. Patio table umbrella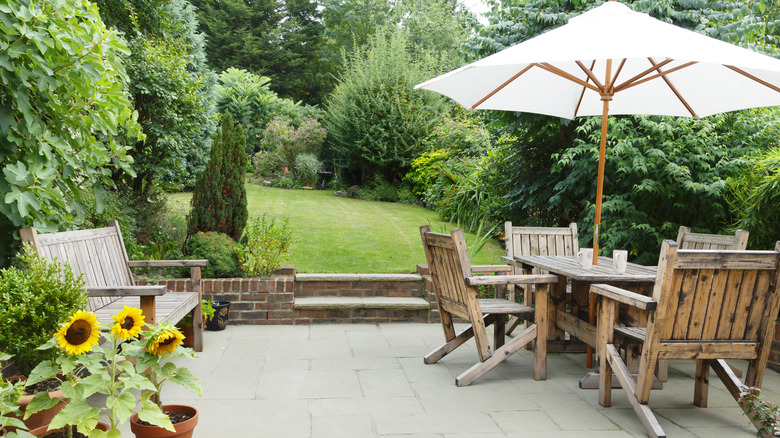 Paul Maguire/Shutterstock
A patio table with an umbrella is a classic look that works great on any patio. You can purchase a patio set in any style to fit your home.
4. Plant trees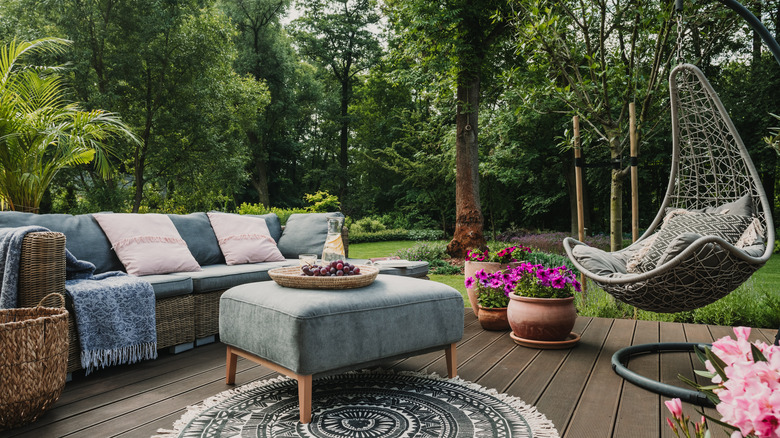 Photographee.eu/Shutterstock
Planting trees is a natural way to add shade to your patio. Trees will also improve the solar gain on your home, saving you money on air-conditioning in the summer and even increasing your property value, according to Tree Tribe. 
5. Boho pergola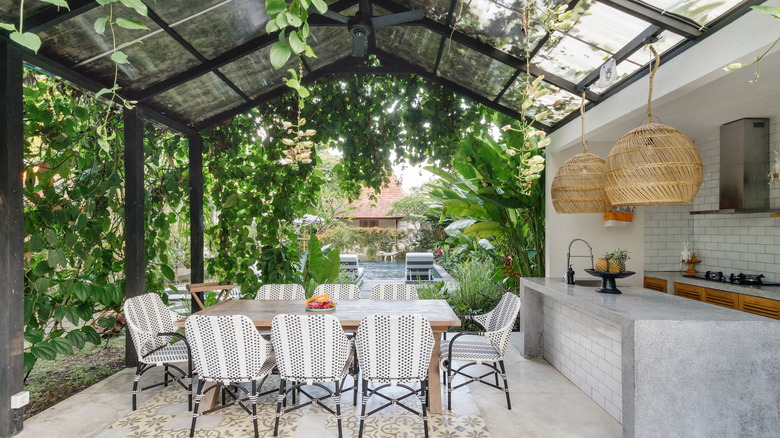 brizmaker/Shutterstock
A pergola like this one is great at blocking out harsh sun rays while allowing some light to shine through. It also has electrical so the fan can keep you cool while sitting at the table to cooking in the outdoor kitchen. 
6. Covered pergola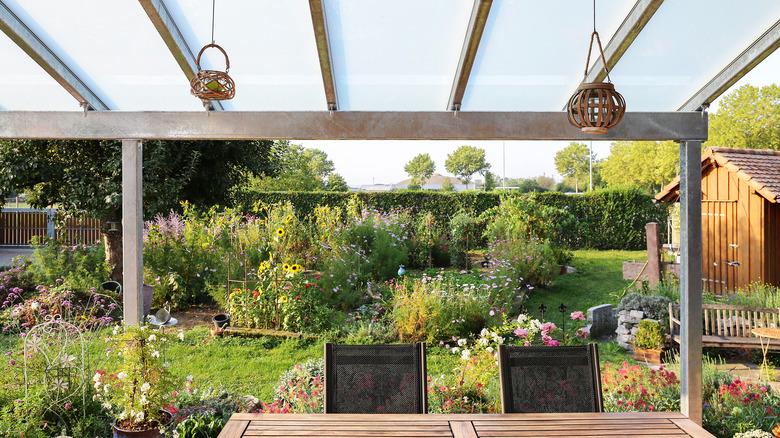 Marina Lohrbach/Shutterstock
This covered pergola is a great choice if you plan to stay covered by the sun and any inclement weather, like rain while sitting at the patio table. 
7. Shade sail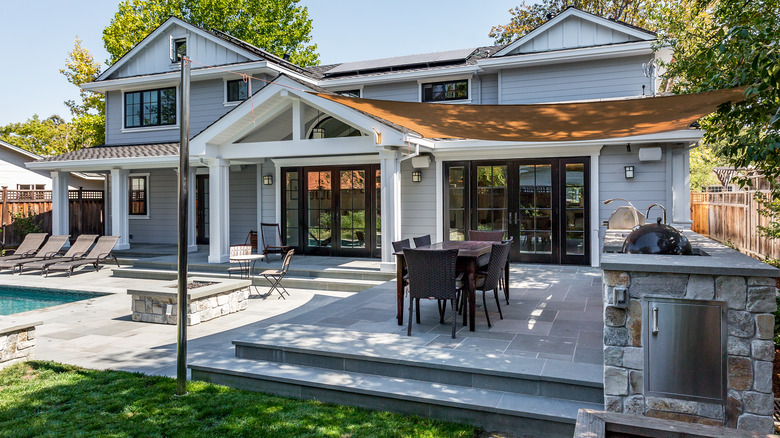 Krista Abel/Shutterstock
A shade sail creates shade with UV protection. There are also waterproof options that will protect from rain as well. 
8. Retractable awning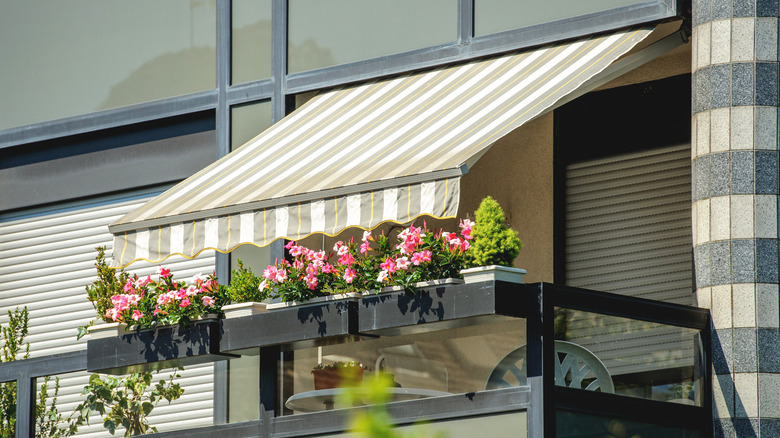 Hadrian/Shutterstock
Retractable awnings are perfect for balconies and upper-level decks. It offers shade when needed and can be tucked away when the sun isn't as harsh. 
9. Wooden pergola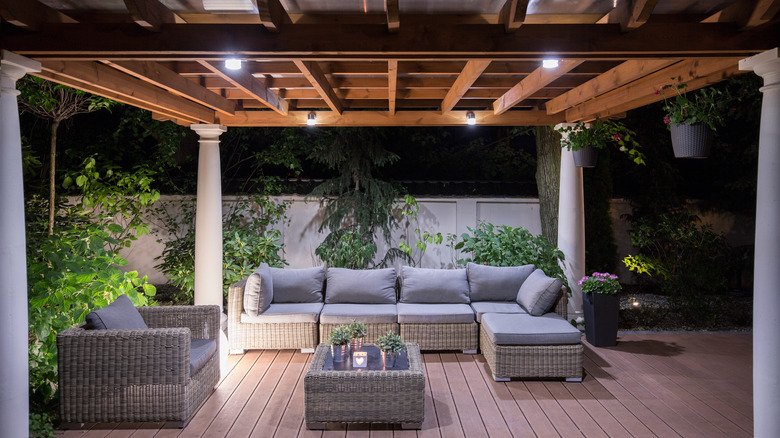 Photographee.eu/Shutterstock
Pergolas can be designed in any style. This one includes white pillars and a white wooden roof, styled with wicker patio furniture.
10. Cloth pavillion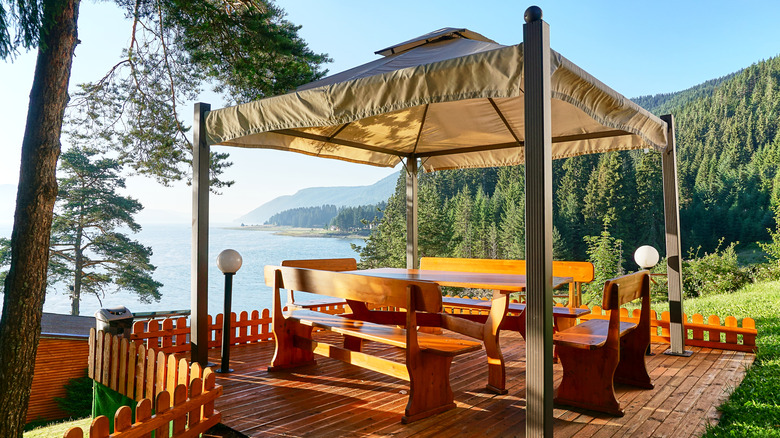 altanakin/Shutterstock
Pavilions are similar to pergolas, but pavilions don't have a slatted roof. Instead, they have a fully covered roof to block out all sunlight from above since all four sides are open. 
11. Modern gazebo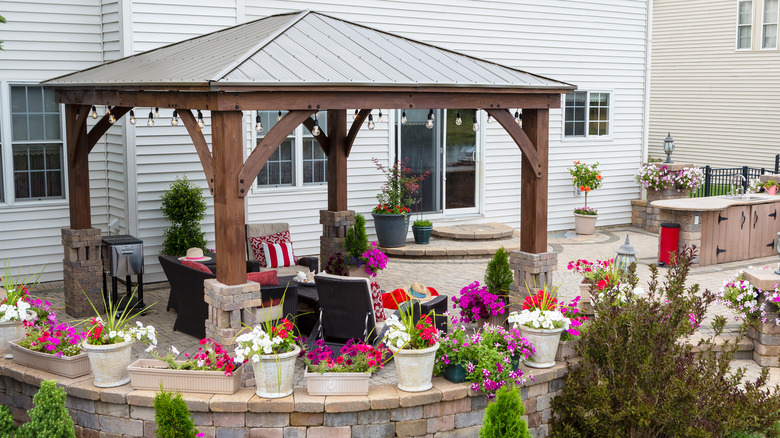 Ozgur Coskun/Shutterstock
Gazebos create shade for a large area of your patio and can be permanent like this one or transportable if you purchase a pop-up one. In this case, the gazebo fits seamlessly with this patio with its matching stone legs and steal roof that allows it to be left up in the winter. 
12. Pop-up canopy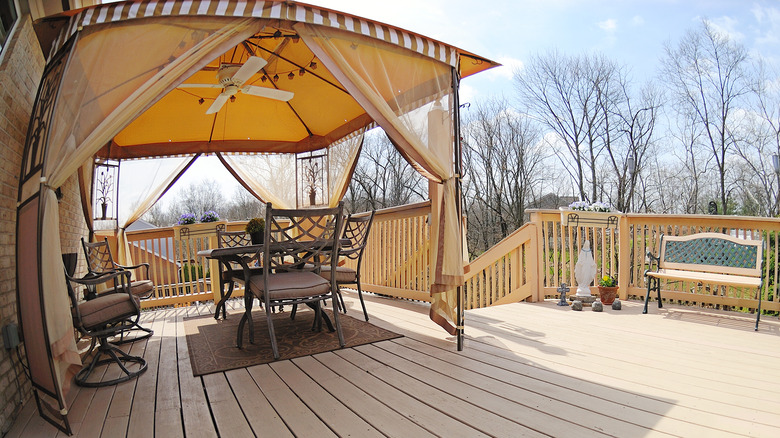 Anne Kitzman/Shutterstock
A pop-up canopy like this one does more than create a shady place out of the sun, they often have netting that can be closed around all four walls to keep bugs out. 
13. Modern shade sail
Shade sails come in many colors to match the style of your home. This modern sail matches the cool tones of the home and patio and offers some shade in the pool. 
14. Stylish cabana
Installing a permanent cabana like this one is the most luxurious option to add shade to your patio. Not only does it provide shade, but this patio structure includes a fireplace, built-in couches, and overhead lighting. 
15. Build a roof
Building a roof to cover your patio is another way to add shade. This one includes a fan to help cool off in the summer and two sunlight windows to allow some light in.