How To Tell If A Reclining Sofa Is Right For Your Home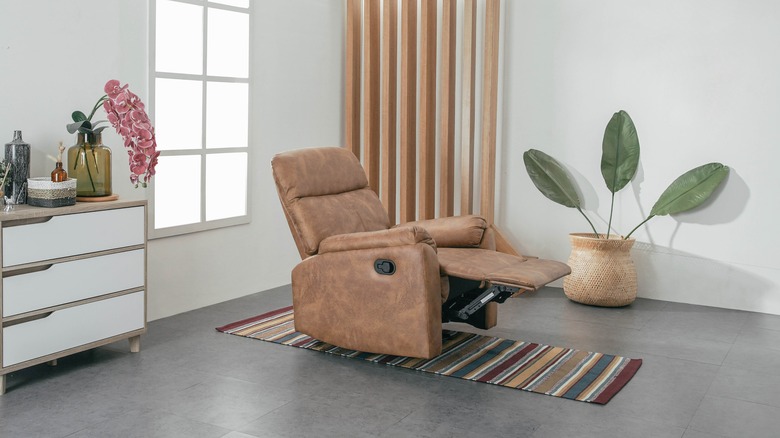 Sandflower Studio/Shutterstock
Recliner sofas are designed to provide unmatched comfort. They offer adaptable postures that meet your needs for relaxation thanks to their adjustable footrests and backrests. You can also alternate between sitting upright, half-reclined, and fully reclined, unlike standard sofas, which only offer a few seating options.
Despite their benefits, it always helps to consider your options to understand if a reclining sofa is suitable for your home. Before purchasing, you must carefully analyze your preferences for comfort, lifestyle, and available space. It also helps to investigate the many upholstery materials and extra features that improve comfort and complement your home's decor. Having said that, there are different types of recliner sofas, each with its own special features and advantages.
Another consideration is cost — the price of recliners can vary depending on the style, brand, materials, and other features. Prices for low-end alternatives with simple capabilities can be as low as a few hundred dollars. Those with more technical features can go as high as several thousand dollars. You'll need to balance your budget with the desired features and quality.
Finally, try to explore different brands, compare prices, and read customer reviews. By considering these factors, you can ensure that a reclining sofa becomes the perfect addition to your home, providing unparalleled relaxation and comfort.
Reclining sofa types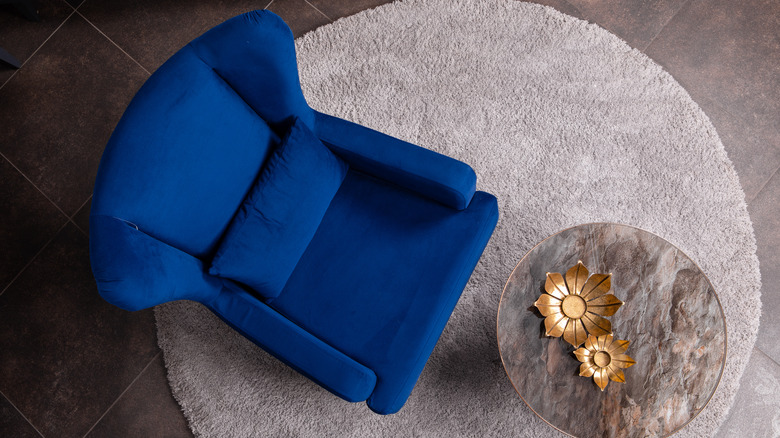 Daria Marv/Shutterstock
The first of five frequently encountered reclining sofa models that we'll investigate is the manual recliner. With this type, you can pull the lever or handle on the side of the chair to manually adjust the position of the backrest and footrest. You can also extend the footrest to support your legs and feet and align the backrest to the proper angle by pulling the lever.
Another variety that combines the benefits of a rocking chair and a recliner is the rocker. It gives you the choice to recline as well as rock back and forth. Suppose you're after advanced functionality and convenience. In that case, these models may be handy since they have an electric motor that allows you to adjust the reclining position. Additional features include built-in USB ports, adjustable headrests, and massage functions.
The glider recliner is next on the list. This type combines the gentle gliding motion of a nursery glider with the reclining function. It can recline and extend the footrest and glide comfortably back and forth, similar to a rocking chair.
However, the push-back recliner might be best if you're after an even more unique design with a distinguishable reclining mechanism. This type operates by merely leaning back into the chair, unlike other recliners that employ levers or handles. The backrest reclines as your weight is applied, enabling you to achieve the ideal relaxation posture.
How to know if a reclining sofa is right for your home
Dragana Gordic/Shutterstock
When considering a reclining sofa for your home, it's crucial to assess your living area's available space and layout. Ensure you have enough space to accommodate the sofa when fully extended in the reclined position. Take note of any obstructions, such as doors, windows, or other furniture, that may limit the sofa's placement or movement.
Also, try to consider your lifestyle and comfort preferences in addition to your space. Think about how frequently you intend to use the sofa — will you spend a lot of time relaxing, reading, or watching TV? If so, this kind of sofa can offer the best comfort and support. Some also have added amenities like storage spaces or built-in cup holders.
The ergonomic design of reclining sofas is another benefit. Many are specially made to support your body in a way that encourages good posture and eases pressure on your neck and back. The adjustable features allow you to find the optimal alignment for your spine, helping alleviate discomfort and preventing long-term issues associated with poor seating positions. It helps to evaluate whether these features align with your needs and enhance comfort and convenience.
Finally, consider the upholstery options available for reclining sofas. Choose materials that suit your lifestyle and preferences. Leather sofas tend to be more durable because leather is a strong material that is easy to clean, while fabric comes with more color options to match your decor.