How To Get The Most Out Of Your One-Wall Kitchen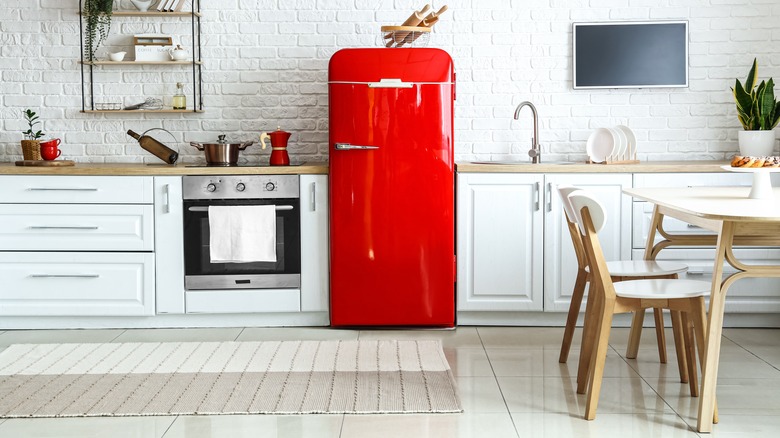 Pixel-Shot/Shutterstock
A kitchen layout can make or break the functionality of the space. The location and balance of appliances to countertops make all the difference. Among the variety of kitchen layouts, one-wall designs can help conserve space and are a great option for smaller homes and open concepts that are combined with a dining or living room. However, they can also be the trickiest for style and functionality.
For one, one-wall kitchens have limited storage options for counters and cabinets. And the tight floorplan may not be best for homes with multiple cooks or entertaining guests. That's not to say you can't make this kitchen layout work well for your needs. When it comes to a single-wall kitchen, it takes a little more strategy to get it right. And while everyone should know and understand the limits of this layout, it's also important to know that if you're willing to get creative, this space can be an exceptional option.
Make storage a priority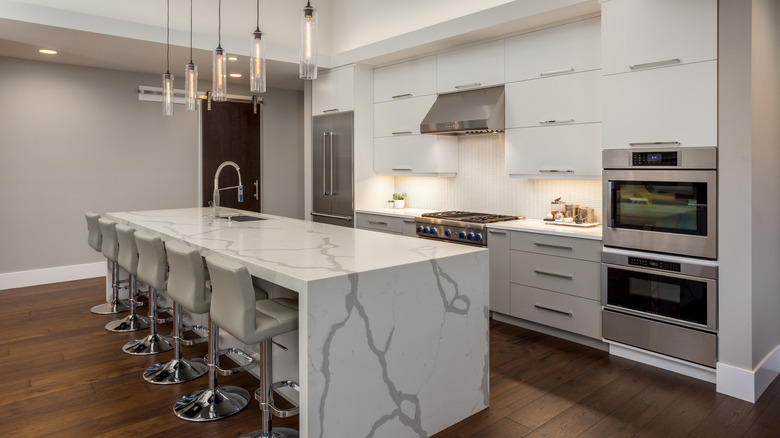 BM_27/Shutterstock
With this layout, it's important to maximize your storage wherever possible. Utilizing vertical space with floor-to-ceiling cabinetry will allow you to get every possible inch of storage. Consider cabinets of different sizes so pots, pans, and baking sheets are kept out of sight. However, overloading a small kitchen with cabinetry can make the room feel cave-like, but open shelving can lighten the visual load. But be careful because too many open shelves can diminish your overall storage space, so keep it at a minimum.
The space can be social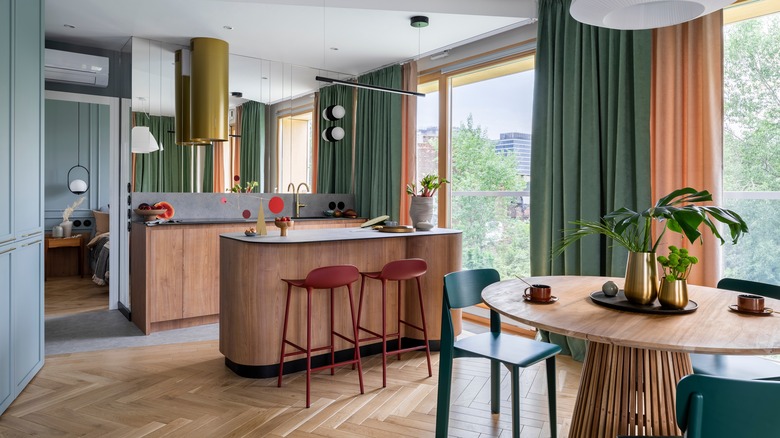 Followtheflow/Shutterstock
Since one-wall kitchens tend not to have a lot of prep areas or counters to work on, it can be difficult to entertain. However, that doesn't mean you can't. If the kitchen is open to other rooms, adding a large table where you can gather friends and family can transform the room. When you aren't eating at the table, it can also serve as an extra workspace while you're cooking. Plus, if you have an open floor plan, a table can help separate the kitchen from the living space.
Embrace efficiency
Dariusz Jarzabek/Shutterstock
One-wall kitchens aren't the most efficient layout, but you can make them so. Efficiency involves the placement of three major appliances; the refrigerator, sink, and stove. Also, consider the dishwasher and wall ovens. Though they'll all be placed against one wall, it's important to spread them out. Leave counter space between each appliance to ensure you have room to work. Because your countertops are premium real estate, keep them as clear as possible to make prep and cooking easier.
Try multi-functional furniture
One-wall kitchens are often small, and navigating around a tight room can be difficult. Making the most of this space means some items may have to play double duty. Consider furniture that can fulfill multiple functions to help you save room, like a shelf unit that pulls down into a table or desk. Creative storage options like toe kick drawers can also make a small kitchen more functional.
An island can add extra workspace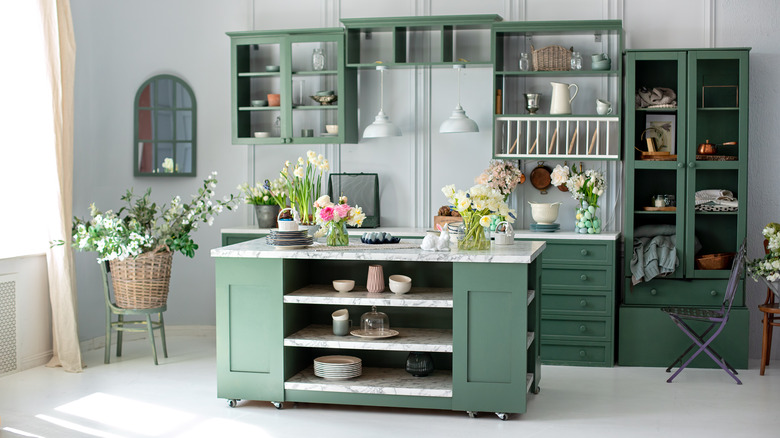 stock_studio/Shutterstock
One-wall kitchens can lack countertop space, making prepping and cooking difficult. Adding an island provides an uninterrupted area that provides instant function. These islands don't have to be big or fancy. A rolling island or an unattached unit can provide that extra workspace without having to renovate or hook up water and electricity. And if you want to keep the kitchen open to the rest of the room, an unattached island can move to the side when not in use, allowing you to have an open floor plan or an eat-in kitchen.
Consider smaller appliances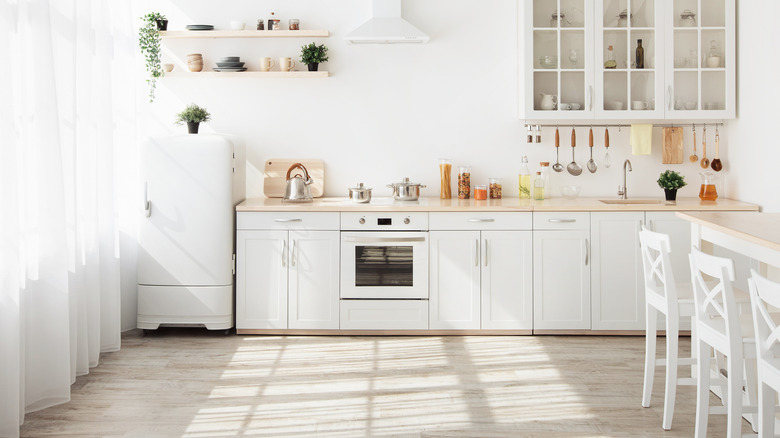 Prostock-studio/Shutterstock
With a one-room kitchen, especially smaller ones, be cautious about stuffing the room with oversized appliances. When it comes to your countertop appliances — think toasters and coffee makers — keep them on the smaller side so they don't take up too much room on the counters. But if your kitchen is really tight, consider sizing down some of your major appliances, such as the fridge, range, and sink. Saving space on the appliances can give you more counter space and storage room.
Color can add brightness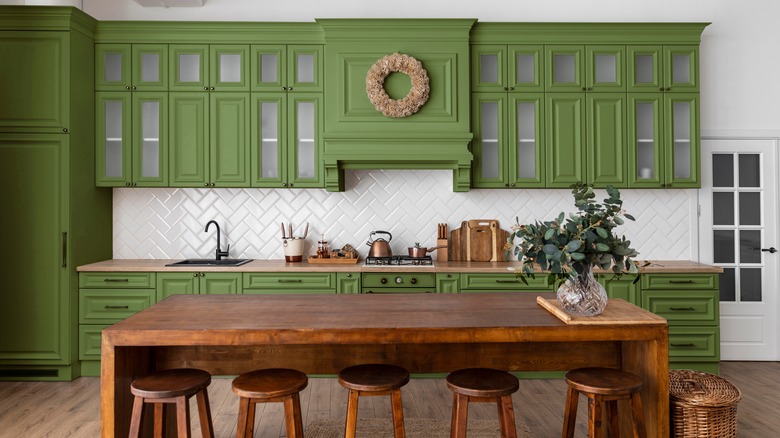 james benjamin/Shutterstock
With small spaces, you don't have to shy away from brighter colors. Introducing lighter shades of blue and green to your cabinets can make the kitchen come alive. The same can be said about adding a pop of color to the backsplash or wall. And if you choose a glossy finish, that can help reflect light around the space, making it appear larger and more airy.
Use a sneaky pantry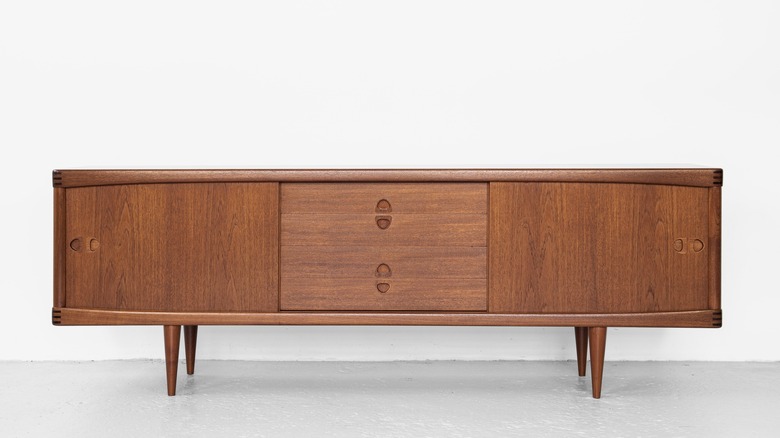 LaMony Betty/Shutterstock
When the kitchen sits along a single wall, it often lacks storage space. However, you can add a sneaky pantry that looks like a decorative feature. Use a sideboard or buffet table as an island, or place it against a free wall in the room. These furniture pieces often have larger, open interiors, which makes them great for storing dry ingredients, pots and pans, and small appliances. With this, you'll also get an extra surface that could serve as a coffee bar or an area to serve food.
Open shelving for quick access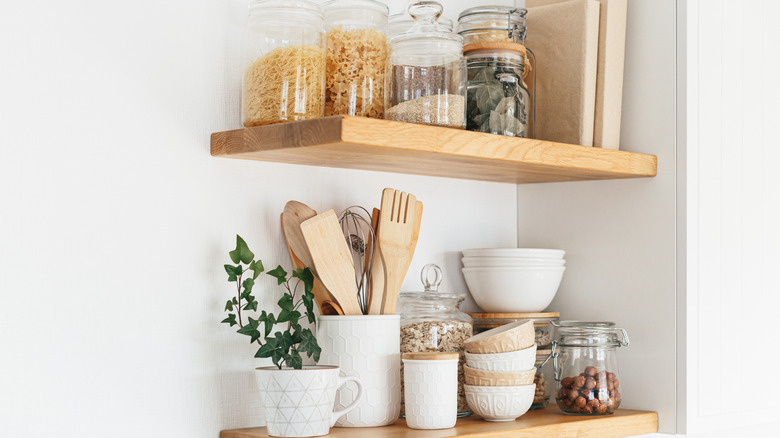 Switlana Sonyashna/Shutterstock
You don't want to give up too much storage space with a one-wall kitchen. But you can use open shelving for everyday items, such as your favorite spices or cooking utensils. This small open-shelf tactic can also make cooking more efficient if placed above the stove. Plus, having your most-used spices out of the cabinets can free up some much-needed space.
Prioritize organization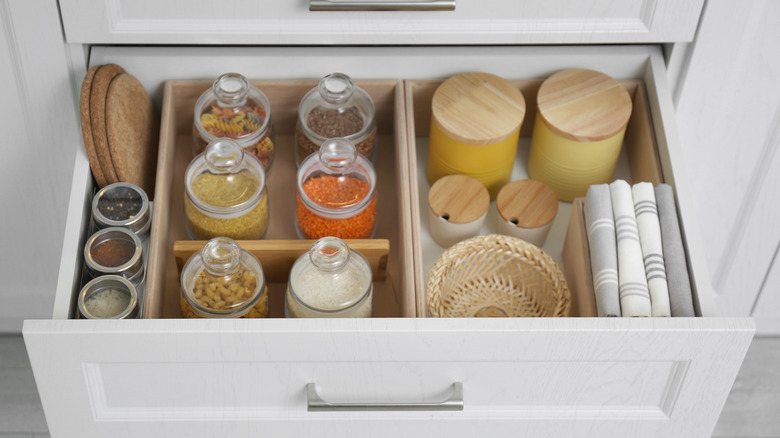 New Africa/Shutterstock
When you can't add more space, you must use what you have more efficiently. With a one-wall kitchen, you should prioritize organization inside your cabinets and on your countertops. Get risers to double your storage space, dividers to keep pot lids and cutting boards straight, and undershelf baskets to hold miscellaneous items. A magnetic metal strip can also replace a bulky knife block, and you can corral items on tiered organizers and trays. 
Use upgraded finishes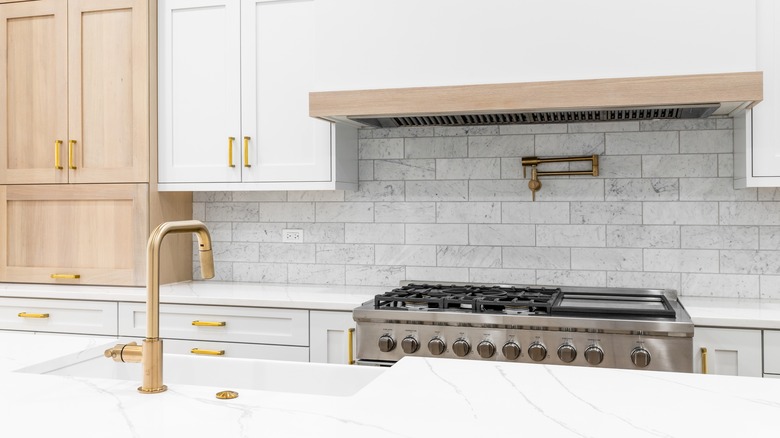 Hendrickson Photography/Shutterstock
While the kitchen may not be large, it can still be grand. The smaller square footage is all the more reason to use high-quality materials or even splurge on something a little pricier. Since you won't have much to cover, invest in a statement stone for the countertops or expensive tile for the backsplash. The upgraded materials will make the kitchen feel like your home's centerpiece rather than a basic, functioning space.