How Much Does A Professional Couch Cleaning Service Cost?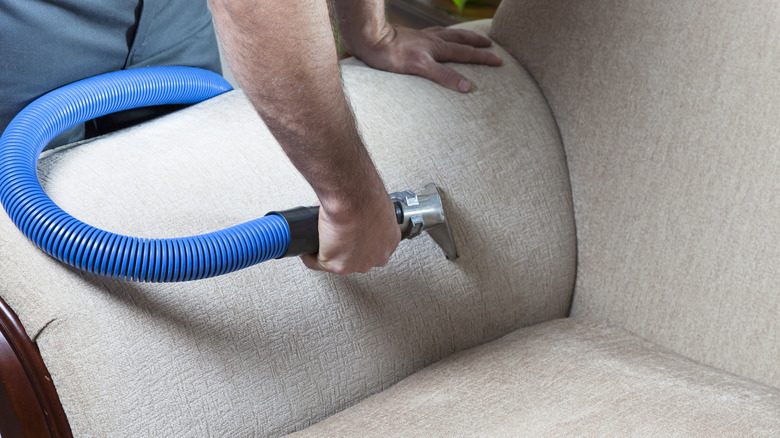 Bill Oxford/Getty Images
You may be extremely excited when you buy your new couch about the fresh, modern look it'll provide for your home. However, after a few months, your excitement may begin to wane as it starts to look dingy. If you've already tried a few upholstery cleaning hacks that still don't quite give you the same feeling you had when the piece was new, you may want to consider hiring a professional couch cleaning service. An average cost for this service is about $175, but it can range anywhere from $75 to $500.
The cost depends primarily on where you live, the materials in use, and the size of the furniture. Cleaning a full-size couch costs more than a loveseat, for example. Even the age of the piece of furniture could play a role in determining the cost. If the furniture consists of a specialty fabric, such as leather, the process will cost more than something containing a more common upholstery fabric.
One advantage to hiring a professional couch cleaning service as opposed to trying to do it yourself is that the pro has experience with stubborn stains on varying fabrics. You might not be sure how to remove a particular stain, for example, meaning you might make a mistake that results in a bigger mess than when you started. A pro is far less likely to have such a problem.
Factors that affect the cost to clean the sofa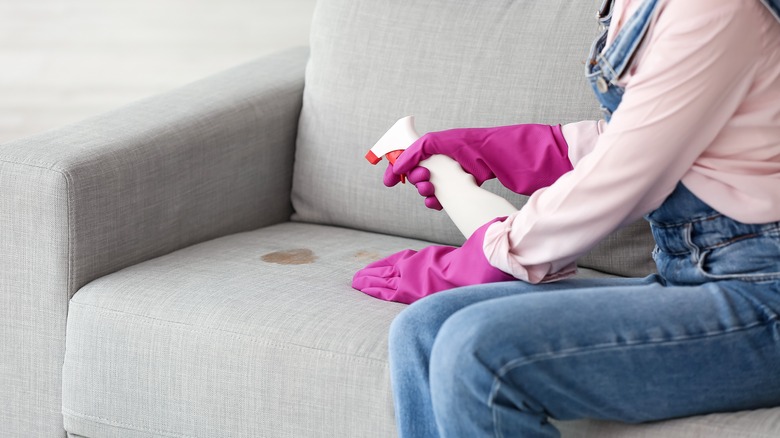 Pixel-Shot/Shutterstock
When you call a professional to come to your house and clean your furniture, it's important to receive an estimate for the cost before the work begins. You don't want to expect to pay $100 and end up receiving a $500 charge. To help the pro make the most accurate estimate, consider sending a photo of the couch, so the person can see the size and materials in use.
However, an in-person estimate is the most accurate way to determine the cost of cleaning a sofa, as the professional can take multiple factors into account. The service may need to assess an extra charge for certain items that are only visible in person. For example, an older piece of furniture that has delicate fabrics may require an upcharge of as much as 25%.
Leather couches require more care in cleaning, which is why a large piece could have a price of up to $500. If you live in a rural area, you probably will have to pay an extra fee for the pro to travel to your location. For a sofa with significant staining from pets or spilled food, you might have to pay an extra fee. If your piece has significant problems with stray pet hair, expect to pay an extra fee as well. In addition, if the company requires a minimum service charge, you may need to clean more than one piece of furniture to reach the minimum.
How often you need a couch cleaning service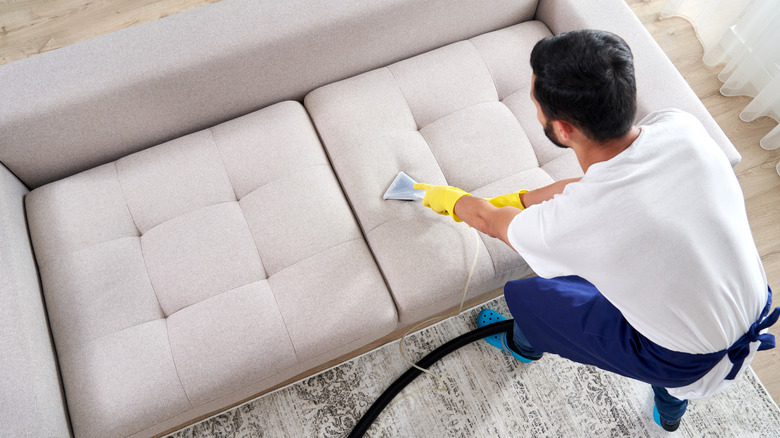 mariakray/Shutterstock
When wondering how often you need to clean your couch, think about the amount of use it receives. If you live alone, only sit on it in the evenings after work, and never eat food on it, you probably can clean it once every couple of months. However, if you use it all day or have kids and pets on it regularly, it probably needs weekly attention.
You may not want to hire a company this often to do a pro-level job. Instead, you can take some steps on your own regularly to reduce the number of times you have to hire a professional. Start by taking a close look at the couch. Does it have stains, or is it just a little dirty? Does it have unpleasant odors? Absent major soiling issues, maybe you can do something yourself a couple of times a month to remove dirt and crumbs and to keep odors at bay. Then hire a pro about once or twice a year to do a deep cleaning.
When doing a quick cleaning yourself, you can move the cushions around and vacuum any dust, food particles, and pet hair. Some sofas have removable covers on the cushions, allowing you to throw them in the washing machine to combat staining. When you feel like your efforts are not returning the sofa to the like-new look you want, though, that's when it's time to hire a service provider.