Bobby Berk's Advice On Finding The Right Sized Rug For Your Room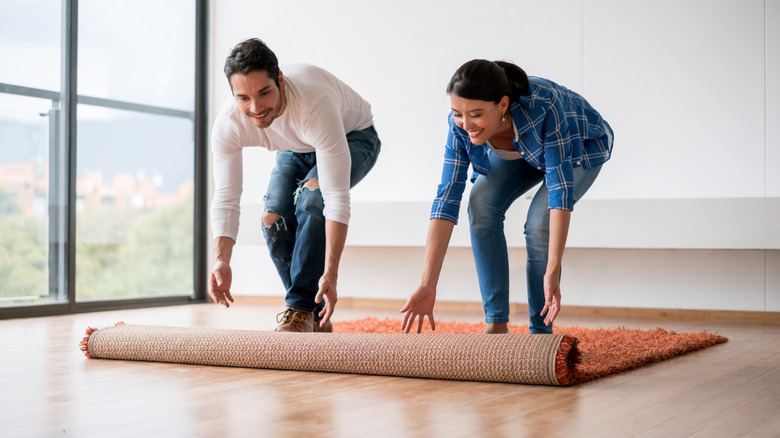 Andresr/Getty Images
Bobby Berk, renowned interior designer and star of Netflix's hit show "Queer Eye," has expertise in creating stylish and functional spaces and offers valuable advice on finding the perfect rug size for any room in your home. Berk notes the importance of scale and proportion when selecting a rug. He suggests measuring the seating area or the main furniture grouping in the room to serve as a guide for determining the appropriate rug size for the space. 
Additionally, Berk suggests selecting a rug that is large enough to anchor the furniture in the room, allowing the front legs of sofas and chairs to rest on the rug while keeping the back legs off in order to create a cohesive arrangement. Per the Bobby Berk website, he claims picking a rug too small will give it an appearance of "floating in the middle of the room," a common mistake when choosing the best rug.
Selecting the perfect sized rug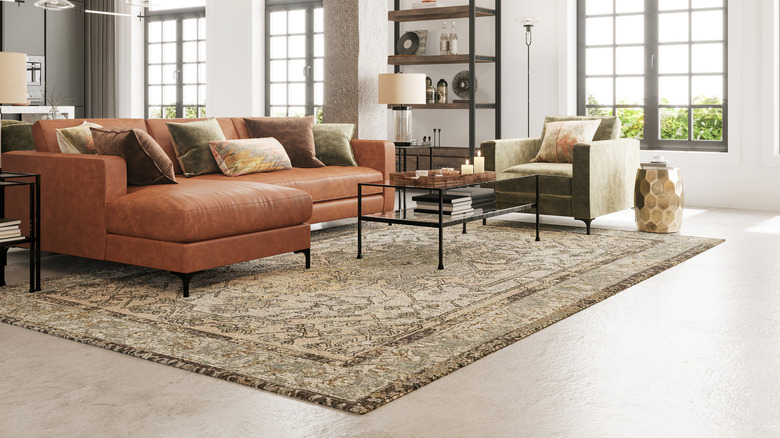 Experienceinteriors/Getty Images
When selecting the perfect-sized rug, Bobby Berk advises leaving a border of at least 15 inches between the edge of the rug and the walls. This step prevents the rug from overwhelming the space and allows for a balanced look. However, in smaller rooms, Berk suggests opting for a smaller rug that can still accommodate the furniture's front legs. This approach helps create a cozy and intimate seating area within a limited space.
Still not sure which rug is the right size? Grab some painter's tape and map out the area before making a purchase to help visualize the size you'll need. Reassemble the furniture over the taped area and try out a few dimensions and shapes to determine which will best fit the space.
On his website, Berk states, "[A rug] can often make a living room feel out of scale or disconnected from the furniture." In this way, it's important to select the best dimensions of a rug for your space. In a bedroom, a 5-by-7-foot rug is great for a twin or full-size bed while a king or queen will need an 8-by-10-foot. When choosing a living room rug, a 9-by-12-foot rug would be optimal but an 8-by-10-foot or even a 6-by-9-foot rug might be necessary for smaller spaces. The same sizes would also be appropriate for dining room rugs, though a circular rug might be a better option if you have a round table.
Adding personal touches with material and style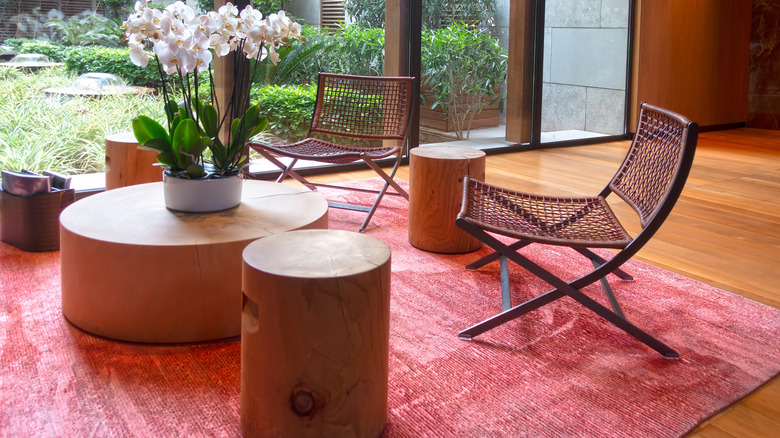 Dontstop/Getty Images
In another article on the Bobby Berk website, he states "Rugs are the unsung hero of your space. Not only do they soften things up, and keep a room grounded — they even let you walk all over them." Different materials and textures can create distinct visual effects and evoke certain moods. So while selecting the right-sized rug is key, a rug should also align well with your own personal style.
Berk suggests keeping in mind the room's functionality and the level of foot traffic it receives when selecting the appropriate rug material. Spaces like the living room, kitchen, or dining room may see heavier foot traffic than a bedroom and will require a material that can withstand this level of use. Synthetic rugs are by far the most durable and are easily cleaned. On the other hand, a cotton rug is better for the wallet but will show more wear and tear. Alternatively, wool is another dependable option but shouldn't be placed in direct sunlight as it could fade.
As for style, a plush, shaggy rug can add coziness and warmth to a living room and will feel the softest underfoot. For a more casual look, try a flatweave, which will yield a thin pile height but offers less support, while a tufted rug is a great middle-of-the-road option in terms of density and will often be the least expensive.