22 Stylish Stone Fire Pit Ideas For Your Summer Entertaining Goals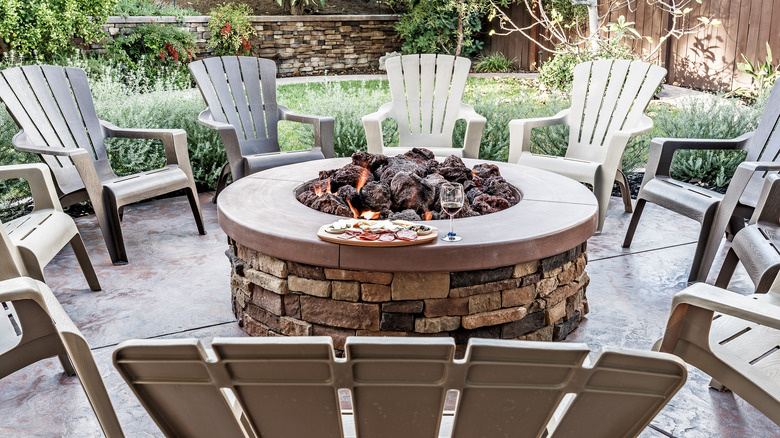 randy andy/Shutterstock
The perfect summertime backyard design has to include a few elements: a grill, the right seating, and a fire pit. The last element is crucial for entertaining on cool summer nights, as it's the ideal place for friends and family to gather. When considering the right material for your fire pit, stone may be your best option. Because this material is durable and long-lasting, you won't have to worry about it breaking down or needing much maintenance. Further, since those made out of stone are typically permanent instead of portable, they usually give off more heat than other options.
There are countless stone fire pit options to choose from, and each one will create a different vibe in your space. When deciding which type is right for you, start by determining the color, shape, and size of the stones. Additionally, think about the design around the fire pit, as the patio, seating, and landscaping can also make a huge difference in how your backyard looks and feels. To help you decide on an overall look for your outdoor space, here are 22 stone fire pit options to begin your search.
1. Matching bench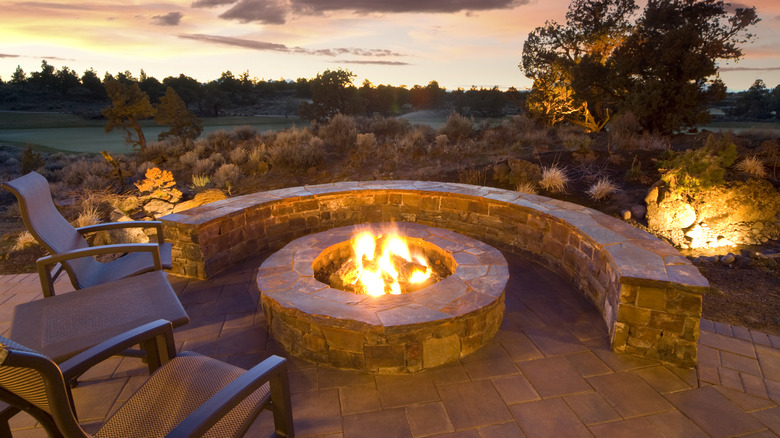 Chandlerphoto/Getty Images
Besides the fire pit itself, the other most important element to add in your backyard is seating. If you want to fit a large number of people around the fire, consider adding a matching stone bench around your pit, which can be made with the exact same stones, for a cohesive appearance. If you choose a round design, a round bench will look best. 
2. Various sized stones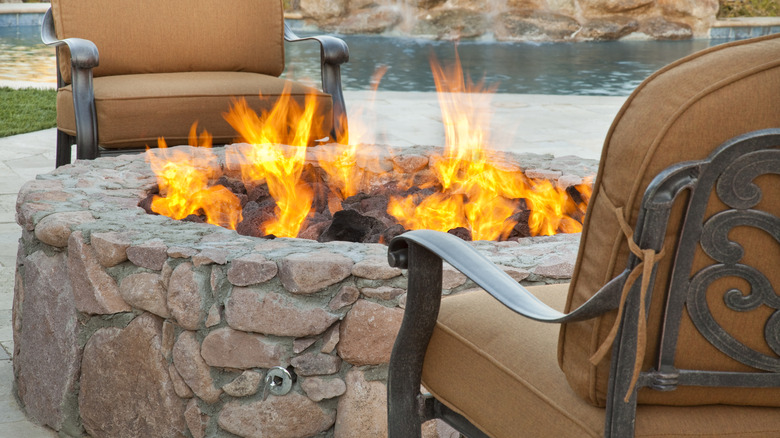 Dougbennett/Getty Images
There are multiple different types of stones to choose from when creating a fire pit. While some have an orderly appearance because they're all the same size, others have a more free-flowing and eclectic look, since they're all different sizes. The benefit of choosing many different sizes of stones is that they will add interest and variety to your backyard feature. 
3. Mixing materials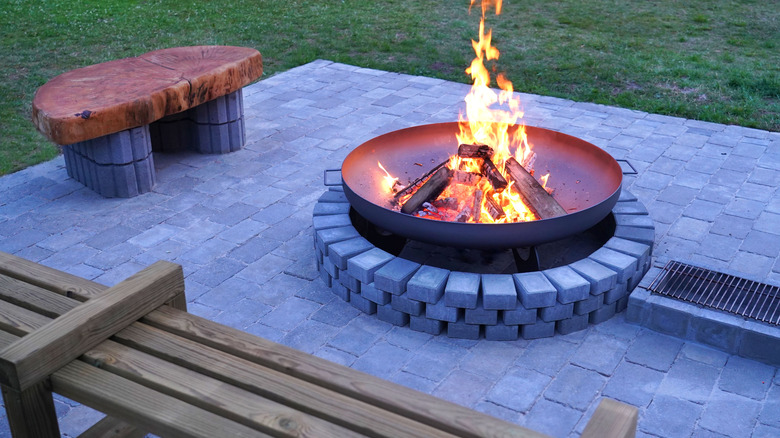 Hayati Kayhan/Shutterstock
Another way to add interest and create a unique look is by mixing different materials. For instance, if you already have a metal fire pit, you could surround it in bricks or stones to make it look more permanent and to give it a natural appearance. Another way to add more materials to your space is through the seating, which could be made out of wood, metal, wicker, etc. 
4. Easy to DIY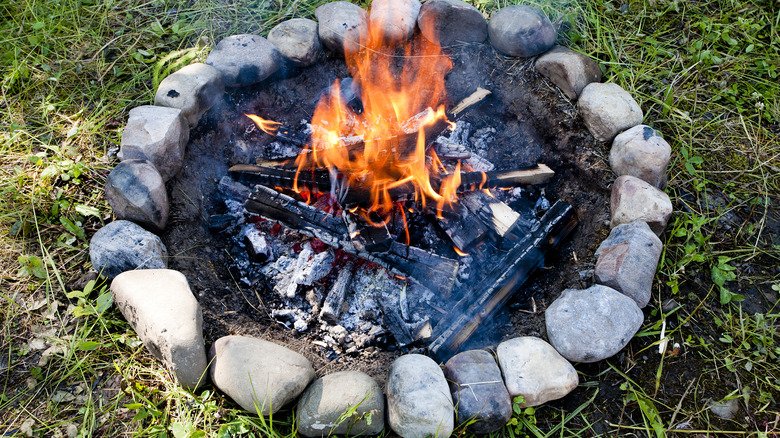 Wolv/Getty Images
Those who only have a small budget for their backyard fire pit may want to DIY an easy design. The simplest way to create a stone fire pit is by digging a shallow hole in the ground and surrounding it with rocks, so that the fire can't escape. When doing this, try to choose rocks that are at least the size of your palm (but preferably larger), as this will look the best and be the most functional. 
5. Stone patio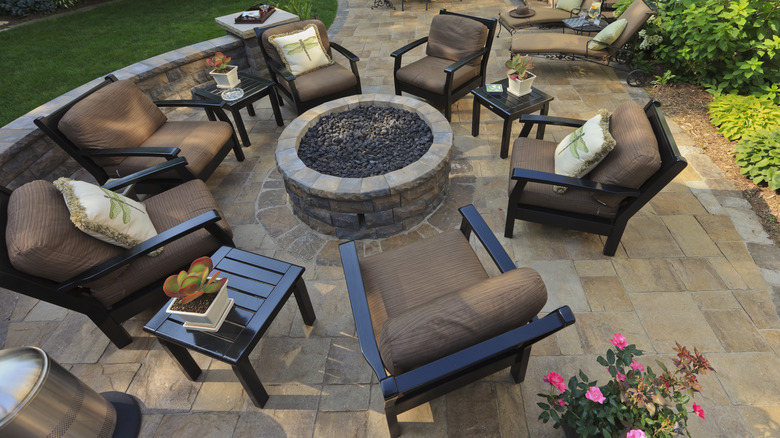 Timabramowitz/Getty Images
To make your stone fire pit look like it belongs in your backyard, place it on a stone patio. To really make it look built into the design, add different stones around the fire pit than those covering the rest of the surface, which could vary in either shape or color. As shown in the image above, a stone wall could also be used to designate the sitting area and to add privacy. 
6. Whitewashed bricks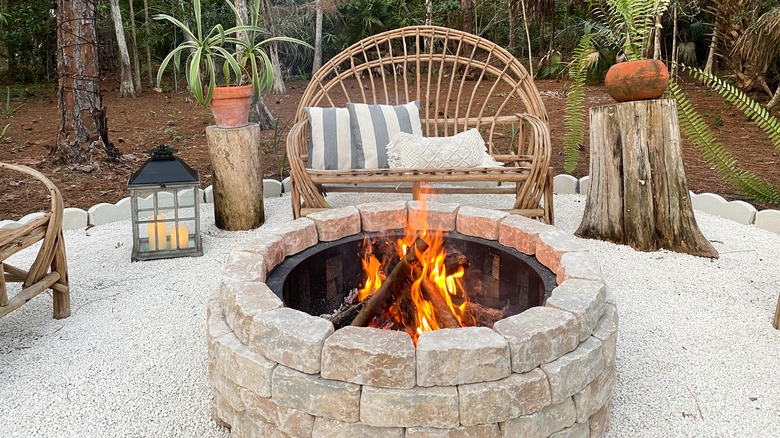 House Mix Digital/Shutterstock
Whitewashed bricks are ideal to use in a number of different interior design styles, including tropical, coastal, and bohemian spaces. Unlike red brick, which typically has traditional connotations, whitewashed bricks appear modern and luxurious. Including decorative elements around the fire pit that further your style, like plants, wicker furniture, and candles, will also benefit the aesthetics of your backyard. 
7. Matching pizza oven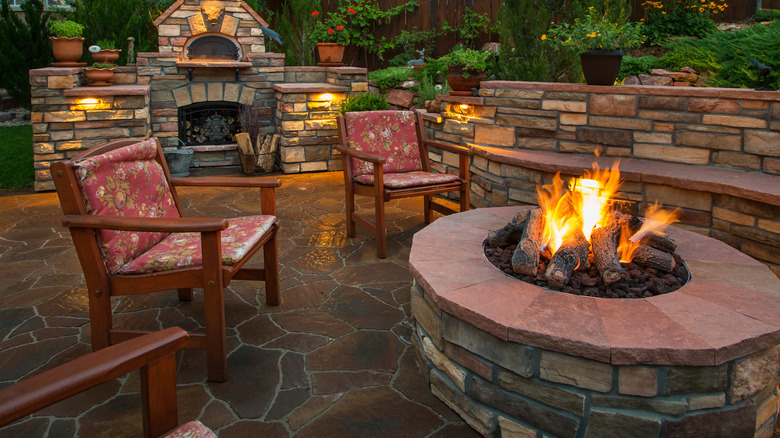 Oneillbro/Getty Images
If you want to add something else to your backyard besides a fire pit, such as a pizza oven, consider using the same materials for both of the features. This will create a cohesive and custom feel in your space. Another option is to build a privacy wall with a built-in bench, which is located behind the fire pit in the image above. This will create a backrest for the bench, which could make it more comfortable and functional.
8. Round patio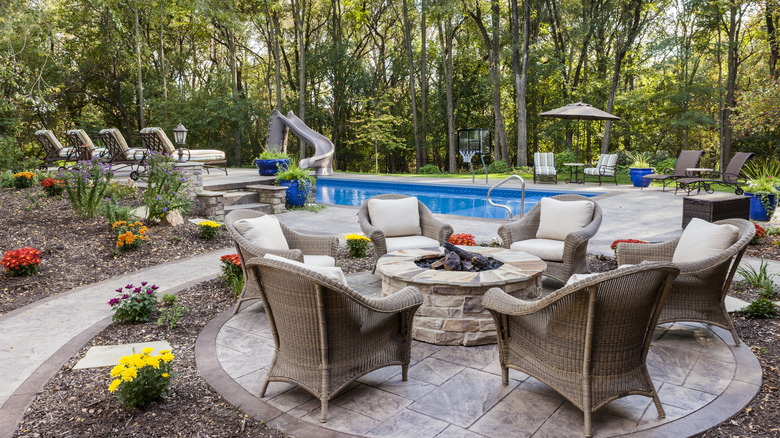 Timabramowitz/Getty Images
To separate your backyard into different zones, fill most of the space with landscaping and then create multiple patios around the property. If you have a round fire pit, a round patio could work great. Make sure to include a walkway to the area, so guests don't have to walk through your landscaping to gather around the fire. 
9. Sharp corners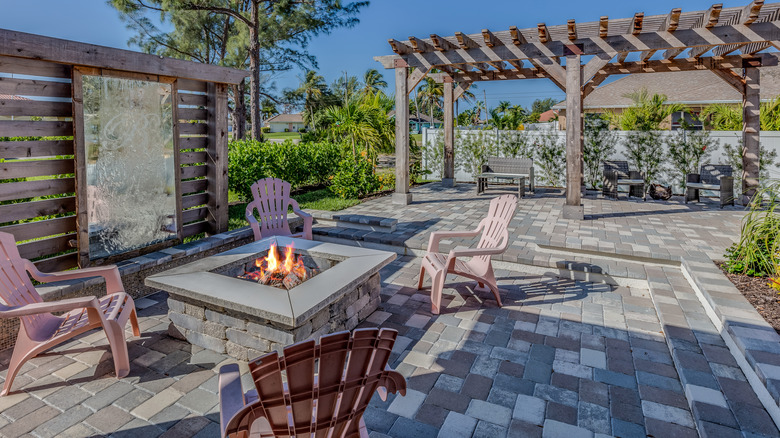 Pc Photography/Getty Images
While most fire pits are round, there are also square and rectangular options with sharp corners available. If you choose one of these shapes, there are a few ways to place the chairs around the fire pit. You could either place one on each corner, arrange one facing each flat side, or fill the entire space around the fire pit with plenty of chairs, for a large number of guests. 
10. Mesh screen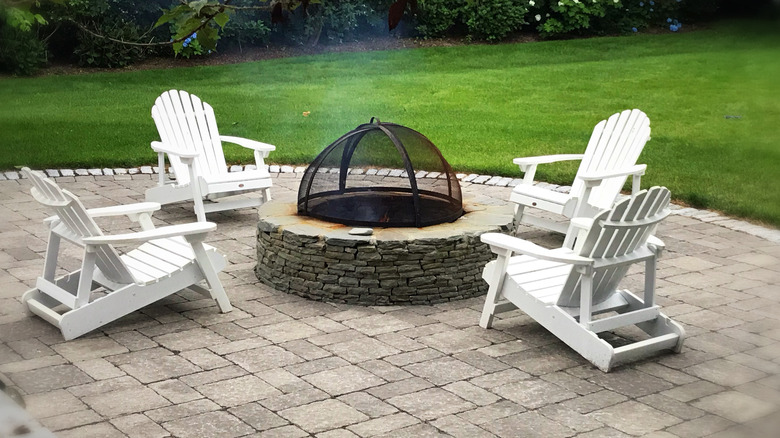 Kristin Utzinger/Getty Images
There are two reasons why you may want to add a mesh screen above your stone fire pit: aesthetics and safety. The mesh will add another layer of interest to your design, which may benefit the look of your backyard. At the same time, it'll also keep the embers inside and protect those sitting around the pit from accidentally burning themselves, which could be especially beneficial for families with kids. 
11. Large stones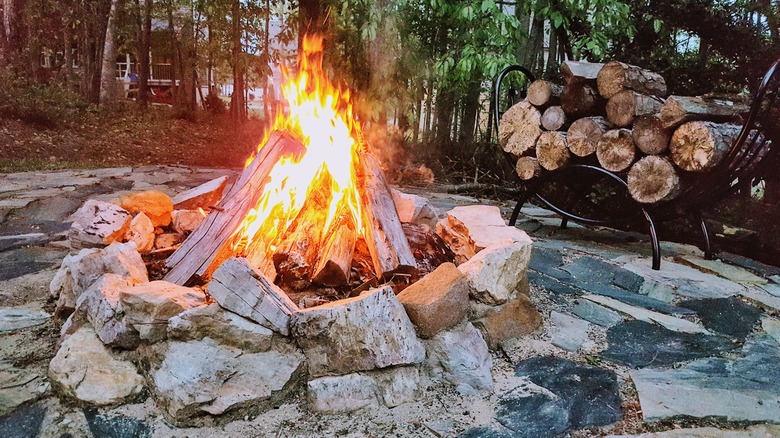 wmsmoak/Shutterstock
Instead of surrounding a fire pit with one layer of small stones, you could find larger stones and stack them on top of one another. To keep them in place, sand could be used underneath the bottom stones. This will provide a rustic look while also making the fire pit safer, since the wall around it will be higher. 
12. Built-in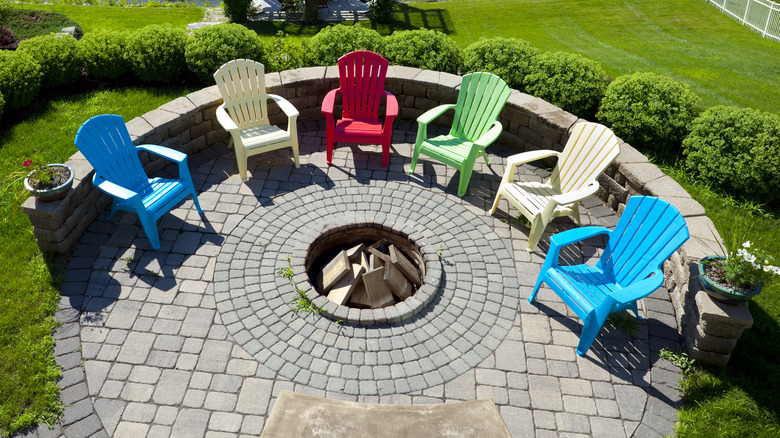 Jamesbrey/Getty Images
While most fire pits are above the ground, some are created by digging a hole and then lining the edge with stones. This fire pit has an extremely orderly appearance, as all the stones are about the same size and perfectly arranged around the round feature. Because this backyard slopes downward, the homeowners also added a stone wall against the back wall.
13. Stone path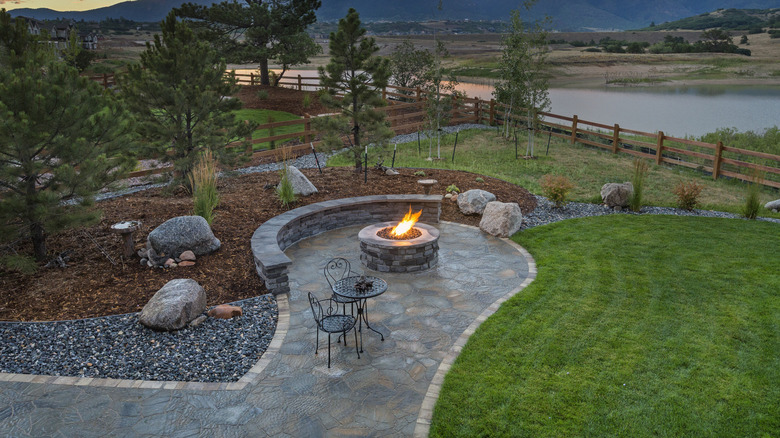 Oneillbro/Getty Images
If your fire pit is a little ways away from your house or patio (perhaps to provide those sitting around it with a more beautiful view), lead to the fire pit with a stone pathway. This will invite guests to take a stroll down to the fire pit, and it'll also make the space feel more connected to the rest of your backyard. 
14. Filled with stones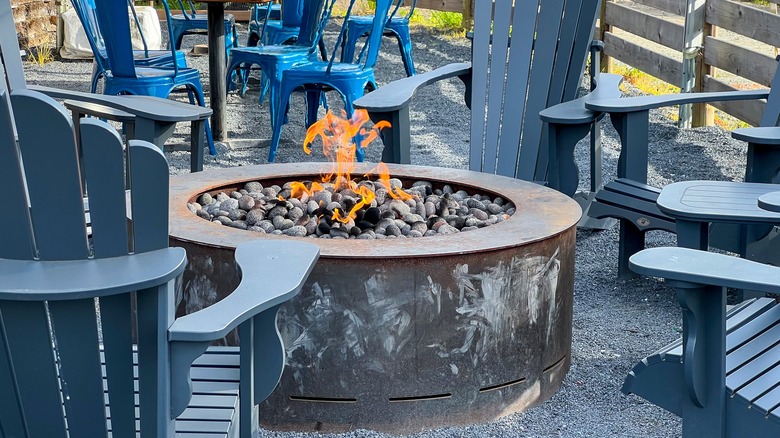 Colleen Michaels/Shutterstock
Instead of covering the outside of your fire pit with stones, a great alternative is choosing one that's filled with small pebbles on the inside. Most of these types have a metal exterior, which pairs well with the rocks, since both have a natural and rustic aesthetic. Metal is a great choice for your fire pit because it conducts heat well, is extra durable, and is easy to maintain.
15. Straight bench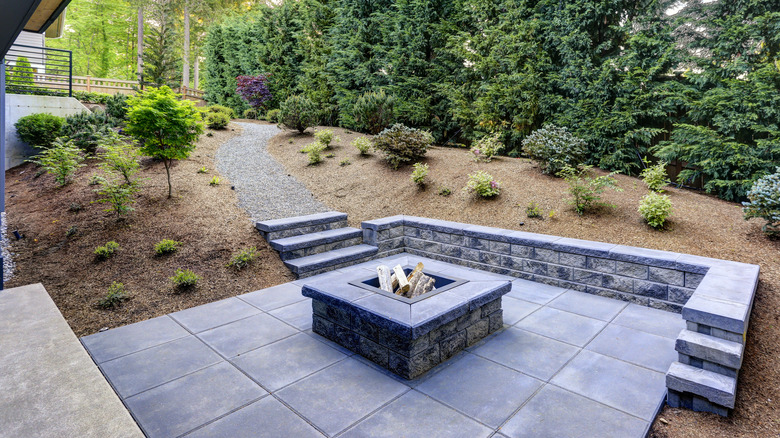 Artazum/Shutterstock
If you choose a rectangular or square fire pit, it's best to also design a straight bench/privacy wall instead of a round one. This will make more sense in the space and provide you with the most room around the fire pit for things like chairs or other options of seating. As shown above, for a modern look, you could use gray stones. 
16. Colored glass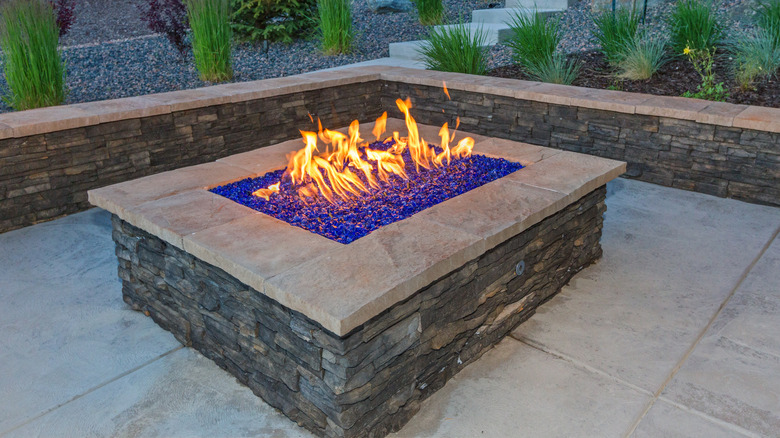 Neil Podoll/Shutterstock
There are multiple materials you can include inside a fire pit, such as pebbles, gravel, crushed rocks, sand, or just firewood. However, another option that's slightly more unique is glass. What makes this material stand out is that it can be dyed a bright color like blue, which will add a modern appearance to your stone fire pit. 
17. Rustic stone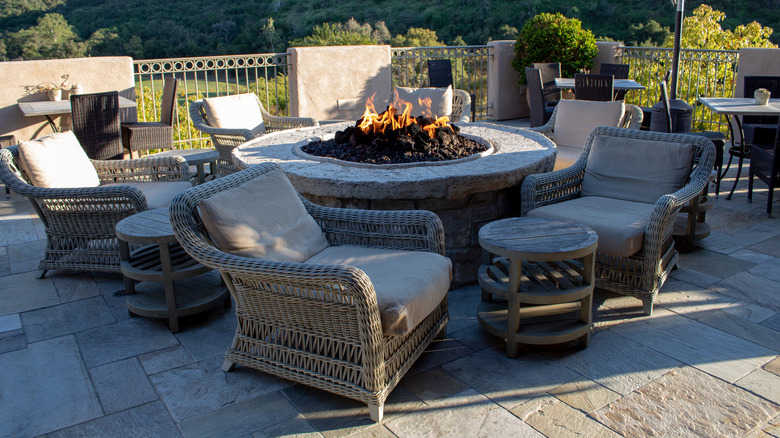 Rosamar/Shutterstock
On the other hand, you could lean into a more rustic look instead of a modern one by creating a fire pit like the one above. What makes this piece appear more rugged is that it's covered in textured stones that aren't smoothed down at all. This will add a natural but still beautiful aesthetic to your backyard. 
18. Organic shapes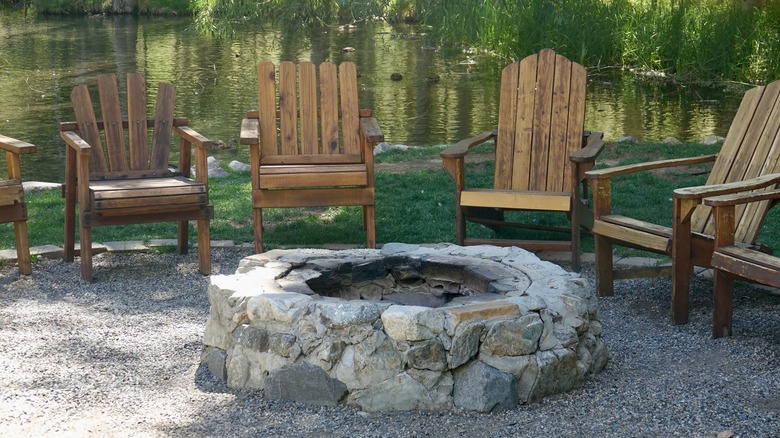 HY-DP/Shutterstock
Another way to create a natural look is by placing organically shaped rocks around the fire pit and connecting them together with cement or another bonding material. The best place to locate a fire pit like this is in a natural area, such as near a pond. Further, to add to the aesthetic, surround it with wooden or more rustic-looking lawn chairs. 
19. Long design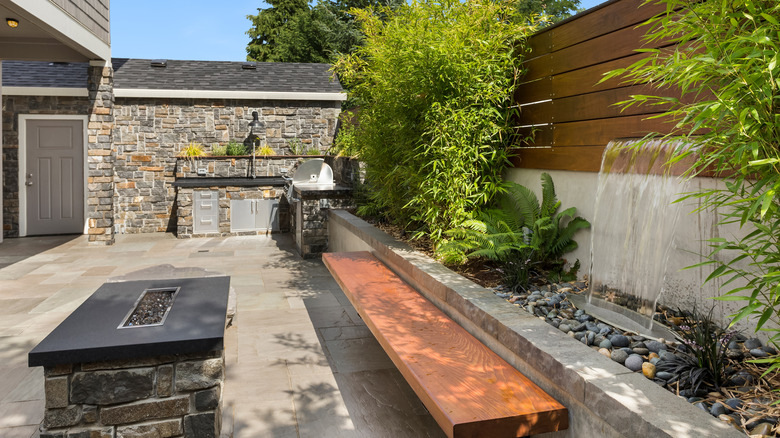 Hikesterson/Getty Images
If you want lots of people to be able to gather around your fire pit, look into a long, rectangular shape. To create a space for placing down a drink, add a solid top around your stone fire pit. This will also create a luxurious appeal, and to add to this appearance, include other elements like a wooden bench or a small water feature. 
20. Gray grout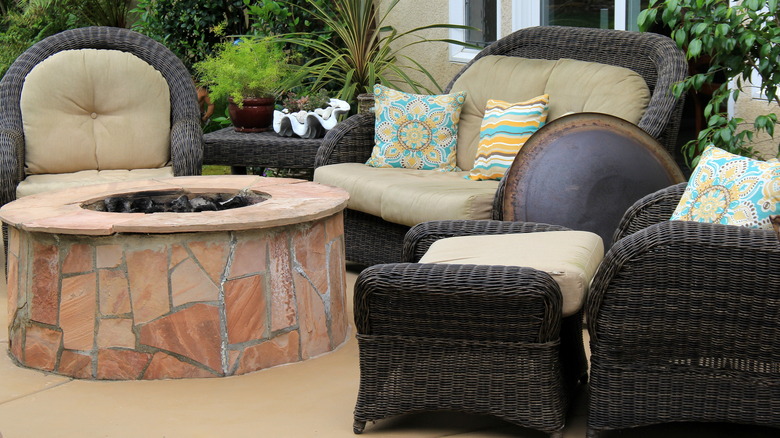 Theresa Lauria/Shutterstock
If you're working with flat pieces of stone, you'll need to choose the right color for your grout. Light-colored stones could be paired with dark grout, which will make each of the stone's shapes stand out and create a nice contrast. The grout seals all of the gaps and makes your fireplace one cohesive piece. Additionally, to make the top of the fire pit more useful, add flat stones around it. 
21. Small design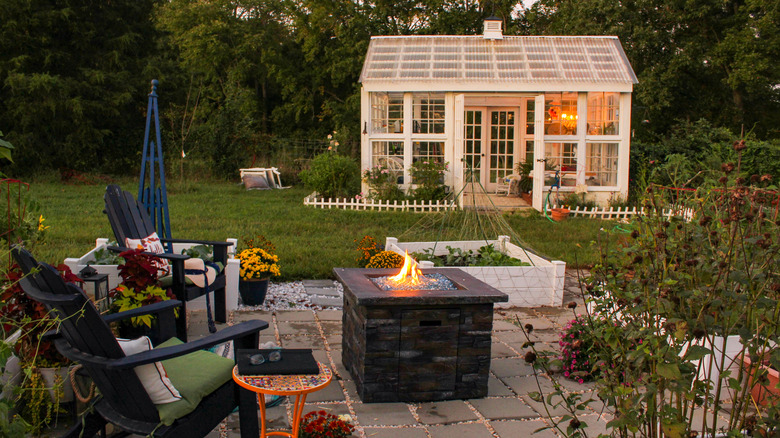 ButtermilkgirlVirginia/Shutterstock
Even if you're working with a really small area, you can still have enough room for a fire pit. This is because stone fire pits can be made quite compact, so they don't take up too much square footage on your patio. The above design is made out of dark stones that pair nicely with the dark lawn chairs. 
22. Lighting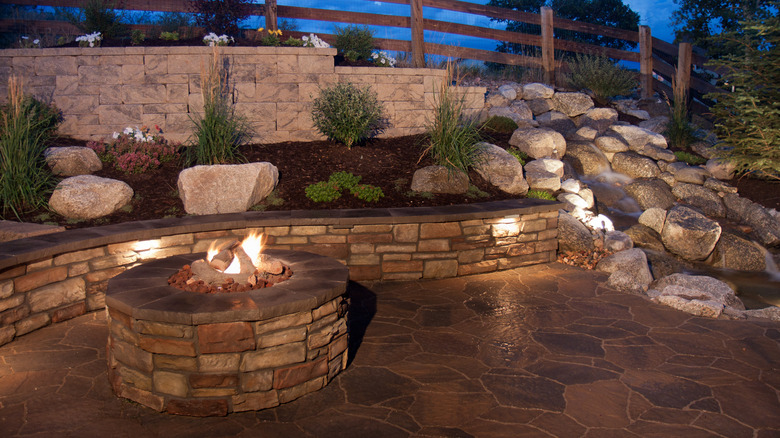 Oneillbro/Getty Images
If you want to use your fire pit on summer evenings, consider adding lighting around the space. These could be installed right onto the stones of your fire pit or onto your built-in bench/privacy wall. Lights, even if they are small, will make it much easier to build a fire at night and will also create a more inviting atmosphere.